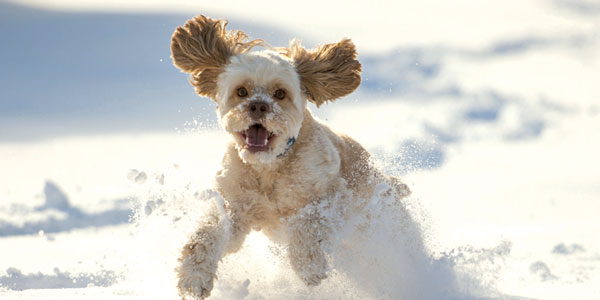 Skin-saving solutions: Many pets get dry skin during the winter season. When they do need a bath, try using a pet-friendly moisturizing shampoo to help keep their skin healthy and pH-balanced.  
In addition, a pet emergency preparedness kit should be packed and contain the supplies needed to help keep your pet fed, warm and secure in the event of emergency conditions such as blizzards and extreme cold weather. Items like a sweater, insulated vest, paw booties or wax, pet-safe ice melt and a heated bed or pad can all help head off risks associated with cold weather.
Emergencies can also create circumstances for pets to become separated from their families. In addition to ensuring your pet is wearing a tag with your cell phone number along with microchipping and registering him or her with current contact information, also tuck a copy of your pet's vaccination and medical records, veterinary contact information and a current photo of your pet in your emergency kit.
Keeping your pet well-fed through an emergency also requires advanced planning. Store a one-week supply of food in a waterproof container, along with bottled water, portable bowls, a manual can opener (if your pet eats canned food) and a list of feeding routines and behavioral considerations in case someone else must take over care.
Also be sure to gather any other care items your pet may require, such as puppy pads, waste bags, litter box supplies and calming spray.
Find more advice for keeping your pet safe this winter at PetSmart.com.
---
Ayude a las mascotas a protegerse de los riesgos del invierno – Parte 2
Soluciones para el cuidado de la piel: A muchas mascotas se les seca la piel durante el invierno. Cuando necesitan un baño, intente usar un champú humectante para mascotas para ayudar a mantener su piel saludable y con un pH equilibrado.
Además, se debe empacar un kit de preparación para emergencias para mascotas y éste debe contener los suministros necesarios para ayudar a mantener a su mascota alimentada, caliente y segura en caso de condiciones de emergencia como ventiscas y clima extremadamente frío. Artículos como un suéter, chaleco aislado, botines o cera, derretimiento de hielo apto para mascotas y una cama o almohadilla caliente pueden ayudar a prevenir los riesgos asociados con el clima frío.
Las emergencias también pueden crear circunstancias para que las mascotas se separen de sus familias. Además de asegurarse de que su mascota lleve una etiqueta con su número de teléfono celular junto con un microchip y de registrarla con su información de contacto actual, también guarde una copia de los registros médicos y de vacunación de su mascota, información de contacto de la veterinaria y una foto actual de su mascota en su kit de emergencia.
Mantener alimentada a su mascota durante una emergencia también requiere una planificación avanzada. Almacene un suministro de alimentos para una semana en un contenedor impermeable, junto con agua embotellada, tazones portátiles, un abridor de lata manual (si su mascota come comida enlatada) y una lista de rutinas de alimentación y consideraciones de comportamiento en caso de que otra persona deba hacerse cargo del cuidado.
También asegúrese de reunir cualquier otro artículo de cuidado que su mascota pueda necesitar, como almohadillas para cachorros, bolsas de basura, suministros para cajas de arena y aerosoles calmantes.
Encuentre más consejos para mantener a su mascota segura este invierno en PetSmart.com.