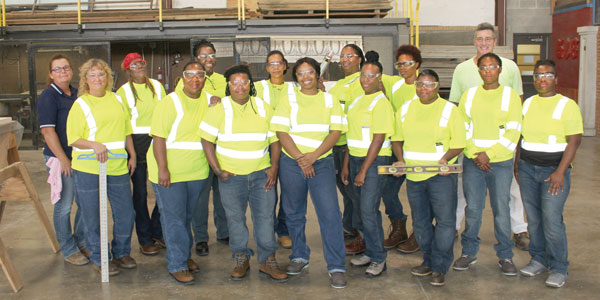 By Angie Baldelomar
An organization in the Kansas City area is offering apprenticeship programs to start a career in the construction industry.
The Builders Association offers various trade skills programs. The programs are free – and as explained by Romond Holt, Builders Association outreach manager, serving as an apprentice is an "earn-while-you-learn" type of training.
"You'd be getting paid for your work, that's the earn part, … but (you) also learn by coming two days a month for training," Holt said.
The apprenticeship requires a four-year commitment. Once completed, the program gives 30 college credits toward a construction degree, Holt said.
Apprentices get paid around $19-20 per hour while doing their apprenticeships. They also get benefits, such as medical and dental insurance, and pension programs.
The programs offer specialization in 20 trade skills, including painting, plastering, tile setting and ironwork, among other skills. Holt said the training also gives apprentices skills that will help them in other ways.
"With the apprenticeship program, you learn a lifelong skill, … that you can apply to your career and personal lives," he said.
Apprenticeship programs like this are an alternative for those who do not think college is an option after high school.
"A lot of students don't (want) to go to college, but still want to have a career," Holt said.
Apprenticeship applications are accepted year-round, Holt said. The basic qualifications to apply for the programs include being 18 years old or older, having a high school diploma or a GED and having a valid driver's license.
For more information about the apprenticeship programs, contact Holt at (816) 595-4145 or by email at rholt@buildersassociation.com. Information also is available by visiting http://www.buildersassociation.com/docs/Education/Apprenticeship%20Guide%20100118.pdf.
---
Organización local ofrece programas de aprendizaje gratis
Una organización en el área de Kansas City está ofreciendo programas de aprendizaje para comenzar una carrera en la industria de la construcción.
La Asociación de Constructores ofrece varios programas de oficios especializados. Los programas son gratis, y como lo explica Romond Holt, gerente de alcance de la Asociación de Constructores, servir como aprendiz es un tipo de capacitación para "ganar mientras aprendes".
"Se le paga por su trabajo, esa es la parte de ganar, … pero también aprende al venir un par de días al mes para capacitaciones", dijo Holt.
El aprendizaje requiere un compromiso de cuatro años. Una vez completado, el programa da 30 créditos de universidad hacia un título de construcción, Holt explicó.
A los aprendices se les paga alrededor de $19-20 dólares por hora mientras hacen sus aprendizajes. También reciben beneficios, como seguros médico y dental, y programas de pensiones.
Los programas ofrecen especialización en 20 oficios especializados, incluyendo pintura, enlucido, colocación de azulejos y herrajes, entre otras habilidades. Holt dijo que el entrenamiento también brinda a los aprendices habilidades que les ayudarán de otras maneras.
"Con el programa de aprendizaje, aprendes una habilidad que durará tu vida, … que puedes aplicar a tu carrera y tu vida personal", dijo.
Programas de aprendizaje como éste son una alternativa para aquellos que no piensan que la universidad es una opción después de la secundaria.
"Muchos estudiantes no quieren ir a la universidad, pero quieren tener una carrera", dijo Holt.
Las solicitudes para el programa se aceptan durante todo el año, dijo Holt. Las calificaciones básicas para solicitar los programas incluyen tener 18 años o más, tener un diploma de escuela secundaria o un GED y tener una licencia de conducir válida.
Para más información sobre los programas de aprendizaje, contacte Holt al (816) 595-4145 o por email al rholt@buildersassociation.com. Información en español también está disponible visitando: http://www.buildersassociation.com/docs/Education/Apprenticeship%20Guide%20ESP%20100118.pdf.