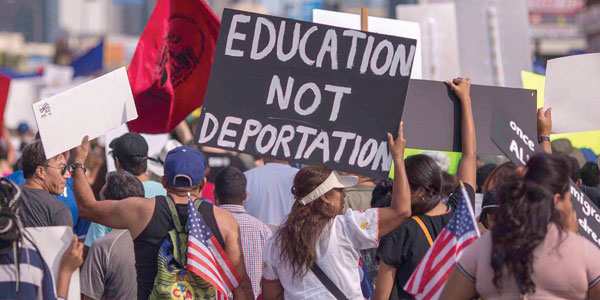 By Tere Siqueira
U.S. Immigration and Customs Enforcement (ICE) secretly set up a fake university in Michigan to find and arrest illegal immigrants, multiple media outlets are reporting.
Called the University of Farmington and located in the Detroit suburb of Farmington Hills, the university was created to lure foreigners who were hoping to stay in America on student visas. Federal agents set up the university to catch people who were overstaying their visas. The agents also reportedly posed as university owners and employees.
According to media outlets, the University of Farmington was merely an office pretending to function as a university. University recruiters claim they did not know the university was fake. However, recruiters reportedly helped to fraudulently obtain immigration documents and create student records. They also collectively received $250,000 for doing so.
The Detroit News was among the media outlets that helped break the story. The newspaper reported on the arrest of eight student recruiters being charged with conspiracy to help 600 foreigners participate in immigration fraud.
Several news outlets have reported that more than 100 students have been arrested. Government prosecutors claim the students were aware the university was a sham when they signed up to attend and submitted payments, according to The New York Times.
Some recent arrests were made in North Carolina, Texas, Georgia, Florida and Missouri, Texas-based immigration attorney Rahul Reddy told The Detroit News.
VICE News reported that those who have been arrested remain in ICE detention or are scheduled to appear before an immigration judge. But because of a change made to America's immigration policy, anyone enrolled who did not leave the country before Feb. 5 might not be able to return to the United States for years.
Although federal authorities claim that everything they did as part of their sting operation was legal and that hundreds of foreigners who enrolled were aware the university was illegal, many U.S. residents are crying foul. They include Sophie Mendez, a Kansas City area international student.
"I think this was a scheme from the government … once again trying to blame immigrants," Mendez said. "ICE lured foreign people, took their money and then jailed them when they … (arrived) in the U.S. This is outrageous."
"I think that ICE is trying to make all immigrants feel unsafe," Mendez added. "It doesn't matter if you … (have) legal status; they are also targeting and investigating you. They don't understand that … (foreign) students are a big part of an integral education for everyone."
---
ICE creó una universidad falsa para detener a inmigrantes indocumentados
La Oficina de Inmigración y Control de Aduanas (ICE, por sus siglas en inglés) estableció en secreto una universidad falsa en Michigan para encontrar y arrestar a inmigrantes ilegales, según informan varios medios de comunicación.
Llamada Universidad de Farmington y ubicada en el suburbio de Farmington Hills en Detroit, la universidad fue creada para atraer a extranjeros que esperaban quedarse en los Estados Unidos con visas de estudiante. Los agentes federales crearon la universidad para atrapar a las personas que estaban violando las limitaciones de sus visas. Además, los agentes supuestamente se hicieron pasar por dueños y empleados de la universidad.
Según los medios de comunicación, la Universidad de Farmington era simplemente una oficina que pretendía funcionar como una universidad. Los reclutadores universitarios afirman que no sabían que la universidad era falsa. Sin embargo, los reclutadores supuestamente ayudaron a obtener documentos de inmigración de manera fraudulenta y crear registros de estudiantes. También colectivamente recibieron $250,000 por hacerlo.
El Detroit News fue uno de los medios de comunicación que ayudó a publicar la historia. El periódico informó sobre el arresto de ocho reclutadores de estudiantes acusados ​​de conspiración por ayudar a 600 extranjeros a participar en un fraude de inmigración.
Varios medios de comunicación han informado que más de 100 estudiantes han sido arrestados. Según The New York Times, los fiscales del gobierno afirman que los estudiantes sabían que la universidad era una farsa cuando se inscribieron para asistir y enviar los pagos.
Algunos arrestos recientes se realizaron en Carolina del Norte, Texas, Georgia, Florida y Missouri, el abogado de inmigración con sede en Texas, Rahul Reddy, dijo a The Detroit News.
VICE News informó que aquellos que han sido arrestados permanecen en detención de ICE o están programados para comparecer ante un juez de inmigración. Pero debido a un cambio realizado en la política de inmigración de Estados Unidos, cualquier persona inscrita que no haya salido del país antes del 5 de febrero no podrá regresar a Estados Unidos durante años.
Aunque las autoridades federales afirman que todo lo que hicieron como parte de su operación encubierta fue legal y que cientos de extranjeros que se inscribieron sabían que la universidad era ilegal, muchos residentes de los Estados Unidos están quejándose. Incluyendo a Sophie Méndez, una estudiante internacional del área de Kansas City.
"Creo que este fue una trampa del gobierno … una vez más, tratando de culpar a los inmigrantes", dijo Méndez. "ICE atrajo a personas extranjeras, tomó su dinero y luego las encarceló cuando … llegaron a EE. UU. Esto es indignante".
"Creo que ICE está tratando de hacer que todos los inmigrantes se sientan inseguros", agregó Méndez. "No importa si tienes un estatus legal, también te están apuntando e investigando. No entienden que … los estudiantes extranjeros son una parte importante de una educación integral para todos".