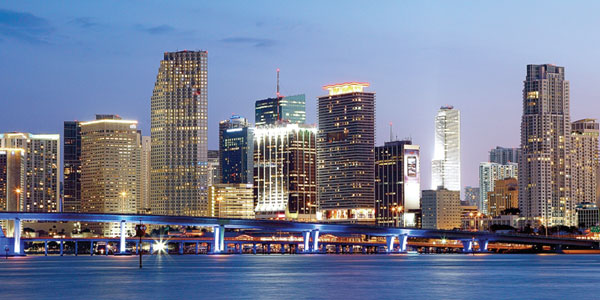 By Tom Sawyer
Welcome tourists! In this edition, we will talk about Miami, Florida, a city in our country and where the largest number of cruise ships arrive across the world. It also has the largest concentration of international banks in the U.S. City founded in 1896, it has almost half a million residents, while its metropolitan area hosts almost 5 and a half million, making it the ninth largest metropolitan area in the country.
In 2008, it was awarded by Forbes magazine as the cleanest city in the country, due to its high air quality, its large green spaces, the cleanliness of its streets and water, as well as good garbage recycling programs. The city has been the scene of a large number of famous movies and television series, as well as being an inspiration for the creation of videogames with settings very similar to those of the city. It should be noted that for a large part of the community, their main language is Spanish, and just under 40% speak English.
Round flights from Kansas to Miami have an average price of $300 and you can find a large number of direct flights or with only 1 layover. The best way to get around the city is by public transportation, both the Metromover and the Trolley are train-type bus systems that are totally free and that run across the city center. The elevated train and buses tickets allow you to move around the city, and many of them operate 24 hours a day. Renting a car is also quite useful and cheap, the only drawback is that almost everywhere parking is paid and the price is usually somewhat high.
The accommodation is usually somewhat elevated, a 3-star room has a price of $100 per night and a 5-star hotel of $350 per night. A good option is to search for a room in an apartment or house on Airbnb. If we talk about food, you can find a lot of food from Cuban, Mexican and some other countries of Latin America. You can find a full meal for $12 and about $25 at a restaurant with more prestige.
Here I describe some of the places you should not miss visiting in Miami:
Little Havana is without a doubt a Cuban neighborhood that everyone is proud of. Without a doubt a sign of reaching the American dream, when visiting this area you will find many restaurants and shops that are replicas of restaurants and shops in Cuba. In addition to seeing Mediterranean style houses, the smell of coffee and cigars, plus the joyful Cuban music. A place without a doubt is very contrasting with other points of the city and where you can get an idea of how some neighborhoods that look like Cuba.
Coral Gables is one of the most exclusive and wealthiest neighborhoods in all of Miami. Here you will see a lot of colonial and Mediterranean style mansions all surrounded by large gardens very well maintained and decorated. It is certainly a good place to go in the search for the house of your dreams.
South Beach, without doubt, one of the most beautiful and attractive places not only in Miami but across the country. To start the tour it is good to go to Ocean Drive, where you can find a lot of people skating and more than 800 buildings of art deco built between 1930 and 1940, without a doubt a quite peculiar architectural style. Visit the beach of South Beach, where you can find a lot of surfers enjoying the waves. As well as the beauty of people who enjoy tanning. If you want to swim the 6th and 14th streets are the more ideal area to enjoy the turquoise water of these wonderful white sand beaches.
In the Miami Beach district, you can find both South Beach, Middle Beach and North Beach. Enjoy beaches like Haulover Beach, where in addition to enjoying calm water for swimming. It has a nudist area where the people who attend tend to be quite respectful. Bal Harbor Beach is located next to Haulover and is a less frequented place, despite being surrounded by luxury hotels and restaurants. Here you will find many people enjoying doing pilates and yoga, as well as finding a lot of shops and shopping centers of the most recognized brands.
The Miami Aquarium is the largest aquarium in the U.S., home to hundreds of different types of fish, sea turtles, sharks, and reptiles. Besides enjoying seeing and getting to know all these marine animals, you can enjoy shows in which a large part of them participate. Among the most important shows is the Lolita the Killer Whale and the dolphin show, where you can see how both the orca and the dolphins doing acrobatics together. The Flipper show, this famous dolphin is in this aquarium and you can enjoy their acrobatics show. More than 100 episodes of series were filmed here. The admission fee is $46 for adults and $36 children.
Do not forget that Miami has the largest number of cruises in the world. You can find excellent options to enjoy, knowing the best and most exclusive beaches of the entire coast of Florida, being able to enjoy 3 nights and 4 days for less than $300, some of them with an open bar.
Without more for the moment, goodbye and I wish you to have an excellent adventure, greetings and a good trip.
____________________________________________________________________________
Conoce Miami
Bienvenidos turistas, en esta edición nos toca hablar de una ciudad de nuestro país y en donde se alberga la mayor cantidad de cruceros en el mundo, además cuenta con la mayor concentración de bancos internacionales en todo EE.UU., nos referimos a Miami, Florida. Ciudad fundada en el año 1896, cuenta con casi medio millón de habitantes, mientras que su área metropolitana alberga casi 5 millones y medio de habitantes, convirtiéndose en la novena área metropolitana más grande del país.
En 2008 fue galardonada por la revista Forbes como la ciudad más limpia de todo el país, debido a su gran calidad de aire, sus grandes espacios verdes, la limpieza de sus calles y del agua potable, además de buenos programas de reciclaje de basura. La ciudad ha sido escenario de gran cantidad de películas y series de televisión famosas, además de servir de inspiración para la creación de videojuegos con ambientaciones muy similares a las de la ciudad. Cabe destacar que en gran parte de la comunidad el idioma base es el español, y poco menos del 40% habla inglés.
Los vuelos redondos de Kansas a Miami tienen un costo promedio de $300 y podrás encontrar gran cantidad de vuelos directos o con 1 escala. La mejor forma de moverse dentro de la ciudad es en trasporte público, tanto el Metromover como el Trolley son sistemas de autobuses tipo tren que son totalmente gratuitos y que recorren prácticamente todo el centro de la ciudad, y para complementarlos el tren elevado y los autobuses de paga te ayudarán a moverte por toda la ciudad, y que muchos de ellos funcionan las 24 horas del día, la opción de rentar un automóvil también es bastante útil y económica, el único inconveniente es que en casi todos lados el estacionamiento es de paga y suele ser algo elevado el costo. El hospedaje suele ser algo elevado, en habitación 3 estrellas con costo de $100 por noche y en hotel 5 estrellas con costos desde $350 por noche, una buena opción es buscar en airbnb una habitación en algún departamento o casa. Si hablamos de comida podrás encontrar mucha comida de origen cubano, mexicano y de algunos otros países de latinoamérica, una comida completa la podrás encontrar en $12 en un restaurante económico y en unos $25 en un restaurante de mayor prestigio.
A continuación te describo algunos de los lugares que no deberás perderte de visitar en Miami:
Pequeña Habana, es sin duda un barrio cubano del que todos se sienten orgullosos, sin duda una muestra de alcanzar el sueño americano, al visitar esta zona podrás encontrar muchos restaurantes y tiendas que son réplicas de restaurantes y tiendas en Cuba. Además de ver casas de estilo mediterráneo, el olor a café y habanos, además de la alegre música cubana. Un lugar sin duda muy contrastante con otros puntos de la ciudad y en donde podrás darte una idea de como lucen algunos barrios de Cuba.
Coral Gables, es uno de los barrios más exclusivos y adinerados de todo Miami, aquí podrás ver una gran cantidad de mansiones de estilo colonial y mediterráneo todas ellas rodeadas de grandes jardines muy bien cuidados y decorados, sin duda es un buen lugar para ir en la búsqueda de la casa de tus sueños.
South Beach, sin duda uno de los lugares más hermosos y atractivos no sólo de Miami sino de todo el país. Para empezar el recorrido es bueno ir a Ocean Drive, en donde podrás encontrar gran cantidad de personas patinando y más de 800 edificios de art déco construidos entre 1930 y 1940 sin duda un estilo arquitectónico bastante peculiar. Visita la playa de South Beach, en donde podrás encontrar una gran cantidad de surfistas disfrutando de las olas, además de la belleza de las personas que disfrutan del sol para broncearse, si lo que deseas es bañarte tranquilamente entre la calle 6 y la 14 será la zona más ideal de disfrutar del agua turquesa de estas maravillosas playas de arena blanca.
Miami Beach, en este distrito podrás encontrar tanto South Beach, Middle Beach y North Beach, así que lugares para conocer sobrarán. Disfruta de playas como Haulover Beach, en donde además de disfrutar de agua tranquila para nadar cuenta con un área nudista en donde la gente que acude suele ser bastante respetuosa. Bal Harbor Beach, esta playa se encuentra a lado de Haulover y es un sitio menos frecuentado a pesar de estar rodeado de hoteles y restaurantes de lujo, aquí podrás encontrar a mucha gente disfrutando de hacer pilates y yoga, además de encontrar un montón de tiendas y centros comerciales de las marcas más reconocidas.
Acuario de Miami, es el acuario más grande de todo EE.UU, que alberga cientos de tipos de peces, tortugas marinas, tiburones y reptiles. Además de disfrutar de ver y conocer a todos estos animales marinos podrás disfrutar de espectáculos en los que participan gran parte de ellos. Entre los espectáculos más importantes se encuentra el de Lolita la Ballena Asesina y el show de delfines, en donde podrás ver como tanto a la orca como a los delfines haciendo en conjunto acrobacias. El espectáculo de Flipper, este famoso delfín se encuentra en este acuario y podrás disfrutar de su espectáculo de acrobacias, cabe destacar que aquí se filmaron más de 100 capítulos de su serie. El costo de entrada es de $46 adultos y $36 niños.
Cruceros en Miami, no olvides que Miami alberga la mayor cantidad de cruceros en el mundo, por lo que podrás encontrar excelentes opciones para disfrutar de conocer las mejores y más exclusivas playas de toda la costa de florida, pudiendo disfrutar de 3 noches y 4 días por menos de $300 algunos de ellos ya con barra libre.
Sin más por el momento me despido no sin antes desearles tengan una excelente aventura, saludos y buen viaje.