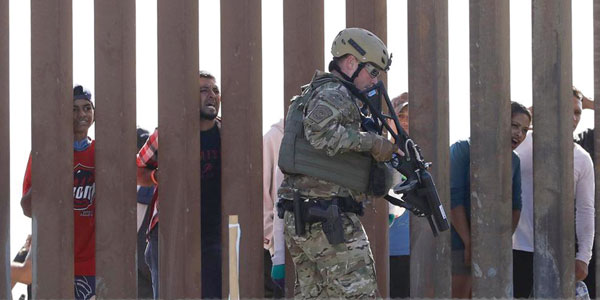 By Angie Baldelomar
Congress has passed a spending bill to fund the U.S. government through Sept. 30.
After weeks of negotiating and looking to prevent another government shutdown, Democratic and Republican lawmakers finally agreed on a spending bill to provide $49.4 billion for the Department of Homeland Security (DHS) for the 2019 budget year. As multiple news agencies reported, President Trump signed the bill on Feb. 15.
Though Trump did not get money for a U.S.-Mexico border wall, the bill includes $1.375 billion for approximately 55 miles of new physical barriers in the Rio Grande Valley sector. The barriers cannot be concrete walls or other prototypes, and there are limits on where they can be mounted.
The legislation allocates money for border security, including $564 million for port-of-entry inspection equipment, $191 million for ports of entry construction, $127 million for aircraft and marine assets, $100 million for new technology, and funding for 600 new custom officers and 200 more Border Patrol agents.
It also includes funding for an average of 45,274 detention beds per day. But the legislation prevents U.S. Immigration and Customs Enforcement (ICE) from using information provided by a sponsor against detained immigrants, unless the person has a felony conviction or pending felony charge.
In addition, the bill includes $414 million in humanitarian aid for the border. This comes in the form of enhanced medical support, transportation, food and clothing for immigrants in detention.
Regarding immigration courts, the bill includes funding for 75 new immigration judges. With the courts facing a backlog of more than 800,000 pending cases, the legislation also gives $7.4 million for additional attorneys and for courtroom expansion to assist with current cases in the system.
Regarding oversight, ICE is required to report and make public information about numbers and the makeup of individuals in custody.
In total, the DHS got a $1.7 billion increase in overall spending from 2018.
---
Proyecto de ley de gastos asigna fondos para asuntos de frontera e inmigración
El Congreso aprobó una ley de gastos para financiar al gobierno de los Estados Unidos hasta el 30 de septiembre.
Después de semanas de negociaciones y buscando prevenir otro cierre de gobierno, los legisladores demócratas y republicanos finalmente acordaron un proyecto de ley de gastos para proporcionar $49.4 mil millones de dólares para el Departamento de Seguridad Nacional (DHS) para el año presupuestario 2019. Como informaron varias agencias de noticias, el presidente Trump firmó el proyecto de ley el 15 de febrero.
Aunque Trump no obtuvo dinero para un muro fronterizo de Estados Unidos y México, el proyecto de ley incluye $1.375 mil millones para aproximadamente 55 millas de nuevas barreras físicas en el sector del Valle del Río Grande. Las barreras no pueden ser paredes de concreto u otros prototipos, y existen límites sobre dónde se pueden montar.
La legislación asigna dinero para la seguridad fronteriza, incluidos $564 millones para equipos de inspección en el puerto de entrada, $191 millones para la construcción de puertos de entrada, $127 millones para aeronaves y activos marinos, $100 millones para nuevas tecnologías y financiamiento para 600 nuevos oficiales de aduanas y 200 agentes más de la Patrulla Fronteriza.
También incluye fondos para un promedio de 45,274 camas de detención por día. Pero la legislación impide que el Servicio de Inmigración y Control de Aduanas (ICE, por sus siglas en inglés) de Estados Unidos utilice la información proporcionada por un patrocinador contra los inmigrantes detenidos, a menos que la persona tenga una condena por delito grave o un cargo pendiente.
Además, el proyecto de ley incluye $414 millones en ayuda humanitaria para la frontera. Esto viene en forma de apoyo médico mejorado, transporte, alimentos y ropa para inmigrantes detenidos.
Con respecto a los tribunales de inmigración, el proyecto de ley incluye fondos para 75 nuevos jueces de inmigración. Con los tribunales enfrentando una acumulación de más de 800,000 casos pendientes, la legislación también otorga $7.4 millones para abogados adicionales y para la expansión de la sala de audiencias para ayudar con los casos actuales en el sistema.
Con respecto a la supervisión, se requiere que ICE reporte y haga pública la información sobre los números y la composición de las personas bajo custodia.
En total, el DHS obtuvo un aumento de $1.7 mil millones en el gasto general de 2018.