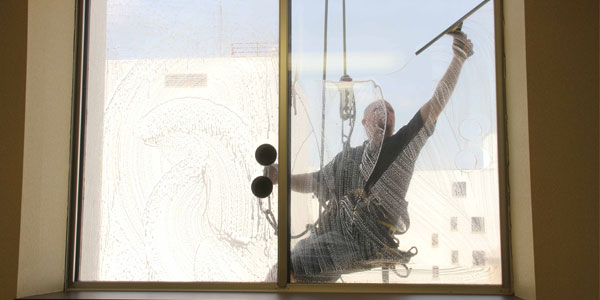 By Katherine Diaz
Jorge Aguilar's ambition when he was a young entrepreneur has helped him expand a Kansas City area-based window cleaning business into a nationwide specialized service provider.
As an 18-year-old working for an area company, Aguilar discovered an interest in window cleaning that led to furthering his career in the trade. At age 20, he set off to start his own business, Empire Window Cleaning. To promote his business, Aguilar began handing out flyers in the area. It soon proved successful after acquiring some referrals.
"When you're that young, you don't really think too far out, but I was blessed to have people around me that were seeing what I was doing within my industry," Aguilar recalled. "I was able to meet other window cleaners that were far ahead of what I was doing. So I traveled a lot and visited friends that had other companies."
Eventually, Empire Window Cleaning became Empire Highrise USA. The company has grown to provide a range of residential, commercial and high-rise cleaning services across America. It went nationwide almost six years ago, Aguilar stated.
Aguilar credits expanding Empire's locations and broadening its services to networking. He gives special credit to the Kansas City Kansas (KCK) Chamber of Commerce for its role in helping Aguilar form relationships and increase awareness of Empire across the local area.
"I've been going to conventions for window cleaning and power washing since 2006, so I've met a lot of window cleaners throughout the country that (have become) my friends," he said. "Going nationwide was fairly easy because I already had those deep connections."
Finding a niche in the industry has helped Empire, too.
"What we specialize in is providing our services to other window cleaners who do not do what we do," Aguilar said. "It's a specialized trade – being up on ropes and hanging off of buildings. So we empower other businesses to do better in their cities."
Empire can service buildings that are up to 44-stories high.
"We bring so much to the table," Aguilar said. "We get certifications for everything! We've got Occupational Safety Health Administration (OSHA) 10, International Window Cleaning Association (IWCA) certifications, CPR, different types of power washing certifications (and) high rise certifications."
Aguilar attributes Empire's continuing success to observing, learning and being dedicated to establishing a reliable, high-quality window-cleaning company.
"The way that I see it is, (a business) needs attention – just like a little kid does," he said. "It's all about how hungry you really are, how hungry are you to succeed and what are you willing to give up to be able to get to your goals."
To learn more about Empire Highrise USA, visit empirehighrise.com.
__________________________________________________________________________
Aguilar convierte su interés de joven en un negocio nacional
La ambición de Jorge Aguilar cuando era un joven empresario lo ayudó a expandir un negocio de limpieza de ventanas con sede en Kansas City a un proveedor de servicios especializados en todo el país.
Cuando tenía 18 años y trabajaba para una compañía del área, Aguilar descubrió un interés en la limpieza de ventanas que lo llevó a continuar su carrera en el comercio. A los 20 años, se puso en marcha para iniciar su propio negocio, Empire Window Cleaning. Para promover su negocio, Aguilar comenzó a repartir volantes en el área. Pronto tuvo éxito después de adquirir algunas referencias.
"Cuando eres tan joven, no piensas mucho a futuro, pero tuve la suerte de tener personas a mi alrededor que estaban viendo lo que estaba haciendo dentro de mi industria", Aguilar recordó. "Pude conocer a otros limpiadores de ventanas que estaban muy por delante de lo que estaba haciendo. Así que viajé mucho y visité amigos que tenían otras compañías".
Eventualmente, Empire Window Cleaning se convirtió en Empire Highrise USA. La compañía ha crecido para proporcionar una gama de servicios de limpieza residenciales, comerciales y de gran altura en todo Estados Unidos. Dio el salto a nivel nacional hace casi seis años, Aguilar afirmó.
Aguilar acredita las expansión de las ubicaciones de Empire y la ampliación de sus servicios a la creación de relaciones. Da un crédito especial a la Cámara de Comercio de Kansas City Kansas (KCK) por su papel en ayudar a Aguilar a formar relaciones y aumentar la conciencia sobre Empire en el área local.
"He estado yendo a convenciones para limpieza de ventanas y el lavado a presión desde 2006, así que he conocido a muchos limpiadores de ventanas en todo el país que se han convertido en mis amigos", dijo. "Lanzarse a nivel nacional fue bastante fácil porque ya tenía esas conexiones profundas".
Encontrar un nicho en la industria también ha ayudado a Empire.
"Lo que nos especializamos es en brindar nuestros servicios a otros limpiadores de ventanas que no hacen lo que hacemos", Aguilar dijo. "Es un oficio especializado: estar en cuerdas y colgados de edificios. Así que potenciamos a otras empresas a que tengan un mejor desempeño en sus ciudades".
Empire puede atender edificios de hasta 44 pisos de altura.
"Traemos mucho a la mesa", dijo Aguilar. "¡Tenemos certificaciones para todo! Tenemos certificaciones de la Administración de Salud de Seguridad Ocupacional (OSHA) 10, de la Asociación Internacional de Limpieza de Ventanas (IWCA), RCP, diferentes tipos de certificaciones de lavado de energía (y) de gran altura".
Aguilar atribuye el éxito continuo de Empire a la observación, el aprendizaje y la dedicación al establecimiento de una empresa de limpieza de ventanas confiable y de alta calidad.
"Como lo veo, (un negocio) necesita atención, al igual que un niño pequeño", dijo. "Se trata de cuánta hambre tienes realmente, cuánta hambre tienes para tener éxito y a qué estás dispuesto a renunciar para poder alcanzar tus metas".
Para obtener más información sobre Empire Highrise USA, visite empirehighrise.com.