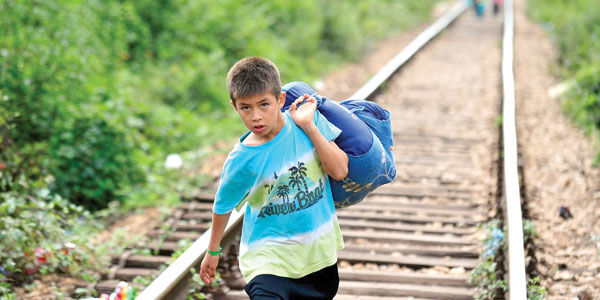 Unaccompanied migrant children and minors separated from their parents by U.S. officials at the border present a host of complex problems that defy rigid, one-size-fits-all solutions. It's a crisis that seemingly intensifies and escalates almost daily.
On Tuesday, shocking news broke that 4,556 children reported being sexually assaulted while in the care of the U.S. Health and Human Services' Office of Refugee Resettlement. Other minors in U.S. custody were responsible for most of the alleged assaults; 178 were carried out by staff, USA Today reported.
Allegations go back to the Obama administration in 2015. Cdr. Jonathan White, who's overseen the care of migrant children at HHS, told members of the House Judiciary Committee investigating the allegations that the accused staff members weren't HHS personnel. They were associated with local shelters that HHS contracts with to house and care for the children. Those facilities, White told Congress, are inspected by state child welfare officials.
The Judiciary Committee on Tuesday held hearings on the allegations, and the House Oversight and Reform Committee voted to authorize subpoenas requiring federal officials to turn over records on migrant children and parents who were separated at the U.S.-Mexico border. The Committee is demanding the ages and native countries of the separated children, where they're being held and details about their conditions, and the status of the parents' cases.
Last Thursday, multiple national media outlets reported that upwards of 245 migrant children have been separated from their parents caught crossing the border illegally since President Trump formally ended the practice in June 2018. The separations were carried out because of "criminality, prosecution, gang affiliation or other law enforcement purpose," federal officials told the ACLU, which filed a lawsuit last year.
The ACLU wants the government to identify many more migrant families separated from their children at the border and reunite them. U.S. District Judge Dana Sabraw heard arguments last Thursday and is expected to rule very soon. At issue are the families who were separated between July 2017 and June 26, 2018 when the court ordered the Trump administration to end the family separation policy.
Migrant children falling prey to commercial sexual and labor exploitation present further risks that must be addressed at the border. Children account for three in every five of human trafficking in Central America, according to the United Nations Office on Drugs and Crime. What's happening, the ACLU claims, is that Homeland Security doesn't make concessions for anyone other than a parent or legal guardian when separating children and adults at the border. The government is doing separations unilaterally without any process to contest the separations and without child welfare oversight. They cited a recent example. An 11-year-old boy from Guatemala was separated from his uncle, his only living relative. The boy's parents had died without formalizing custody arrangements.
The migrant children aren't responsible for the adults, whether they're parents, guardians, relatives or traffickers who brought them to our border. It's imperative that we secure our borders and control who we admit without further punishing the children who have suffered enough at the hands of adults. 
__________________________________________________________________________
Persiguiendo a niños en nuestra frontera
Los niños migrantes no acompañados y menores separados de sus padres por funcionarios de Estados Unidos en la frontera presentan una serie de problemas complejos que desafían las soluciones rígidas de talla única. Es una crisis que aparentemente se intensifica y aumenta casi a diario.
El martes, salieron a la luz noticias impactantes de que 4,556 niños reportaron haber sido agredidos sexualmente mientras se encontraban bajo el cuidado de la Oficina de Reasentamiento de Refugiados de la Oficina de Salud y Servicios Humanos de Estados Unidos (HHS). Otros menores en custodia de los Estados Unidos fueron responsables de la mayoría de los supuestos ataques; 178 fueron llevadas a cabo por el personal, informó USA Today.
Las denuncias se remontan al gobierno de Obama en 2015. El comandante Jonathan White, quien supervisó el cuidado de niños migrantes en HHS, dijo a los miembros del Comité Judicial de la Cámara de Representantes que investigaban las denuncias de que los miembros del personal acusado no eran personal de HHS. Se asociaron con refugios locales que HHS contrata para alojar y cuidar a los niños. Esas instalaciones, dijo White al Congreso, son inspeccionadas por funcionarios estatales de bienestar infantil.
El Comité Judicial organizó el martes audiencias sobre las acusaciones, y el Comité de Supervisión y Reforma de la Cámara de Representantes votó para autorizar citaciones que exijan a los funcionarios federales entregar los registros de los niños migrantes y los padres que se separaron en la frontera de Estados Unidos y México. El Comité exige las edades y los países nativos de los niños separados, dónde se encuentran recluidos, los detalles sobre sus condiciones y el estado de los casos de los padres.
El jueves pasado, varios medios de comunicación nacionales informaron que más de 245 niños migrantes han sido separados de sus padres atrapados cruzando ilegalmente la frontera desde que el presidente Trump terminó formalmente la práctica en junio de 2018. Las separaciones se llevaron a cabo debido a "criminalidad, procesamiento, afiliación a pandillas u otro propósito de aplicación de la ley", informaron los funcionarios federales a ACLU, que presentó una demanda el año pasado.
La ACLU quiere que el gobierno identifique a muchas más familias migrantes separadas de sus hijos en la frontera y las reúna. La jueza de distrito de Estados Unidos, Dana Sabraw, escuchó los argumentos el jueves pasado y se espera que se pronuncie muy pronto. En el asunto están las familias que se separaron entre julio de 2017 y el 26 de junio de 2018 cuando el tribunal ordenó a la administración de Trump que pusiera fin a la política de separación de la familia.
Los niños migrantes que son víctimas de la explotación sexual comercial y laboral presentan otros riesgos que deben abordarse en la frontera. Según la Oficina de las Naciones Unidas contra la Droga y el Delito, los niños representan tres de cada cinco casos de trata de personas en América Central. Lo que está sucediendo, afirma la ACLU, es que Seguridad Nacional no hace concesiones a nadie más que a un padre o tutor legal cuando separa a niños y adultos en la frontera. El gobierno está haciendo separaciones unilateralmente sin ningún proceso para impugnar las separaciones y sin supervisión de bienestar infantil. Citaron un ejemplo reciente. Un niño de 11 años de Guatemala fue separado de su tío, su único pariente vivo. Los padres del niño habían muerto sin formalizar los arreglos de custodia.
Los niños migrantes no son responsables de los adultos, ya sean padres, tutores, familiares o traficantes, que los trajeron a nuestra frontera. Es imperativo que aseguremos nuestras fronteras y controlemos a quienes admitimos sin castigar aún más a los niños que han sufrido lo suficiente a manos de los adultos.