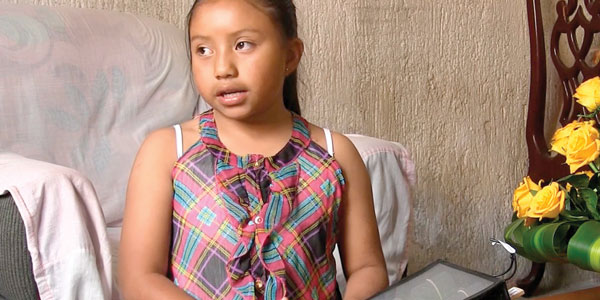 By Angie Baldelomar
An 8-year-old Mexican girl has become the first child to win a prestigious science prize from Mexico's National Autonomous University (UNAM) for demonstrating outstanding skills on science diffusion.
Xochitl Guadalupe Cruz Lopez, who lives in the southern Mexican state of Chiapas, created a solar water heater made from discarded objects, including hoses, and glass panels from a former construction site and logs. With her father's help, she installed it on the roof of her house. Thanks to this creation, she won the ICN Recognition for Women from the Institute of Nuclear Science at UNAM, as was reported recently by El Universal.
Cruz Lopez, who started inventing when she was only 4 years old, said the project was aimed at slowing climate change by creating a low-cost heater for low-income people in her rural community.
"There are low-income people who don't have the possibility to buy these heaters, so what they do is cut the trees to get firewood, which affects the world through climate change," she said in a video interview with El Universal.
The third-grader hopes to build a bigger water heater to help her community and is seeking university support. In addition, she is working to show that females can succeed in male-dominated fields.
---
Niña mexicana gana prestigioso premio de ciencia
Una niña mexicana de 8 años se ha convertido en la primera niña en ganar un prestigioso premio de ciencia de la Universidad Nacional Autónoma de México (UNAM) por demostrar habilidades sobresalientes en la difusión de la ciencia.
Xóchitl Guadalupe Cruz López, que vive en el estado de Chiapas, al sur de México, creó un calentador de agua solar hecho de objetos desechados, como mangueras y paneles de vidrio de una antigua obra de construcción y troncos. Con la ayuda de su padre, lo instaló en el techo de su casa. Gracias a esta creación, ganó el Reconocimiento ICN a la Mujer del Instituto de Ciencias Nucleares de la UNAM, como informó recientemente El Universal.
Cruz López, quien comenzó a inventar cuando tenía sólo 4 años, dijo que el proyecto tenía como objetivo frenar el cambio climático mediante la creación de un calentador de bajo costo para las personas de bajos ingresos en su comunidad rural.
"Hay personas de escasos recursos que no tienen la posibilidad de comprar estos calentadores, así que lo que hacen es cortar árboles para obtener leña, lo que afecta al mundo a través del cambio climático", dijo en una entrevista en video con El Universal.
La alumna de tercer grado de primaria espera construir un calentador de agua más grande para ayudar a su comunidad y está buscando apoyo universitario. Además, está trabajando para demostrar que las mujeres pueden tener éxito en los campos dominados por los hombres.