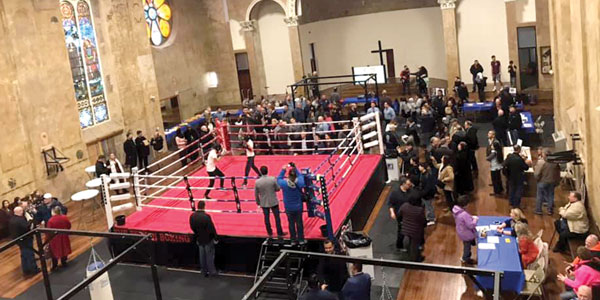 On Feb. 7, the new Kansas City, Kansas Police Athletic League (PAL) boxing gym opened at 5th and Ann in Kansas City, Kansas. For the last year and a half, the KC Golden Gloves has worked with KCK PAL Executive Director Matt Tomasic and the KCK police department to make this vision a reality.  The result is 35-40 young men and women each night in an environment of self-discipline, respect, and physical fitness.
KC Golden Gloves assisted the PAL in finding a head coach, getting registered as a USA Boxing-sanctioned gym, and trained and supported assistant coaches. Additionally, KC Golden Gloves provided the largest equipment donation in KCK PAL's history, almost $10,000 of safe, quality boxing equipment.
Through a press release, Chris Walden, KC Golden Gloves president, thanked patrons for their support.
"Simply put this could not have been done without your support.  Many of you remember the heyday of boxing in KC, when the 4-day tournament would sell out Municipal auditorium," he said in the press release.
"Those days may never return but we are headed in that direction because of YOU and a wonderful board of directors."
---
Se abre nuevo gimnasio de boxeo de la Liga Atlética de la Policía de KCK
El 7 de febrero, el nuevo gimnasio de boxeo de la Liga Atlética de la Policía (PAL, por sus siglas en inglés) de Kansas City, Kansas se inauguró en 5th y Ann en Kansas City, Kansas. Durante el último año y medio, KC Golden Gloves ha trabajado con el Director Ejecutivo de KCK PAL, Matt Tomasic, y el departamento de policía de KCK para hacer de esta visión una realidad. El resultado son 35-40 hombres y mujeres jóvenes cada noche en un entorno de autodisciplina, respeto y condición física.
KC Golden Gloves ayudó a PAL a encontrar un entrenador en jefe, registrarse como gimnasio autorizado por USA Boxing y entrenó y apoyó a los entrenadores asistentes. Además, KC Golden Gloves proporcionó la mayor donación de equipos en la historia de KCK PAL, casi $10,000 en equipo de boxeo seguro y de calidad.
A través de un comunicado de prensa, Chris Walden, presidente de KC Golden Gloves, agradeció a los usuarios por su apoyo.
"En pocas palabras, esto no se podría haber hecho sin su apoyo. Muchos de ustedes recuerdan el apogeo del boxeo en KC, cuando el torneo de 4 días llenaba el auditorio Municipal", dijo en el comunicado. "Es posible que esos días nunca vuelvan, pero nos dirigimos en esa dirección gracias a USTED y a una junta directiva maravillosa".