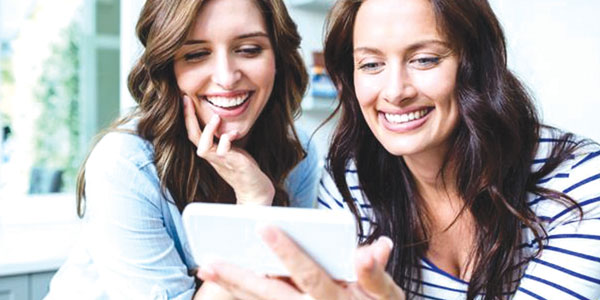 Commentary by Chara
The technology revolution has drawn criticism for harming relationships because people spend more time staring at their phones and computer screens and less time talking to each other. However, there are many ways that technology works as a tool for building relationships. For example, some mobile apps can allow you to meet that special someone.
Some of the best dating apps include the following:
*Tinder: This app for ages 18 and older is arguably the most famous and popular. Since it was founded, Tinder has helped create many long-distance relationships and successful marriages. Lately, however, Tinder has been accused of becoming a hookup app, instead of a dating one.
Tinder shows you the picture, name and age of a possible date (or hookup). You can tap on the photo to see additional info and then decide if you are interested. No one can message you unless you also have shown interest.
Tinder offers free and premium versions. The free option comes with limited swipes. The premium version offers some extra features.
*Bumble: Offering a similar interface to Tinder, Bumble's big attraction is that, when there is a match, the woman must message the guy first. The app offers her 24 hours to do so. Guys can extend matches for 24 extra hours. Under its profiles feature, a short bio is listed. Users may post a maximum of six photos.
*OkCupid: This app offers a profile with more information than other dating sites. If you answer a series of questions, OkCupid will offer you a match percentage ratio on compatible profiles. With a recent update, the app has eliminated the feature that allows you to message any user you want. Instead, messaging is limited to other matches.
*Coffee Meets Bagel: With this app, you receive curated matches, called "Bagels," at noon each day. In addition, Coffee Meets Bagel suggests topics for your first message, and the profiles are more in-depth than other apps. And it offers many other features. But this app, which got popular quickly, has its drawbacks. Some users have complained about Coffee Meets Bagel's difficult interface.
*Match: The app was one of the first dating websites to be created. It requires a rigorous signup process that includes pictures, a questionnaire and the choosing of a username.
Match offers several ways to meet potential dates (or hookups). You can browse the database, for example, and send someone a "wink." The app also offers daily personalized matches.
Alas, if you are on a tight budget, Match might not be for you. You need a subscription to use the app. The cheapest one starts at $21 per month. A premium subscription allows you to see who has viewed your profile and liked your pictures.
Are you ready to date? If so, which app would you pick?
---
Eche un vistazo a las mejores aplicaciones de citas
La revolución tecnológica ha generado críticas por dañar relaciones porque las personas pasan más tiempo mirando sus teléfonos y pantallas de computadoras y menos tiempo hablando entre ellos. Sin embargo, hay muchas formas en que la tecnología funciona como una herramienta para construir relaciones. Por ejemplo, algunas aplicaciones móvil pueden permitirle conocer a esa persona especial.
Algunas de las mejores aplicaciones de cita incluyen las siguientes:
*Tinder: Esta aplicación para mayores de 18 años es quizás la más famosa y popular. Desde su fundación, Tinder ha ayudado a crear muchas relaciones a larga distancia y matrimonios exitosos. Últimamente, sin embargo, Tinder ha sido acusado de convertirse en una aplicación de ligue en lugar de en una de cita.
Tinder le muestra la foto, el nombre y la edad de una posible cita (o ligue). Puede tocar en la foto para ver información adicional y luego decidir si está interesado. Nadie puede enviarle a menos que usted también haya mostrado interés.
Tinder ofrece versiones gratuitas y premium. La opción gratuita viene con 'swipes' limitados. La versión premium ofrece algunas características adicionales.
* Bumble: Al ofrecer una interfaz similar a la de Tinder, la gran atracción de Bumble es que, cuando existe un emparejamiento, la mujer debe enviar un mensaje primero. La aplicación le da 24 horas para hacerlo. Los hombres pueden extender los emparejamientos por 24 horas adicionales. Bajo su característica de perfiles, una breve biografía aparece en la lista. Los usuarios pueden publicar un máximo de seis fotos.
* OkCupid: Esta aplicación ofrece un perfil con más información que otros sitios de citas. Si responde a una serie de preguntas, OkCupid le ofrecerá un porcentaje de coincidencia en los perfiles compatibles. Con una actualización reciente, la aplicación ha eliminado la característica que le permite mandar mensajes a cualquier usuario que desee. En cambio, la mensajería se limita a otros emparejamientos.
* Coffee Meets Bagel: Con esta aplicación, usted recibe emparejamientos curados, llamados "bagels", al mediodía de cada día. Además, Coffee Meets Bagel sugiere temas para su primer mensaje y los perfiles van más en profundidad que en otras aplicaciones. Y ofrece muchas otras características. Pero esta aplicación, que se volvió popular rápidamente, tiene sus inconvenientes. Algunos usuarios se han quejado de la difícil interfaz de Coffee Meets Bagel.
* Match: La aplicación fue uno de los primeros sitios web de citas que se crearon. Requiere un proceso de registro riguroso que incluye fotos, un cuestionario y la elección de un nombre de usuario.
Match ofrece varias maneras de conocer a citas (o ligues) potenciales. Puede navegar por la base de datos, por ejemplo, y enviar un "guiño" a alguien. La aplicación también ofrece emparejamientos personalizados diarios.
Por desgracia, si tiene un presupuesto ajustado, es posible que Match no sea para usted. Necesita una subscripción para usar la aplicación. La más barata empieza a $21 dólares al mes. Una subscripción premium le permite ver quién ha visto su perfil o quién le ha dado 'Me Gusta' a sus fotos.
¿Está listo para salir con alguien? Si es así, ¿qué aplicación elegiría?