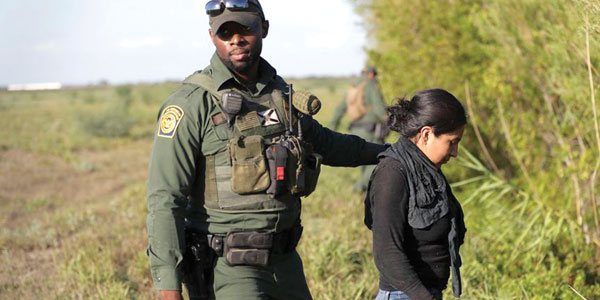 By Angie Baldelomar
The Trump administration has instructed border agents to explicitly target Spanish speakers and Latin American immigrants when carrying out a program requiring asylum seekers to wait in Mexico, according to an Associated Press (AP) investigation.
The program was launched in late January to handle the cases of immigrants seeking asylum in the United States. Initially, it was only applicable to those turning themselves in at border crossings. A new memo, obtained by the AP, said the program expanded recently to include people illegally crossing the border.
The memo also included instructions on who to allow through the traditional asylum process and who to send back to Mexico. Pregnant women, LGBT immigrants and people suffering medical issues, as well as Mexican asylum-seekers and children traveling alone, are all allowed to go through the traditional process.
U.S. officials also must check if asylum seekers have any felony convictions and notify Mexico at least 12 hours prior to their return, said the AP report.
Critics have said the program's guidelines target Central Americans.
Another memo to top officials revealed on Tuesday (March 5) that border agents are being pressured to employ the program as much as possible.
News of the memos comes as the U.S.-Mexico border saw significant jumps in February in the apprehensions and denials of people trying to enter the country. According to data from the U.S. Customs and Border Patrol, border arrests soared to a 12-year high in February, with 66,450 people apprehended after crossing the border, compared to 47,986 in January.
_______________________________________________________________________
Trump ordena a agentes en la frontera a singularizar a hispanohablantes, latinoamericanos
La administración de Trump ha instruido a los agentes fronterizos para que ataquen explícitamente a los hispanohablantes e inmigrantes latinoamericanos a la hora de ejecutar un programa que requiere que los solicitantes de asilo esperen en México, de acuerdo a una investigación de Associated Press (AP).
El programa fue lanzado a fines de enero para manejar los casos de inmigrantes que buscan asilo en los Estados Unidos. Inicialmente, sólo era aplicable a quienes se entregaran en los cruces fronterizos. Un nuevo memorándum, obtenido por AP, dijo que el programa se amplió recientemente para incluir a personas que cruzan ilegalmente la frontera.
El memorándum también incluía instrucciones sobre a quién permitir a través del proceso de asilo tradicional y a quién enviar a México. Las mujeres embarazadas, los inmigrantes LGBT y las personas que sufren problemas médicos, así como los solicitantes de asilo mexicanos y los niños que viajan solos, pueden pasar por el proceso tradicional.
Funcionarios estadounidenses también deben verificar si los solicitantes de asilo tienen condenas por delitos graves y notificar a México al menos 12 horas antes de su regreso, dijo el informe de AP.
Los críticos han dicho que las pautas del programa atacan a los centroamericanos.
Otra nota a altos funcionarios reveló el martes (5 de marzo) que se está presionando a los agentes fronterizos para que empleen el programa tanto como sea posible.
La noticia de los memorándums llega cuando la frontera de Estados Unidos y México experimentó importantes saltos en febrero en las detenciones y negaciones de las personas que intentan ingresar al país. Según los datos de la Patrulla de Aduanas y Fronteras de EE.UU., los arrestos fronterizos llegaron a un máximo de 12 años en febrero, con 66,450 personas detenidas después de cruzar la frontera, en comparación con 47,986 en enero.