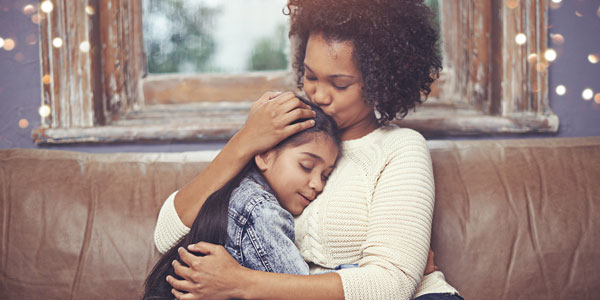 (Family Features)
Whether circumstances are good or bad, exciting or stressful, there are several simple ways to improve emotional and mental fitness.
As one example, sharing a hug with a loved one has been found to boost immune system responses, help fight disease and increase overall health, according to an article published by The Guardian. Hugs increase serotonin, which is the body's natural antidepressant, can be a natural sleep aid and help reduce stress and anxiety.
However, according to the article, hugs are on the decline. Among the reasons for this decline in hugging are busy schedules and the prevalence of technology extending the workday into time spent at home. It can be hard to focus on personal connections when work follows you home in your pocket. At times, it seems there are stronger connections to mobile devices than family members sitting in the same room.
There is a simple solution, though. In honor of National Hug Day, you can get back to showing love through the simple act of hugging.
With the help of its mascot, Seymore Good, Tree Top encourages everyone to "squeeze the day" and acknowledge goodness in others by sharing a meaningful, honest hug. The grower-owned fruit cooperative that uses simple ingredients and real fruit also introduced innovative clear applesauce pouches that let parents "See the Good" in what their kids are eating before they eat it.
In the spirit of reducing stress and giving meaningful, memorable hugs, consider these tips:
Keep it real. Avoid superficial hugs or giving a hug just out of habit. Instead, try focusing on the hug and giving it with purpose, as an expression of friendship. Squeeze hard, but not too hard.
Take a breath. Once you are in the hug, pause for a moment and breathe. Just one breath. This is where you have the chance to squeeze a little longer. Go ahead and be a little vulnerable. In the moment, remember who you are hugging and why you are hugging him or her. This is a moment when the healing power of the hug can shine through, and a hug or squeeze is a sign of affection and trust.
Let it go. Be sensitive to the movements of the person you are hugging and be willing to be the first to let go. Leave the embrace with a smile on your face, even in the hardest moments of life. Always let the person you are letting go of know you are happy.
Visit treetop.com for more information.
---
Abrazar más, estresarse menos
Ya sea que las circunstancias sean buenas o malas, emocionantes o estresantes, existen varias formas sencillas de mejorar el estado emocional y mental.
Como ejemplo, se ha encontrado que compartir un abrazo con un ser querido estimula las respuestas del sistema inmunológico, ayuda a combatir enfermedades y aumenta la salud general, según un artículo publicado por The Guardian. Los abrazos aumentan la serotonina, que es el antidepresivo natural del cuerpo, pueden ser una ayuda natural para dormir y ayudar a reducir el estrés y la ansiedad.
Sin embargo, según el artículo, los abrazos están en declive. Entre las razones para esta disminución en abrazos están los horarios ocupados y el predominio de la tecnología que extiende la jornada laboral al tiempo que pasa en casa. Puede ser difícil concentrarse en conexiones personales cuando el trabajo lo sigue a casa en su bolsillo. A veces, parece que hay conexiones más fuertes con los dispositivos móviles que con los miembros de la familia sentados en la misma habitación.
Sin embargo, hay una solución simple. En honor al Día Nacional del Abrazo, puede volver a mostrar el amor a través del simple acto de abrazar.
Con la ayuda de su mascota, Seymore Good, Tree Top anima a todos a "exprimir el día" y reconocer la bondad de los demás al compartir un abrazo significativo y honesto. La cooperativa de frutas propiedad del agricultor que utiliza ingredientes simples y fruta real también introdujo bolsas innovadoras claras de compota de manzana que permiten a los padres "ver lo bueno" en lo que comen sus hijos antes de comerlos.
En el espíritu de reducir el estrés y dar abrazos significativos y memorables, considere estos consejos:
Sea realista. Evite los abrazos superficiales o dar un abrazo por costumbre. En su lugar, intente enfocarse en el abrazo y delo con un propósito, como una expresión de amistad. Apriete fuerte, pero no demasiado fuerte.
Tome un respiro. Una vez que esté en el abrazo, haga una pausa por un momento y respire. Sólo una respiración. Aquí es donde tiene la oportunidad de apretar un poco más. Siga adelante y sea un poco vulnerable. En el momento, recuerde a quién está abrazando y por qué lo está abrazando. Este es un momento en que el poder curativo del abrazo puede brillar, y un abrazo o un apretón es un signo de afecto y confianza.
Déjelo ir. Sea sensible a los movimientos de la persona que está abrazando y esté dispuesto a ser el primero en soltar. Deje el abrazo con una sonrisa en su rostro, incluso en los momentos más difíciles de la vida. Siempre deje saber a la persona que está soltando que es feliz.
Visite treetop.com para más información.