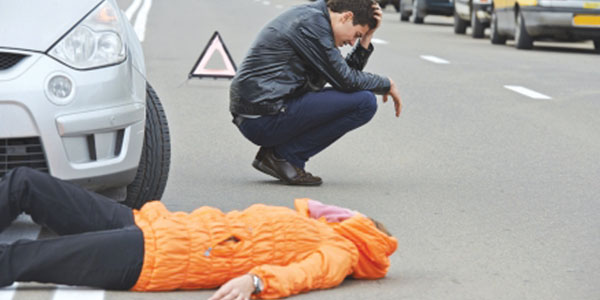 By Angie Baldelomar

A new study reveals that the number of pedestrians killed in traffic in the United States is approaching a three-decade high.
In what has been labeled as an "alarming rise" in such deaths in recent years, an estimated 6,227 pedestrians were killed in traffic in 2018, according to a study by the Governors Highway Safety Association (GHSA). This means a 4-percent increase over 2017 and the highest mortality rate since 1990.
"While we have made progress reducing fatalities among many other road users in the past decade, pedestrian deaths have risen 35 percent," said Jonathan Adkins, GHSA executive director, in a statement.
Adkins called on fortifying collective efforts "to protect pedestrians and reverse the trend."
Alcohol use, speeding, unsafe infrastructure and the prevalence of SUVs are some of the biggest problems contributing to the fatalities. The report also suggested that another factor might be the increased use of smartphones.
"(It) can be a significant source of distraction for all road users," the report said.
The findings revealed that most fatal crashes take place after dark and those are rising faster than daytime deaths.
Arizona, California, Florida, Georgia and Texas accounted for 46 percent of all deaths. Kansas saw a 33-percent increase from 2017.
The full report is available at www.ghsa.org/resources/Pedestrians19.
---
Muertes de peatones alcanzan el nivel más alto en décadas
Un nuevo estudio revela que el número de peatones muertos en el tráfico en los Estados Unidos se acerca a un máximo de tres décadas.
En lo que se ha calificado como un "aumento alarmante" en muertes de este tipo en años recientes, un estimado de 6,227 personas murieron en tráfico en 2018, según un estudio realizado por la Asociación de Seguridad en las Carreteras de los Gobernadores (GHSA, por sus siglas en inglés). Esto significa un incremento del 4 por ciento con respecto a 2017 y la tasa de mortalidad más alta desde 1990.
"Si bien hemos progresado en la reducción de muertes entre muchos otros usuarios de la carretera en la última década, las muertes de peatones han aumentado en un 35 por ciento", dijo Jonathan Adkins, director ejecutivo de GHSA, en un comunicado.
Adkins pidió fortalecer los esfuerzos colectivos "para proteger a los peatones y revertir la tendencia".
El uso de alcohol, el exceso de velocidad, la infraestructura insegura y la prevalencia de las SUV son algunos de los problemas más grandes que contribuyen a las muertes. El informe también sugirió que otro factor podría ser el mayor uso de los teléfonos inteligentes.
"Puede ser una fuente importante de distracción para todos los usuarios de las carreteras", decía el informe.
Los hallazgos revelaron que la mayoría de los accidentes fatales ocurren después del anochecer y que están aumentando más rápido que las muertes diurnas.
Arizona, California, Florida, Georgia y Texas representaron el 46 por ciento de todas las muertes. Kansas vio un aumento del 33 por ciento con respecto a 2017.
El informe completo está disponible en www.ghsa.org/resources/Pedestrians19.