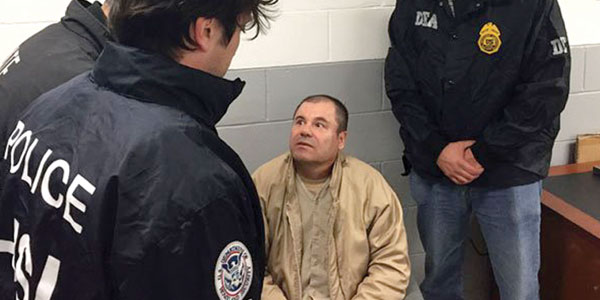 By Chara
Drug lord Joaquin "El Chapo" Guzman Loera might have another day in court.
On March 26, Guzman Loera's defense attorneys sent a letter to a federal judge requesting a new trial for Guzman Loera, who was convicted in February in a U.S. federal court in Brooklyn, New York, on 10 charges, including running a criminal enterprise, drug trafficking and money laundering. He was sentenced to life in prison without parole.
Guzman Loera's attorneys claim the jurors improperly followed media coverage of the case when they were instructed not to do so. Specifically, they claim that five jurors read media reports and followed Twitter during the trial, media outlets have reported.
Attorneys made the request after a Vice News report revealed that a juror said several jurors had not followed the judge's instructions and checked media reports and Twitter.
"Mr. Guzman intends to file (a) motion for a new trial, based on the disclosures in the article and to request an evidentiary hearing to determine the extent of the misconduct," Eduardo Balarezo, one of Guzman's attorneys, wrote in a letter to U.S. District Judge Brian Cogan.
The letter also stated: "If a justice system's measure is how it treats the most reviled and unpopular, then ours may have failed Joaquin Guzman by denying him the fair trial before an untainted jury, to which he's constitutionally entitled."
Judge Cogan granted an extension to file a motion for a new trial.
————————————————————————————————————————————————————————————————————-
El narcotraficante Joaquín "El Chapo" Guzmán Loera podría tener otro día en la Corte.
El 26 de marzo, los abogados defensores de Guzmán Loera enviaron una carta a un juez federal solicitando un nuevo juicio para Guzmán Loera, quien fue condenado en febrero en una Corte Federal estadounidense en Brooklyn, Nueva York, por 10 cargos, incluidas una empresa criminal, tráfico de drogas y lavado de dinero. Fue sentenciado a cadena perpetua sin libertad condicional.
Los abogados de Guzmán Loera afirman que los jurados siguieron indebidamente la cobertura del caso cuando se les indicó que no lo hicieran. Específicamente, afirman que cinco jurados leyeron los informes de los medios y siguieron Twitter durante el juicio, según informaron medios de comunicación.
Los abogados hicieron la solicitud después de que un informe de Vice News revelara que un miembro del jurado dijo que varios jurados no habían seguido las instrucciones del juez y que habían revisado los informes de los medios y Twitter.
"El señor Guzmán tiene la intención de presentar una moción para un nuevo juicio, en base a las revelaciones en el artículo y solicitar una audiencia de prueba para determinar el alcance de la mala conducta", escribió Eduardo Balarezo, uno de los abogados de Guzmán, en una carta al juez de distrito Brian Cogan.
La carta también decía: "Si la medida de un sistema judicial es la forma en que trata a los más vilipendiados e impopulares, entonces el nuestro puede haberle fallado a Joaquín Guzmán al negarle el juicio justo ante un jurado no contaminado, al que tiene derecho constitucionalmente".
El juez Cogan otorgó una extensión para presentar una moción para un nuevo juicio.