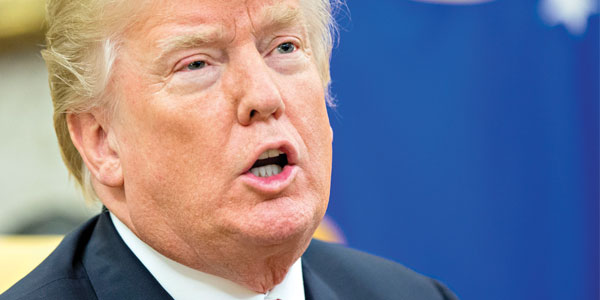 By Chara
On April 4, President Trump backed off his threat to close America's border with Mexico amid widespread opposition.
In March, Trump issued an ultimatum to Mexico, threatening to shut down the southern border to trade and travel if Mexican authorities did not stop illegal immigration to the United States. He backed off after hearing several warnings from several politicians about the economic consequences, giving Mexico a one-year warning instead.
"If the drugs don't stop …, we're going to put tariffs on Mexico and products, in particular cars," Trump told reporters in the White House. "The whole ballgame is cars. It's the big ballgame. With many countries, it's cars. And if that doesn't stop the drugs, we close the border."
The Washington Post stated the president's decision was taken positively by the U.S. Chamber of Commerce, which had lobbied along with Republican senators for the border not to be closed because the impact could be "destructive." Indeed, according to the U.S. Department of Commerce, an estimated of $502 billion in goods crossed the border through trucks and trains in 2018, and nearly 5 million American jobs depend on two-way trade with Mexico.
"Of course, we should secure the border. We must," Republican U.S. Sen. Ted Cruz of Texas said in a statement quoted by ABC News and other media outlets. "But the answer is not to punish those who are legally crossing the border. Millions of jobs, in Texas and across the country, depend upon trade with Mexico, and the federal government shouldn't do anything to jeopardize those jobs."
Trump's threats came after his announcement to cut off foreign aid money to Guatemala, Honduras and El Salvador, claiming the Central American countries do not do anything to stop their citizens from illegally entering the United States. But Veronica Escobar, a congresswoman from Texas, believes that closing the border and stopping economic aid to Central American countries would bring more refugees to America's doors.
After Trump's announcements, people from both sides of the border shared their concerns.
"There was a lot of concern among local people about this threat. … At the very least, it's a coherent message for the business and commercial sector. …  It's a real relief," Armando Cabanda, mayor of Ciudad Juarez, Mexico, was quoted by the Washington Post as saying.
Trump, however, believes his threats are making an impact. He said that Mexican authorities have captured people and sent them back to their home countries.
---
Trump da marcha atrás a sus amenazas a México
El 4 de abril, el presidente Trump dio marcha atrás en su amenaza sobre cerrar la frontera de Estados Unidos con México en medio de una oposición generalizada.
En marzo, Trump emitió un ultimátum a México, amenazando con cerrar la frontera sur para comercializar y viajar si las autoridades mexicanas no detienen la inmigración ilegal a los Estados Unidos. Dio marcha atrás después de escuchar varias advertencias de varios políticos sobre las consecuencias económicas, dándole a México una advertencia de un año en su lugar.
"Si las drogas no se detienen …, vamos a imponer aranceles a México y a los productos, en particular a los autos", Trump le dijo a los reporteros en la Casa Blanca. "Todo el juego de pelota es de autos. Es el gran juego de pelota. Con muchos países, son los coches. Y si eso no detiene las drogas, cerramos la frontera".
El Washington Post indicó que la decisión del presidente fue recibida de manera positiva por la Cámara de Comercio de los Estados Unidos, que había cabildeado junto con los senadores republicanos para que la frontera no se cerrara porque el impacto podría ser "destructivo". De hecho, según el Departamento de Comercio de los Estados Unidos, un estimado de $502 mil millones en bienes cruzaron la frontera a través de camiones y trenes en 2018, y casi 5 millones de empleos estadounidenses dependen de un comercio de doble vía con México.
"Por supuesto, debemos asegurar la frontera. Debemos hacerlo", dijo el senador republicano, Ted Cruz, de Texas en un comunicado citado por ABC News y otros medios de comunicación. "Pero la respuesta no es castigar a aquellos que cruzan la frontera legalmente. Millones de empleos, en Texas y en todo el país, dependen del comercio con México, y el gobierno federal no debería hacer nada para poner en peligro esos empleos".
Las amenazas de Trump se produjeron después de su anuncio de cortar el dinero de la ayuda externa a Guatemala, Honduras y El Salvador, alegando que los países centroamericanos no hacen nada para impedir que sus ciudadanos ingresen ilegalmente a los Estados Unidos. Pero Verónica Escobar, congresista de Texas, cree que cerrar la frontera y detener la ayuda económica a los países centroamericanos traerá más refugiados a las puertas de Estados Unidos.
Después de los anuncios de Trump, personas de ambos lados de la frontera compartieron sus preocupaciones.
"Hubo mucha preocupación entre la gente local sobre esta amenaza. … Por lo menos, es un mensaje coherente para el sector comercial y empresarial. … Es un verdadero alivio", dijo el Washington Post citando a Armando Cabanda, alcalde de Ciudad Juárez, México.
Sin embargo, Trump cree que sus amenazas están teniendo un impacto. Dijo que las autoridades mexicanas han capturado personas y las han enviado de regreso a sus países de origen.