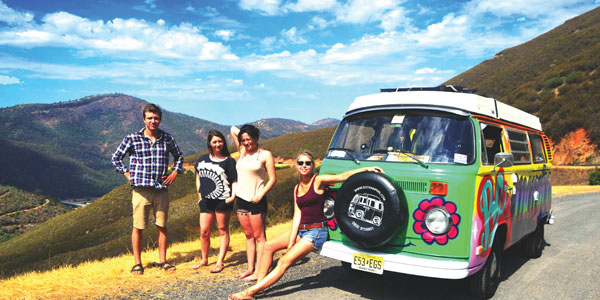 5 warm weather tire safety tips
When it comes to staying safe on the roads – whether you're traveling cross-country or just across town – routinely checking the condition of your tires can be imperative. While variables like road and weather conditions can also impact safety, it's important to remember your tires are the only thing between your vehicle and the road.
During the summer months, high heat and hot roadways combined with normal rolling, turning and braking contribute to potential safety hazards, particularly on worn or improperly inflated tires. Before you hit the road this summer, consider these tips from the experts at your neighborhood Discount Tire store to help keep you safe.
Check your tread. Tread depth refers to the amount of sufficient tread on a tire, which impacts handling, traction and your vehicle's safe stopping distance. As tires wear and tread depth is reduced, their ability to perform in adverse conditions such as rain can be compromised. While most new cars start with 11/32 inch tread, you can use the penny test to check your tread depth at home by sticking a penny upside-down in a tread groove. If Lincoln's entire head is visible, your tread is worn beyond what tire experts recommend as safe – less than 4/32 inch – and it's time to replace your tires.
Accurately measure pressure. Low tire pressure can lead to poor handling and gas mileage, excessive wear and the possibility of tire failure. Remember to check your tire pressure at least once a month, especially before any long-distance trips, as the impacts of bumps and turns from everyday use can lead to normal air loss. For the most accurate reading, check your tires when the car is cool as driving can heat up the tires and lead to an inaccurate reading. You can find the manufacturer's recommended tire pressure on a sticker in your car's door jamb or in your owner's manual. If you need assistance, look for a store like Discount Tire, which offers complimentary air checks and tire safety inspections.
Rotate often. Tires wear differently depending on their location on the vehicle. Routinely rotating your tires spreads wear evenly, which helps maximize their handling, traction and stopping capabilities. To increase longevity and keep your ride as smooth as possible, rotate your tires every 6,000 miles or earlier if irregular or uneven wear develops.
Inspect your trunk. Some newer vehicles now include tire inflation kits complete with puncture-coating sealants and air compressors, or run-flat tires that allow for continued driving with no air pressure for a short period of time rather than a traditional spare tire. Check your trunk to see what your vehicle contains and make sure you have a roadside assistance plan in case of emergency.
Avoid overloading. Overloading your vehicle can have a similar impact on your tires as driving on underinflated tires. The combination of warm roads and overloading, which is common during summer travel season, can lead to your tires potentially overheating and failing. Before loading your car, check the manufacturer's loading recommendation, which can be found in the owner's manual or on the door jamb sticker.
For more tire safety tips, to locate a store near you or schedule a service appointment, visit discounttire.com.
---
Este verano maneje seguro en la carretera
5 consejos de seguridad para mantener las llantas en altas temperaturas
Cuando se trata de manejar seguro en las carreteras, ya sea que viaje a lo largo del país o simplemente en la ciudad, la verificación rutinaria de la condición de los llantas puede ser imperativa. Las condiciones de las carreteras o el clima también pueden afectar la seguridad. Es importante reconocer que los llantas son lo único que hay entre su vehículo y la carretera.
Durante los meses de verano, las altas temperaturas y las calzadas recalentadas, junto con el rodamiento, la rotación y los frenos, contribuyen a riesgos potenciales, especialmente en llantas desgastados o inflados de manera inadecuada. Antes de salir a la carretera este verano, tenga en cuenta estos consejos de los expertos de la tienda Discount Tire de su vecindario.
Revise la banda de rodadura. La profundidad de la banda de rodadura se refiere a la extensión adecuada de banda de rodadura de una llanta afecta el manejo, la tracción y la distancia de frenar segura de su vehículo. A medida que el desgaste aumenta y la profundidad de la banda disminuye, la capacidad de las llantas para operar en condiciones adversas, como por ejemplo bajo la lluvia, puede verse comprometida. La mayoría de los autos nuevos comienzan con una banda de rodadura de 11/32 pulgadas, usted puede verificar la profundidad realizando la prueba de la moneda, que consiste en poner una moneda de un centavo en posición vertical en una de las ranuras de la llanta. Si la parte superior de la moneda queda visible, significa que el desgaste de la banda de rodadura excede el nivel que los expertos recomiendan como seguro (menos de 4/32 pulgadas) y que ya es hora de reemplazar las llantas.
Mida la presión con exactitud. La baja presión de aire de las llantas pueden derivar en un manejo deficiente y en el bajo rendimiento del combustible, así como en desgaste excesivo y posibles fallos de las llantas. Recuerde revisar la presión de las llantas al menos una vez al mes, especialmente antes de cualquier viaje de larga distancia, ya que los impactos de golpes y rotaciones durante el uso diario pueden ocasionar la pérdida normal de aire. Para obtener máxima precisión, revise las llantas cuando el auto esté frío. Para conocer la presión de llantas recomendada por el fabricante, consulte la etiqueta adhesiva que se encuentra en el marco de la puerta de su automóvil o en el manual del propietario. Si necesita asistencia, busque su tienda Discount Tire, que ofrece controles de aire gratuitos y inspecciones de seguridad de as llantas.
Rote las llantas a menudo. El nivel de desgaste de las llantas varía según su ubicación en el vehículo. Al rotarlos sistemáticamente, se desgastan de manera uniforme, lo que ayuda a maximizar la capacidad de manejo, tracción y frenado. Para aumentar la durabilidad y mantener una marcha lo más fluida posible, rote las llantas cada 6,000 millas o antes si se produce un desgaste irregular o desparejo.
Inspeccione la cajuela. Algunos de los vehículos más nuevos incluyen kits de inflado de llantas, equipados con selladores de recubrimiento y compresores de aire; o llantas run-flat, que permiten seguir conduciendo el vehículo sin presión neumática durante un período breve, en lugar de colocar la llanta tradicional de repuesto. Revise la cajuela para ver qué contiene su vehículo y asegúrese de tener un plan de asistencia en la carretera,en caso de emergencia.
Evite la sobrecarga. Al sobrecargar el vehículo, el efecto en las llantas puede ser similar al que se produce al conducir con llantas mal inflados. El clima caluroso en las carreteras combinado con la sobrecarga, puede llevar a que las llantas se recalienten y fallen. Antes de cargar su automóvil, verifique la recomendación de carga del fabricante, que puede consultar en el manual del propietario o en la etiqueta que se encuentra en el marco de la puerta del vehículo.
Para obtener más consejos de seguridad para llantas, ubique una tienda en su área o haga una cita para mantenimiento, visite discounttire.com.