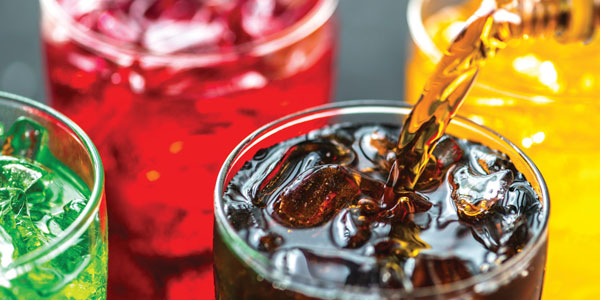 By Roberta Pardo
Drinking soda, sports drinks and other sugary beverages increases the risk of dying from heart disease and some types of cancers, according to new Harvard research.
A study published March 18 in the American Heart Association's journal Circulation found that the more sweetened beverages a person drank, the greater the risk of death from heart disease. The study also found that sugary drinks were associated with a moderately higher risk of dying from breast or colon cancer.
Added sugars should make up less than 10 percent of the total calories a person consumes per day, according to federal health guidelines. That translates into no more than 200 calories for a person consuming 2,000 calories a day. The average can of soda contains 150 calories.
In addition, the research found that the risk of drinking one or two sugary beverages per week would probably be small or undetectable. Regardless, the researchers still recommend that people drink water.
The American Beverage Association, as reported by CNBC, said soft drinks are safe to consume as part of a balanced diet.
"We don't think anyone should over-consume sugar; that's why we're working to reduce the sugar people consume from beverages across the country," a spokesman told CNBC.
---
Sodas, bebidas deportivas aumentan riesgo de morir por enfermedades cardíacas y otros tipos de cáncer
Tomar sodas, bebidas deportivas y otras bebidas azucaradas aumenta el riesgo de morir por enfermedades del corazón y algunos tipos de cáncer, según una nueva investigación de Harvard.
Un estudio publicado el 18 de marzo en la revista Circulation de la Asociación Americana del Corazón encontró que entre más bebidas endulzadas bebía una persona, mayor era el riesgo de muerte por enfermedad cardíaca. El estudio también encontró que las bebidas azucaradas estaban asociadas con riesgo moderadamente más alto de morir por cáncer de mama o colon.
Los azúcares agregados deben representar menos del 10 por ciento del total de calorías que una persona consume por día, de acuerdo con las pautas federales de salud. Esto se traduce en no más de 200 calorías para una persona que consume 2,000 calorías al día. La lata promedio de soda contiene 150 calorías.
Además, la investigación encontró que el riesgo de tomar una o dos bebidas azucaradas por semana probablemente sería pequeño o indetectable. En cualquier caso, los investigadores aún recomiendan que las personas beban agua.
La Asociación Americana de Bebidas, según lo reportó CNBC, dijo que los refrescos son seguros para consumir como parte de una dieta balanceada.
"No creemos que nadie deba consumir azúcar en exceso, por eso estamos trabajando para reducir el consumo de azúcar en bebidas de la gente en todo el país", un vocero le dijo a CNBC.