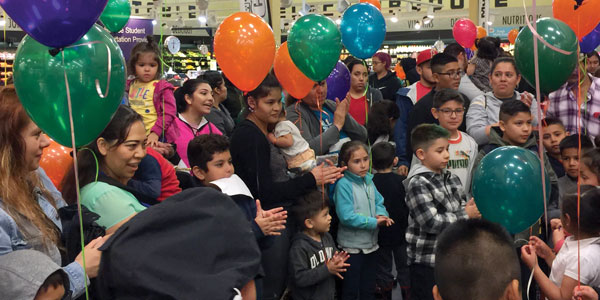 With great success took place on Tuesday April 30, 2019 the celebration of the day of the child in Sunfresh of 18th Street, despite the rain that was hitting our city the festival took place inside the store in a very familiar atmosphere, children and adults enjoyed with the hog dogs, refreshments, raffles, contests, gifts and lots of fun, were present a lot of characters that made this celebration something special.
On behalf of Sunfresh on 18th Street, Reyes Media Group, Dos Mundos Newspaper and La GranD Thanks to all the people who attended this great celebration.
---
Con gran éxito se llevó a cabo el martes 30 de abril de el 2019 la celebración de el día del niño en Sunfresh de la calle 18, a pesar de la lluvia que estuvo azotando nuestra ciudad el festival se llevó a cabo dentro de la tienda en un ambiente muy familiar, los niños y adultos gozaron con los hog dogs, refrescos, rifas, concursos, regalos y mucha diversión, estuvieron presentes una gran cantidad de personajes que hicieron de esta celebración algo especial. De parte de Sunfresh de la calle 18, Reyes Media Group, Dos Mundos Newspaper y La GranD Gracias a todas las personas que asistieron a esta gran celebración.