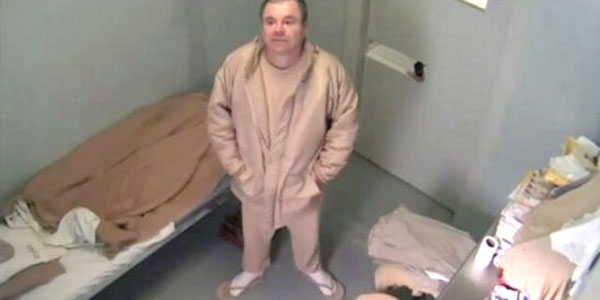 By Chara
Joaquin Guzman Loera, a.k.a., "El Chapo," is living in "cruel and unusual" prison conditions, according to Mariel Colon, one of his attorneys.
In February, Guzman Loera was convicted of multiple drug charges and running a criminal enterprise. He is to be sentenced June 25. Before his sentencing, however, Colon is asking a judge to intervene and investigate the alleged inhumane conditions where "El Chapo" is being incarcerated.
According to news reports, "El Chapo" lives in a 10-by-8-foot cell with no windows. The drug lord, who has been incarcerated for 27 months, reportedly has no access to fresh air and natural light. In addition, Colon claims the drug lord cannot sleep because of the loud air conditioner in his jail cell.
"This deprivation of sunlight and fresh air, over an excessive 27-month period, is causing psychological scarring," an excerpt of a recent letter from Colon to the judge stated, as cited on CNN's website. "He is suffering many symptoms of distress as a result of this lengthy unwarranted punishment."
Moreover, Colon claims "El Chapo" has been allowed only 22 small bottles of water over the past six months, while other prisoners have received water bottles at least every other week.
Colon is requesting the judge to grant exercise time to his client, allow him to have earplugs and have the same food intake the other inmates have.
The drug lord is under more restrictive conditions than other inmates. The conditions have been implemented because the U.S. government wants to prevent him from running a business while he is incarcerated or coordinating an escape.
Colon's request follows a motion filed in March by the drug lord's legal team to request a new trial and an evidentiary hearing. The prosecutors, however, said they did not see the need to bring back jurors to the court room.
---
Abogado de "El Chapo" se queja sobre las condiciones de prisión de su cliente
Joaquín Guzmán Loera, alias "El Chapo", vive en condiciones de prisión "crueles e inusuales", según Mariel Colón, uno de sus abogados.
En febrero, Guzmán Loera fue declarado culpable de múltiples cargos de drogas y de dirigir una empresa criminal. Será sentenciado el 25 de junio. Antes de su sentencia, sin embargo, Colón está pidiendo que un juez intervenga e investigue las supuestas condiciones inhumanas en las que "El Chapo" está siendo encarcelado.
Según informes de noticias, "El Chapo" vive en una celda de 10×8 pies sin ventanas. El narcotraficante, que ha sido encarcelado por 27 meses, supuestamente no tiene acceso a aire fresco ni a luz natural. Además, Colón afirma que el capo de la droga no puede dormir debido al ruidoso acondicionador de aire en su celda.
"Esta privación de la luz del sol y aire fresco, durante un período excesivo de 27 meses, está causando cicatrices psicológicas", dijo un extracto de una carta reciente de Colón al juez, según se cita en el sitio web de CNN. "Está sufriendo muchos síntomas de angustia como resultado de este largo castigo injustificado".
Además, Colón afirma que a "El Chapo" se le han permitido sólo 22 botellas pequeñas de agua en los últimos seis meses, mientras que otros presos han recibido botellas de aguas al menos cada dos semanas.
Colón está solicitando al juez que le conceda tiempo de ejercicio a su cliente, permitiéndole tener tapones para los oídos y la misma ingesta de alimentos que tienen los otros internos.
El narcotraficante está bajo condiciones más restrictivas que otros presos. Las condiciones se han implementado porque el gobierno de Estados Unidos quiere evitar que él maneje un negocio mientras está encarcelado o coordine un escape.
La solicitud de Colón sigue una moción presentada en marzo por el equipo legal del narcotraficante para solicitar un nuevo juicio y una audiencia probatoria. Sin embargo, los fiscales dijeron que no veían la necesidad de traer de vuelta a los jurados a la sala del tribunal.