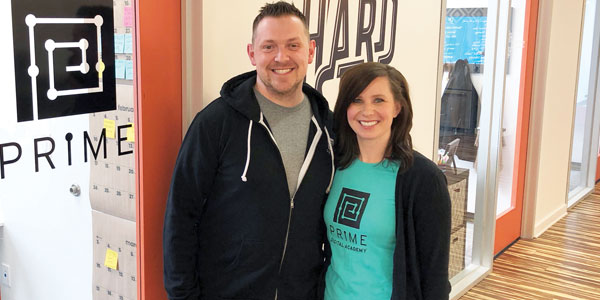 By Roberta Pardo
An academy in Kansas City is trying to increase the number of underrepresented people in the coding profession.
Prime Digital Academy is a 20-week, full-time immersion coding bootcamp. Founded in 2014 in Minneapolis, Prime opened a campus in Kansas City earlier this year, hoping to replicate its success in Minnesota. Prime teaches people the skills they need to become software engineers.
Rachael Bromander, Prime head of community engagement and KC campus manager, said anyone is welcome to apply, no matter the level of experience or background.
Prime is awarding $2,000 diversity scholarships to 10 students to help create a workforce in coding that mirrors the Kansas City community.
"As we move into the Kansas City market, we (have) noticed an economic divide in populations that aren't represented in the tech market in Kansas City," said Scott Bromander, Prime head of campus development and lead instructor.
He said people at Prime acknowledged the lack of diversity in coding positions was a problem and they wanted to be a part of the solution. They hope the scholarships will help.
Students are eligible for the scholarship upon admission into Prime Digital Academy. Scholarship requirements involve meeting one of the following criteria: an annual household income of $28,000 or below; identifying as a woman, African American, Asian American/Pacific Islander, Hispanic/Latino and/or Native American/Alaska native descendent; or identifying as a member of the LGBTQ community. Applicants must either be a U.S. citizen, permanent resident or Deferred Action for Childhood Arrivals recipient, and a Kansas or Missouri resident.
Rachael Bromander said, once the course is over, the academy helps place students in open positions.
"The biggest thing we say to people is that we're here to help," she said. "It becomes so much bigger than the 20 weeks (of classes)."
Prime Digital Academy is accepting applications for its next cohort. The deadline is May 24. The academy has upcoming information sessions — held at 1301 Oak St., No. 102, Kansas City, Missouri — about the program and other services the academy offers.
Upcoming careers in coding info sessions:
*Saturday (May 18), 11 a.m.- noon
*May 22, 5:30-6:30 p.m.
Upcoming open house/campus tour dates: 
*Saturday, noon-1 p.m.
*May 22, 4:30-5:30 p.m.
*June 5, 4:30-5:30 p.m.
Upcoming free HTML & CSS workshops:
*June 5, 6-8:30 p.m.
*July 10, 6-8:30 p.m.
---
Academia de codificación espera aumentar la diversidad en la industria tecnológica de KC
Una academia en Kansas City está tratando de aumentar el número de personas de diversos orígenes en la profesión de codificación.
La Academia Prime Digital es un campo de entrenamiento de codificación de inmersión de tiempo completo de 20 semanas. Fundado en 2014 en Minneapolis, Prime abrió su campus en Kansas City a principios de este año, con la esperanza de replicar su éxito en Minnesota. Prime enseña a las personas las habilidades que necesitan para convertirse en ingenieros de software.
Rachael Bromander, directora principal de participación comunitaria y gerente del campus de KC, dijo que cualquier persona puede postularse, sin importar el nivel de experiencia o antecedentes.
Prime otorga becas de diversidad de $2,000 a 10 estudiantes para ayudar a crear una fuerza laboral en codificación que refleje la comunidad de Kansas City.
"A medida que nos adentramos en el mercado de Kansas City, notamos una división económica en las poblaciones que no están representadas en el mercado de tecnología de Kansas City", dijo Scott Bromander, director principal de desarrollo de campus e instructor líder.
Dijo que la gente de Prime reconoció que la falta de diversidad en las posiciones de codificación era un problema y que querían ser parte de la solución. Esperan que las becas ayuden.
Los estudiantes son elegibles para la beca después de ser admitidos en la Academia Prime Digital. Los requisitos de becas incluyen el cumplimiento de uno de los siguientes criterios: un ingreso familiar anual de $28,000 o menos; identificarse como mujer, afroamericano, asiático americano/isleño del Pacífico, hispano/latino y/o nativo americano/nativo de Alaska; o identificarse como miembro de la comunidad LGBTQ. Los solicitantes deben ser ciudadanos estadounidenses, residentes permanentes o destinatarios de la Acción Diferida para los Llegados en la Infancia, y residentes de Kansas o Missouri.
Rachael Bromander dijo, una vez que el curso se termina, la academia ayuda a colocar a los estudiantes en posiciones abiertas.
"Lo más importante que le decimos a la gente es que estamos aquí para ayudar", dijo. "Se vuelve mucho más grande que las 20 semanas (de clases)".
La Academia Prime Digital está aceptando aplicaciones para su próxima cohorte. La fecha límite es el 24 de mayo. A continuación se muestra una lista de las próximas sesiones de información, que se darán en 1301 Oak St., No. 102, Kansas City, Missouri, sobre el programa y otros servicios que ofrece la academia:
Próximas sesiones informativas sobre carreras de codificación:
* Sábado (18 de mayo), 11 a.m.- mediodía
* 22 de mayo, 5: 30-6: 30 p.m.
Próximas fechas de visitas al campus:
* Sábado, mediodía-1 p.m.
* 22 de mayo, 4: 30-5: 30 p.m.
* 5 de junio, 4: 30-5: 30 p.m.
Próximos talleres gratuitos de HTML y CSS:
* 5 de junio, 6-8: 30 p.m.
* 10 de julio, 6-8: 30 p.m.