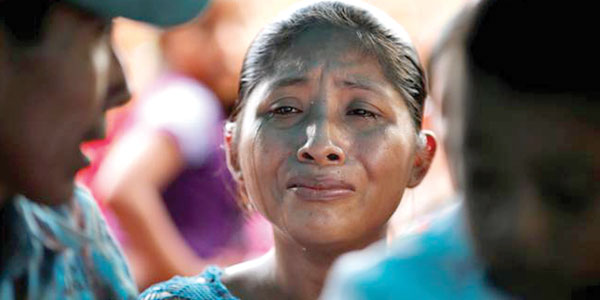 By Roberta Pardo
A Guatemalan toddler died in a hospital on May 14 after weeks in the hospital, according to the Guatemalan Consulate in Del Rio, Texas.
The toddler and his mother crossed the border, and were apprehended in early April, according to U.S. Customs and Border Protection (CBP).
The 2-year-old boy "had a high fever (and) difficulty breathing," Guatemalan Consul Tekandi Paniagua told National Public Radio.
After they had been taken into custody, the mother informed federal agents that her son was sick. The child was then taken to a local hospital, where he was diagnosed with pneumonia.
They were both released from U.S. custody after the boy's admission to the hospital. During that month, his condition worsened.
Paniagua said the consulate is waiting on a formal cause of death before sending the child's body back to Guatemala.
"The Guatemalan Consul in Del Rio reiterates this is a highly dangerous journey and children are the most vulnerable," he said.
The boy is the fourth Guatemalan minor to die after crossing the border.
On Monday (May 20), CBP released a statement saying a 16-year-old boy was "found unresponsive" during a routine welfare check that morning at Weslaco Station. The boy had been taken into custody on May 13. The cause of death is unknown.
The teen became the fifth migrant child since December 2018 to die after being apprehended at the U.S. border.
_______________________________________________________________________
Niño de 2 años y adolescente mueren en custodia estadounidense
Un niño pequeño guatemalteco murió en un hospital el 14 de mayo después de estar semanas en el hospital, según el Consulado de Guatemala en Del Río, Texas.
El niño y su madre cruzaron la frontera y fueron detenidos a principios de abril, según la Oficina de Aduanas y Protección de Fronteras de Estados Unidos.
El niño de 2 años "tenía fiebre alta (y) dificultad para respirar", le dijo el cónsul guatemalteco, Tekandi Paniagua, a la Radio Nacional Pública.
Después de que fueron detenidos, la madre informó a los agentes federales que su hijo estaba enfermo. El niño fue llevado a un hospital local, donde le diagnosticaron neumonía.
Ambos fueron liberados de la custodia estadounidense después de que el niño fuera admitido al hospital. Durante ese mes, su condición empeoró.
Paniagua dijo que el Consulado está esperando una causa formal de muerte antes de enviar el cuerpo del menor a Guatemala.
"El Consulado de Guatemala en Del Rio reitera que este es un viaje altamente peligroso y los niños son los más vulnerables", dijo.
El niño es el cuarto menor guatemalteco en morir después de cruzar la frontera.
El lunes (20 de mayo), CBP emitió un comunicado diciendo que un joven de 16 años fue encontrado sin vida durante un chequeo rutinario de bienestar esa mañana en la Estación Weslaco. El niño había sido detenido el 13 de mayo. Se desconoce la causa de la muerte.
El adolescente se convirtió en el quinto menor migrante desde diciembre de 2018 en morir después de ser detenido en la frontera estadounidense.