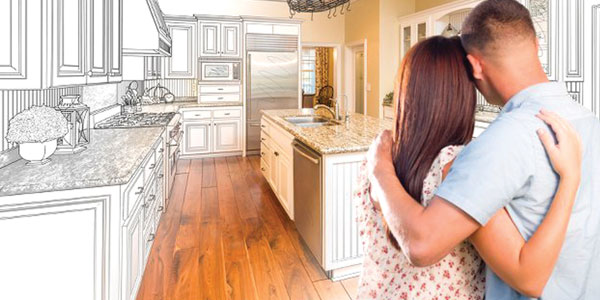 Remodeling your home can be one of the most exciting projects to undertake. Whether you're thinking about a bathroom update, kitchen overhaul or a new room addition, planning and setting realistic expectations are critical in ensuring your project goes as smoothly as possible.
Consider these steps from the National Association of the Remodeling Industry (NARI) before you get started:
1. Determine your goals and needs. Understand why you are undertaking the project, whether it's for resale value or so you can enjoy your home more. If looking to increase resale value, consider the neighborhood and potential upgrades that can have the highest impact when going to market. If remodeling can make for a more comfortable space, create a list of "must-haves" and "nice-to-haves" then evaluate what's feasible. Being realistic about needs and wants can help you create a budget.
2. Get inspired. Whether watching home improvement shows or browsing the internet, finding photos of styles and looks you admire can be beneficial when sharing your vision with a remodeling contractor.
3. Understand your budget. Setting a budget and staying within it is critical to the project's success. Be sure to build in a contingency fund for unforeseen expenses. Project expenses should factor in the cost of products, labor and project management. There are also possible additional costs such as long-term maintenance, repairs, energy use and a dining out budget if undergoing a full kitchen remodel or hotel costs sometimes necessary with large-scale projects. To avoid any unpleasant surprises, be sure to get a written estimate and scope of work once you've selected a contractor.
4. Determine timing. If there is a specific event driving your remodel, work backward through the various project stages to determine a realistic timeline. Build in additional time as a buffer for unexpected delays and recognize remodeling contractors typically have long lead times and may require flexibility to deliver optimal results.
5. Find a contractor you trust. Home remodeling can be stressful no matter how well you plan, but a dependable partner can make the process go smoother. While some of the best references may come from neighbors, friends or family members, a trade association like NARI can help with its online "Find a Remodeler" tool. Make sure any contractor you're considering has several years of relevant experience, as well as liability insurance.
6. Check references. When it comes to remodeling your home, you can never be too careful when choosing who to work with. Be sure to follow up on references, read reviews online and even check out the work of any remodelers you're considering hiring, if possible.
7. Prepare for the process. Regardless of the size of the project, there will almost surely be inconvenience, noise, dust and potential delays. Your daily routine will most likely be disrupted. Because it can be especially stressful when redoing the kitchen or an essential bathroom, you'll probably need to consider a backup plan or other arrangements throughout the duration of the project. Remember to also declutter the work area and protect or pack away any belongings that might be in the way during the renovation.
Find more tips for planning a remodel at RemodelingDoneRight.com.
---
7 pasos para planificar una remodelación
La remodelación de su hogar puede ser uno de los proyectos más emocionantes para emprender. Ya sea que esté pensando en la modernización del baño, una revisión de la cocina o la adición de un nuevo cuarto, la planificación y el establecimiento de expectativas realistas son fundamentales para garantizar que su proyecto se desarrolle de la mejor manera posible.
Considere estos pasos de la Asociación Nacional de la Industria de Remodelación (NARI) antes de comenzar:
1. Determine sus metas y necesidades: Comprenda por qué está emprendiendo el proyecto, ya sea por valor de reventa o para que pueda disfrutar más de su hogar. Si busca aumentar el valor de reventa, tenga en cuenta el vecindario y las posibles modernizaciones que pueden tener el mayor impacto al ingresar al mercado. Si la remodelación puede hacer que el espacio sea más cómodo, cree una lista de "imprescindibles" y "agradables para tener" y luego evalúe lo que es factible. Ser realista acerca de las necesidades y los deseos puede ayudarlo a crear un presupuesto.
2. Inspírate: Ya sea viendo programas de mejoras para el hogar o navegando por Internet, encontrar fotos de los estilos y el aspecto que admira puede ser beneficioso cuando comparte su visión con un contratista de remodelación.
3. Comprende tu presupuesto: Establecer un presupuesto y mantenerse dentro de él es fundamental para el éxito del proyecto. Asegúrese de incluir un fondo de contingencia para gastos imprevistos. Los gastos del proyecto deben tener en cuenta el costo de los productos, la mano de obra y la gestión del proyecto. También es posible que haya costos adicionales, como el mantenimiento a largo plazo, las reparaciones, el uso de energía y un presupuesto para salir a comer si se somete a una remodelación completa de la cocina o los costos de hotel a veces necesarios con proyectos a gran escala. Para evitar sorpresas desagradables, asegúrese de obtener una estimación por escrito y el alcance del trabajo una vez que haya seleccionado un contratista.
4. Determine el tiempo: Si hay un evento específico que sea la causa de su remodelación, trabaje hacia atrás a través de las distintas etapas del proyecto para determinar una línea de tiempo realista. Incorpore tiempo adicional como un búfer para demoras inesperadas y reconozca que los contratistas de remodelación generalmente tienen largos plazos de entrega y pueden requerir flexibilidad para obtener resultados óptimos.
5. Encuentra un contratista de confianza: La remodelación del hogar puede ser estresante sin importar qué tan bien se planifique, pero un socio confiable puede hacer que el proceso sea más fácil. Si bien algunas de las mejores referencias pueden provenir de vecinos, amigos o familiares, una asociación comercial como NARI puede ayudarlo con su herramienta en línea "Encontrar un remodelador". Asegúrese de que cualquier contratista que esté considerando tenga varios años de experiencia relevante, así como un seguro de responsabilidad civil.
6. Verificar referencias: Cuando se trata de remodelar su casa, nunca puede ser demasiado cuidadoso al elegir con quién trabajar. Asegúrate de hacer un seguimiento de las referencias, leer los comentarios en línea y si es posible revisar el trabajo de cualquier remodelador que esté considerando contratar.
7. Prepararse para el proceso: Independientemente del tamaño del proyecto, seguramente habrá inconvenientes, ruidos, polvo y posibles retrasos. Su rutina diaria probablemente será interrumpida. Debido a que puede ser especialmente estresante al rehacer la cocina o un baño esencial, probablemente deba considerar un plan de respaldo u otros arreglos durante la duración del proyecto. Recuerde también limpiar el área de trabajo y proteger o guardar cualquier pertenencia que pueda estar en el camino durante la renovación.
Encuentre más consejos para planificar una remodelación en RemodelingDoneRight.com.