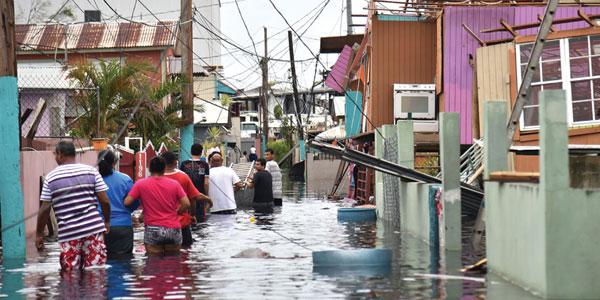 By Roberta Pardo
On May 23, the U.S. Senate passed a $19 billion disaster aid bill to help a number of states and Puerto Rico recover after a series of hurricanes, floods and wildfires.
The legislation passed 85-8, according to the Associated Press (AP).
The bill was held up for months, first by arguing over aid for Puerto Rico, then by failed negotiations on border aid. It was passed, in part, because Republican leaders agreed to a demand by Democrats to discard President Trump's $4.5 billion request to address a record influx of Central American migrants coming to the United States.
However, the bill is stuck in the U.S. House of Representatives. Republican Reps. Chip Roy and Thomas Massie objected to the aid package, derailing again House leaders' bid to pass the legislation. Roy and Massie have said they objected because it left out the funding Trump had requested for operations along the U.S.-Mexico border.
Roy and Massie faced criticism not only from Democrats, but also from members of their own party.
House Speaker Nancy Pelosi called for passage of the bill.
"House Republicans need to immediately end this shameful sabotage, and allow the House to pass the bill that the bipartisan Senate has finally agreed to," she said in a statement.
Despite the lack of border funding, Trump has said he will sign the measure.
If approved, the bill would send assistance to victims of Western wildfires, Midwestern flooding and hurricanes that hit the Southeast and Puerto Rico, as well as other areas of the country affected by disasters.
---
Proyecto de ley de ayuda para desastres pasa el Senado, se estanca en la Cámara
El 23 de mayo, el Senado de Estados Unidos aprobó un proyecto de ley de asistencia para desastres de $19 mil millones para ayudar a que varios estados y Puerto Rico se recuperen después de una serie de huracanes, inundaciones e incendios forestales.
La legislación fue aprobada 85-8, según la Associated Press (AP).
El proyecto de ley se demoró durante meses, primero al discutir sobre la ayuda para Puerto Rico y luego debido a las negociaciones fallidas sobre la ayuda fronteriza. Se aprobó, en parte, porque los líderes republicanos aceptaron una solicitud de los demócratas para descartar la solicitud de $4,500 millones de dólares del presidente Trump para hacer frente a una afluencia récord de migrantes centroamericanos que vienen a los Estados Unidos.
Sin embargo, el proyecto de ley está estancado en la Cámara de Representantes de EE.UU. Los representantes republicanos Chip Roy y Thomas Massie se opusieron al paquete de ayuda y descarrilaron nuevamente el intento de los líderes de la Cámara de Representantes de aprobar la legislación. Roy y Massie dijeron que se opusieron porque no incluía los fondos que Trump había solicitado para las operaciones a lo largo de la frontera de Estados Unidos y México.
Roy y Massie enfrentaron críticas no sólo de parte de los demócratas, pero también de parte de miembros de su propio partido.
La presidenta de la Cámara de Representantes, Nancy Pelosi, pidió la aprobación del proyecto de ley.
"Los republicanos de la Cámara de Representantes deben poner fin de inmediato a este vergonzoso sabotaje y permitir que la Cámara apruebe el proyecto de ley que el Senado bipartidista finalmente aceptó", dijo en un comunicado.
Pese a la falta de fondos para la frontera, Trump dijo que firmará la medida.
Si es aprobado, el proyecto de ley enviaría asistencia a las víctimas de los incendios forestales en el oeste, las inundaciones en el medio oeste y los huracanes que azotaron el sureste y Puerto Rico, así como a otras zonas del país afectadas por desastres.