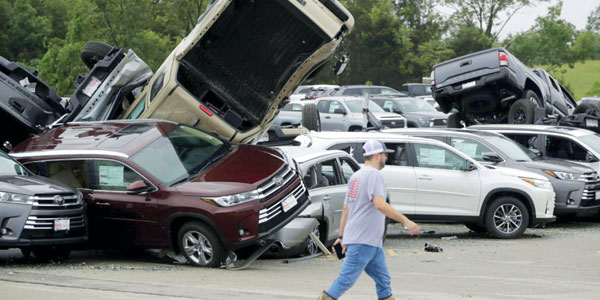 By Roberta Pardo
One person is dead and several are injured after multiple tornadoes ravaged Ohio and Indiana late Monday (May 27).
Celina, Ohio, Mayor Jeffrey Hazel confirmed to the Washington Post that an 81-year-old had died after a tornado sent a vehicle crashing through his home. Hazel also confirmed seven injuries in Celina.
No other deaths had been reported at press time.
According to the National Weather Service, at least six communities from eastern Indiana through central Ohio suffered damage. The storms damaged homes, toppled trees and left debris so thick that highway crews had to use snowplows to clear an interstate.
Trotwood, Ohio, which is eight miles northwest of Dayton, was hit by a "large and dangerous tornado," the National Weather Service reported. Less than an hour later, another tornado cut through the city. Towns outside Dayton received the highest hits, officials said.
More than 64,000 households were without power as of Wednesday (May 29).
In Indiana, at least 75 homes were damaged in Pendleton. No serious injuries were reported in the area.
Storms have swept across many Midwestern states in the past few weeks. On Tuesday (May 28), a tornado wreaked havoc on Linwood, Kansas, and a few other nearby communities. On Sunday (May 26), a tornado killed at least two people as it destroyed a motel and a trailer park in El Reno, Oklahoma, just west of Oklahoma City.
On May 22, a large and destructive twister moved over Jefferson City, Missouri, injuring about two dozen people. Near Golden City, Missouri, another tornado left three dead.
More storms are expected across the Midwest over the next week.
---
Tornados dejan rastro de destrucción en el medio oeste
Una persona murió y varias quedaron heridas después de que múltiples tornados azotaran Ohio e Indiana la noche del lunes (27 de mayo).
El alcalde de Celina, Ohio, Jeffrey Hazel, confirmó al Washington Post que un hombre de 81 años murió después de que un tornado enviara un vehículo a su casa. Hazel también confirmó siete heridos en Celina.
No se han reportado otras muertes en el momento de la publicación.
Según el Servicio Nacional de Meteorología, al menos seis comunidades desde el este de Indiana hasta el centro de Ohio sufrieron daños. Las tormentas dañaron casas, derribaron árboles y dejaron escombros tan espesos que las cuadrillas de las carreteras tuvieron que usar quitanieves para despejar una autopista interestatal.
Trotwood, Ohio, que se encuentra a ocho millas al noroeste de Dayton, fue azotada por un "tornado grande y peligroso", informó el Servicio Nacional de Meteorología. Menos de una hora después, otro tornado atravesó la ciudad. Las ciudades fuera de Dayton recibieron los mayores golpes, dijeron las autoridades.
Más de 64,000 hogares no tenían electricidad hasta el miércoles (29 de mayo).
En Indiana, al menos 75 casas fueron dañadas en Pendleton. No se reportaron heridos graves en el área.
Las tormentas han barrido muchos estados del medio oeste en las últimas semanas. El martes (28 de mayo), un tornado causó estragos en Linwood, Kansas, y en algunas otras comunidades cercanas. El domingo (26 de mayo), un tornado mató al menos a dos personas al destruir un motel y un parque de casas rodantes en El Reno, Oklahoma, al oeste de la ciudad de Oklahoma.
El 22 de mayo, un tornado grande y destructivo llegó a Jefferson City, Missouri, e hirió a unas dos docenas de personas. Cerca de Golden City, Missouri, otro tornado dejó tres muertos.
Se esperan más tormentas en todo el medio oeste durante la próxima semana.