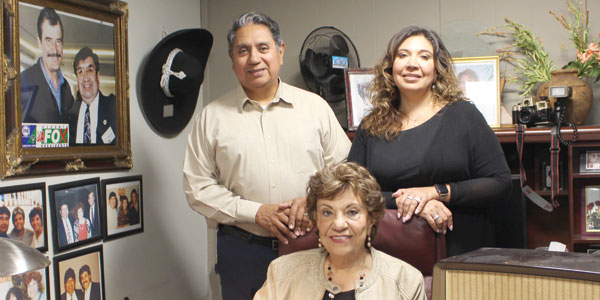 By Roberta Pardo
In June 1981, Clara Reyes started the newspaper in the basement of her and husband Manuel Reyes' house. She was working in real estate – and in her interactions with the Hispanic community, she noticed the lack of information about services in Spanish in the Kansas City area. She thought a newspaper was needed to make information available to the community in Spanish and English.
"My husband was working as a drafting engineer, but he said, 'Yes, if you want to start your own newspaper, go for it,'" Clara said.
So she did.
When asked whether she expected the newspaper to last this long, her answer was a resounding no.
"Every Thursday, I thought, 'That's it. We're done,'" Clara said.
But people loved the newspaper. Slowly, the demand for it increased.
In 1983, Manuel joined the business as an advertising salesman, making it a family business. Manuel and Clara's children, Ed and Diana, also became involved in the production and distribution of the newspaper as it grew.
"Everyone loved the fact that it was bilingual," she said. "We wanted to make it bilingual, so that young people could read it at school and so the local government knew about the needs of the Hispanic community."
Since the beginning, Clara knew Dos Mundos' mission was to divulge the Hispanic culture in English and Spanish. From its conception, Dos Mundos had to be a bridge between cultures. It helped the community by spreading the word about services and scholarships targeted toward Hispanics. It also was key in the growth of many Hispanic organizations and the Hispanic community at large.
"The newspaper slowly opened a lot of doors for everyone," Clara said. "Businesses realized the Hispanic community was a valuable target market."
Now, her children are carrying on her legacy. Diana Reyes Raymer serves as general and sales manager. Ed serves as senior operations advisor. Clara acts as Dos Mundos president and editor.
In its 38 years, Dos Mundos has become the area's largest and most read Hispanic newspaper. It also has received many awards, which makes Clara happy.
"It is very satisfying every time they give us awards because they feel we're making an impact in the community," she said.
What Clara wanted was to help people know about their culture and help them feel proud of it.
"That way, they can pass it along for generations to come," she said.
—————————————————————————————————————————————————————–
Dos Mundos está celebrando 38 años de servicio a la comunidad.
En junio de 1981, Clara Reyes comenzó el periódico en el sótano de la casa que compartía con su esposo, Manuel Reyes. Estaba trabajando en bienes raíces, y en sus interacciones con la comunidad hispana, notó la falta de información sobre los servicios en español en el área de Kansas City. Ella pensó que se necesitaba un periódico para poner la información a disposición de la comunidad en español e inglés.
"Mi esposo trabajaba como ingeniero pero dijo: 'Si quieres comenzar tu propio periódico, hazlo'", dijo Clara.
Así que eso hizo.
Cuando se le preguntó si esperaba que el periódico durara tanto tiempo, su respuesta fue un rotundo no.
"Cada jueves, pensaba: 'Hasta aquí llegó. Acabamos'", recordó Clara.
Pero a la gente le encantó el periódico. Y poco a poco, la demanda por él aumentó.
En 1983, Manuel se unió al negocio como vendedor de publicidad, convirtiéndolo en un negocio familiar. Los hijos de Manuel y Clara, Ed y Diana, también se involucraron en la producción y distribución del periódico a medida que crecía.
"A todos les encantó el hecho de que era bilingüe", dijo. "Queríamos que sea bilingüe para que los jóvenes pudieran leerlo en la escuela y para que el gobierno local supiera acerca de las necesidades de la comunidad hispana".
Desde el principio, Clara sabía que la misión de Dos Mundos era divulgar la cultura hispana en inglés y español. Desde su concepción, Dos Mundos tuvo que ser un puente entre las culturas. Ayudó a la comunidad difundiendo información sobre servicios y becas dirigidos a los hispanos. También fue clave en el crecimiento de muchas organizaciones hispanas y la comunidad hispana en general.
"El periódico lentamente abrió muchas puertas para todos", dijo Clara. "Los negocios se dieron cuenta que la comunidad hispana era un valioso mercado".
Ahora sus hijos están continuando su legado. Diana Reyes Raymer se desempeña como la gerente general y gerente de ventas. Ed sirve como asesor sénior de operaciones. Clara actúa como presidenta y editora de Dos Mundos.
En sus 38 años, Dos Mundos se ha convertido en el periódico hispano más grande y leído del área. También ha recibido muchos premios, lo que pone feliz a Clara.
"Es satisfactorio cada vez que nos dan un premio porque ellos sienten que estamos teniendo un impacto en la comunidad", dijo.
Lo que Clara quería era ayudar a que la gente conozca sobre su cultura y ayudarles a sentirse orgullosos de ella.
"De esa manera, pueden pasarla a las siguientes generaciones", dijo.
---