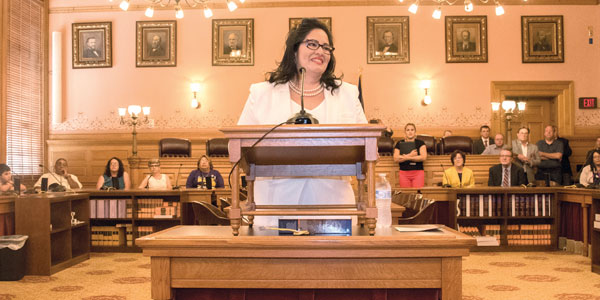 By Roberta Pardo
Delia Garcia was sworn in as Kansas secretary of labor June 5 by Kansas Court of Appeals Chief Justice Karen Arnold-Burger.
The ceremony, held at the Old Supreme Court Chambers of the Kansas Statehouse in Topeka, also had a special guest: American civil rights icon and labor leader Dolores Huerta.
While Garcia was living and working in Washington, D.C., Garcia worked with Huerta on many women's rights, social justice rights and candidate campaigns nationwide. Huerta became her mentor.
"I know I appointed the right leader to serve as labor secretary when a national labor leader and civil rights icon like Dolores Huerta comes to Kansas for her swearing-in ceremony," Kansas Gov. Laura Kelly said during the ceremony.
Garcia served in the Kansas House of Representatives for six years. In 2004, she became the first Latina and the youngest female to serve in the Kansas Legislature. Most recently, she was an executive at ReflectUS, a nonpartisan coalition working to increase the diversity of women in politics.
"I'm honored that Governor Kelly appointed me to serve hard-working Kansans again," Garcia said, according to a press release. "All hard-working Kansans have families. I take this job personally, especially since it includes serving Kansans like my own family, here with me today."
In January, Kelly appointed Garcia as Kansas secretary of labor. Then, in early May, the Kansas Senate approved her appointment.
---
García presta juramento como secretaria de trabajo de Kansas
Delia García fue juramentada como la secretaria de trabajo de Kansas el 5 de junio por la Jueza Principal del Tribunal de Apelaciones de Kansas, Karen Arnold-Burger.
La ceremonia, que se llevó a cabo en la Cámara del Tribunal Supremo de Kansas Statehouse en Topeka, también tuvo una invitada especial: Dolores Huerta, ícono estadounidense de los derechos civiles y líder sindical.
Mientras García vivía y trabajaba en Washington, D.C., García trabajó con Huerta en muchas campañas de derechos de mujeres, derechos de justicia social y de candidatos a nivel nacional. Huerta se convirtió en su mentora.
"Sé que nombré a la líder adecuada para servir como secretaria de trabajo cuando una líder nacional de trabajo e ícono de derechos civiles como Dolores Huerta viene a Kansas para su ceremonia de juramento", dijo la gobernadora de Kansas, Laura Kelly, durante la ceremonia.
García sirvió en la Cámara de Representantes de Kansas por seis años. En 2004, se convirtió en la primera mujer latina y la más joven en servir en la legislatura de Kansas. Más recientemente, fue ejecutiva en ReflectUS, una coalición no partidista que trabaja para aumentar la diversidad de las mujeres en la política.
"Me siento honrada de que la gobernadora Kelly me haya nombrado para servir nuevamente a los residentes trabajadores de Kansas", dijo García, según un comunicado de prensa. "Todos los trabajadores de Kansas tienen familias. Tomo este trabajo personalmente, especialmente porque incluye servir a residentes de Kansas como mi propia familia, aquí conmigo hoy".
En enero, Kelly nombró a García como secretaria de trabajo de Kansas. A principios de mayo, el Senado de Kansas aprobó su nombramiento.