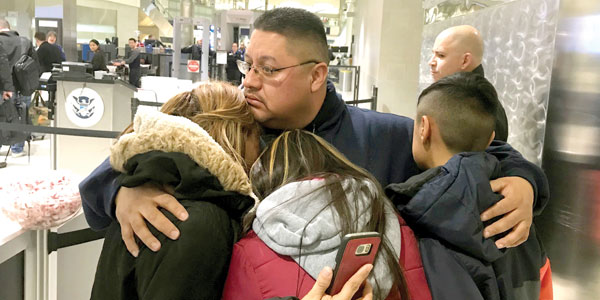 By Roberta Pardo
U.S. Immigration and Customs Enforcement (ICE) is looking to step up deportations of families who are in the United States illegally, the country's new top immigration official recently announced.
Mark Morgan, ICE acting director, said that even though the agency would continue to prioritize the deportations of people with criminal histories, no one should be exempt from enforcement.
"That will include families," Morgan said during a June 4 roundtable meeting with ICE officials and reporters.
Morgan, who took over the position in late May, said ICE is exploring options to arrest and deport families who have gone through legal proceedings and have been ordered to depart the country.
This potential measure would be a way to reduce the incentive for migrants to travel to the United States, Morgan explained. He said he is not sure yet how or when the operation would happen.
This comes amid a steep increment in family apprehensions at the southern border. In April, families made up the majority of apprehensions, according to data from Customs and Border Protection. The increase in people crossing the border and being apprehended keeps exceeding funding levels of ICE and other immigration agencies.
Morgan called on Congress to approve the $4.5 billion in supplemental funding the White House is requesting to help care for thousands of migrants held at the border.
---
Nuevo jefe de ICE considera intensificar deportaciones de familias
La Oficina de Inmigración y Control de Aduanas (ICE, por sus siglas en inglés) busca aumentar las deportaciones de familias que se encuentran ilegalmente en los Estados Unidos, anunció recientemente el nuevo alto funcionario de inmigración del país.
Mark Morgan, director en funciones de ICE, dijo que aunque la agencia continuaría dando prioridad a las deportaciones de personas con antecedentes penales, nadie debería estar exento de la aplicación de la ley.
"Eso incluirá a las familias", dijo Morgan durante una reunión de mesa redonda con funcionarios de ICE y periodistas el 4 de junio.
Morgan, quien asumió el cargo a finales de mayo, dijo que ICE está explorando opciones para arrestar y deportar a las familias que han pasado por un proceso legal y se les ha ordenado abandonar el país.
Esta posible medida sería una forma de reducir el incentivo de los migrantes para viajar a los Estados Unidos, explicó Morgan. Dijo que aún no está seguro de cómo o cuándo sucedería la operación.
Esto se produce en medio de un fuerte incremento en las detenciones de familias en la frontera sur. En abril, las familias constituyeron la mayoría de las detenciones, según datos de Aduanas y Protección Fronteriza. El aumento de personas que cruzan la frontera y que son detenidos sigue superando los niveles de financiamiento de ICE y otras agencias de inmigración.
Morgan pidió al Congreso que apruebe los $4.5 mil millones de dólares en fondos suplementarios que la Casa Blanca está solicitando para ayudar a cuidar a miles de inmigrantes detenidos en la frontera.