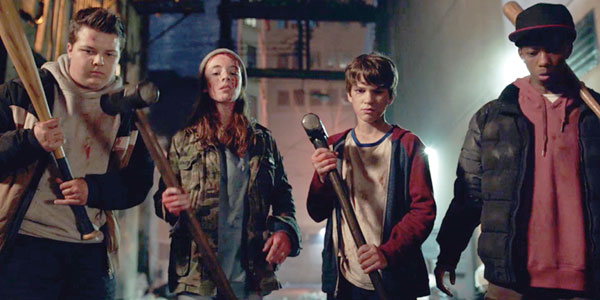 Karen (Aubrey Plaza) es una madre soltera que busca el regalo perfecto de cumpleaños para Andy (Gabriel Bateman), su hijo. Después de encontrar un muñeco y regalárselo a su hijo, será cuando ambos descubran la naturaleza maligna que esconde en su interior este juguete.
Recreación contemporánea del clásico de terror Muñeco diabólico (1988) de Tom Holland, que dirige Lars Klevberg (Polaroid) y escribe el debutante Tyler Burton Smith. Protagonizan la película Aubrey Plaza (Mike y Dave buscan rollo serio), Gabriel Bateman (American Gothic), Brian Tyree Henry (El blues de Beale Street), Tim Matheson (The Affair), David Lewis (El final de todo), Carlease Burke (Jumanji: Bienvenidos a la jungla) y Mark Hamill (Star Wars: Episodio VIII – Los últimos Jedi) que pone su voz al diabólico Chucky en la versión original del filme.
Chucky o Child's Play es una saga de películas de terror que se centra en un muñeco poseído por el alma del estrangulador de Lakeshore, Charles Lee Ray. En la película de 1988, Andy Barclay (Alex Vincent), un niño de 6 años recibe como regalo de cumpleaños un muñeco que se hace llamar Chucky y quiere vengar su muerte, aunque la madre del niño y un policía logran vencerlo el regresa en Child's Play 2.
En la secuela, a la madre de Andy la internan en una clínica psiquiátrica luego de que contara la historia del 'muñeco poseído' y a él lo envían a distintos hogares de acogida. Chucky lo sigue y asesina a sus padres sustitutos y una vez más intenta apoderarse del cuerpo del pequeño, sin embargo, con ayuda de su hermanastra Kyle (Christine Elise) logra acabar con él.
Después de ocho años, Andy es enviado a la escuela militar Kent, a donde también le sigue el muñeco diabólico. Aunque esta vez su objetivo es otro, Tyler, un niño al que le revela que es Charles Lee Ray. A esta le siguieron películas como 'Bride of Chucky', 'Seed of Chucky', 'Curse of Chucky' y 'Cult of Chucky'.
De acuerdo a la sinopsis de Child's Play), la corporativa Kaslan acaba de lanzar una nueva línea de muñecos de alta tecnología conocidos como "Buddi", adquiriendo fama a nivel mundial y siendo el regalo perfecto para los niños. Karen Barclay (Aubrey Plaza) decide regalarle uno de los muñecos a su pequeño hijo Andy (Gabriel Bateman) por su cumpleaños. Sin embargo, un mal funcionamiento causará que el muñeco adopte un comportamiento agresivo y psicópata, iniciando una sangrienta oleada de muertes en el pueblo.