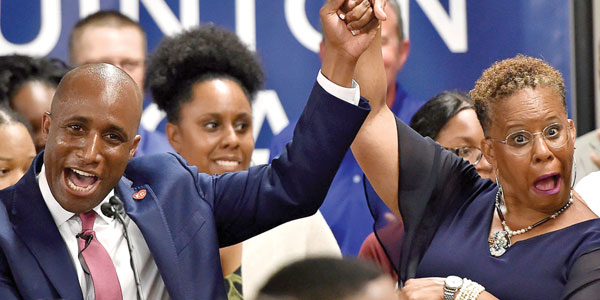 By Roberta Pardo
Kansas City, Missouri, has elected a new mayor.
Councilman Quinton Lucas defeated Councilwoman Jolie Justus in the mayoral election Tuesday (June 18), becoming the youngest person to win the mayoral office in more than a century. He succeeds Sly James, who served two terms, starting in 2011.
Unofficial results showed Lucas capturing more than 58 percent of the vote, with 90 percent of precincts reporting.
"Our final mandate is this: No matter who we are, no matter where you are, no matter what circumstance you find yourself in, in our Kansas City, we always believe that you have an opportunity," Lucas said during his victory speech.
Lucas leaned into his personal story to champion issues like affordable housing and public safety. He was raised by a single mother and experienced homelessness in Kansas City's East Side area. He went on to become an Ivy League-educated lawyer and City Council member.
Lucas finished second to Justus in the April 2 mayoral primary, but he closed the gap over the next 11 weeks. He distinguished himself from Justus by emphasizing his personal story.
During the campaign's final weeks, Justus and her supporters ran ads attacking Lucas. He vowed not to do the same.
In his victory speech, Lucas also promised to fight for working men and women, and for safer streets.
"In our Kansas City, we believe that whatever has happened in your past does not dictate your future," he said.
---
Lucas gana elección y se convierte en el próximo alcalde de KCMO
Kansas City, Missouri, ha elegido a un nuevo alcalde.
El concejal Quinton Lucas derrotó a la concejala Jolie Justus en las elecciones para alcalde del martes (18 de junio), convirtiéndose en la persona más joven en ganar el cargo de alcalde en más de un siglo. Sucede a Sly James, quien cumplió dos mandatos, a partir de 2011.
Los resultados no oficiales mostraron que Lucas capturó más del 58 por ciento del voto, con el 90 por ciento de los precintos reportados.
"Nuestro mandato final es el siguiente: no importa quiénes somos, no importa dónde te encuentres, no importa en qué circunstancia te encuentres, en nuestra Kansas City, siempre creemos que tienes una oportunidad", dijo Lucas durante su discurso de victoria.
Lucas se apoyó en su historia personal para defender temas como la vivienda asequible y la seguridad pública. Fue criado por una madre soltera y experimentó épocas sin hogar en el área del Este de Kansas City. Luego pasó a convertirse en un abogado educado en una Ivy League y miembro del Concejo Municipal.
Lucas terminó segundo después de Justus en las elecciones primarias del 2 de abril, pero cerró la brecha en las próximas 11 semanas. Se distinguió de Justus al enfatizar su historia personal.
Durante las semanas finales de la campaña, Justus y sus seguidores publicaron anuncios atacando a Lucas. Él juró no hacer lo mismo.
En su discurso de victoria, Lucas también prometió luchar por los hombres y mujeres trabajadores y por calles más seguras.
"En nuestra Kansas City, creemos que lo que haya sucedido en tu pasado no dicta tu futuro", dijo.