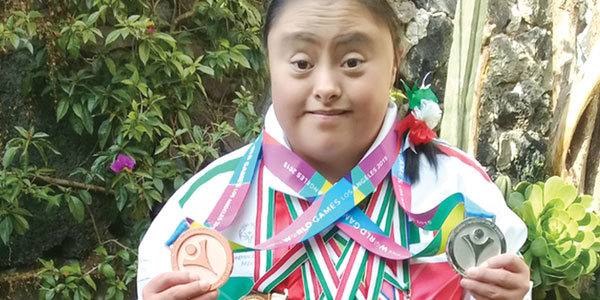 By Roberta Pardo
A Mexican swimmer is breaking records.
Yaroslavi Romero, who was born with Down syndrome, has won 250 medals throughout her career. Most recently, she won a silver medal and a bronze medal at the last Special Olympics World Games in Abu Dhabi.
Romero was diagnosed with Down syndrome 17 days after she was born, according to the Special Olympics Mexico website. Despite discouraging diagnoses from doctors, Romero's parents never gave up. They made sure Romero went to physical therapies and sessions, trying to get her to be as independent as possible.
Romero has been an athlete on the Special Olympics Mexico team since she was 17. Her passion for swimming started when she was a kid, after her mother signed her up in dolphin therapy sessions.
After the 2019 Special Olympics World Games, Romero's mother, Maria de Lourdes Lopez, told several Mexican news outlets how happy and proud she was for the medals Romero had.
"Once someone told me she was not going to accomplish anything and that I shouldn't cry for her," she said. "These 250 medals mean effort and achievement."
Victor Martinez, Mexico's team coach, also felt proud after the Special Olympics.
"It's an incredible feeling, and I'm really happy with the result," Martinez said.
Romero, who attended trade school, also is a certified chef and baker from the National Chamber of the Bakery and Similar Industry of Mexico.
---
Nadadora mexicana con síndrome de Down sigue inspirando a otros
Una nadadora mexicana sigue rompiendo récords.
Yaroslavi Romero, quien nació con síndrome de Down, ha ganado 250 medallas durante su carrera. Más recientemente, ganó un medalla de plata y una de bronce en los últimos Juegos Mundiales de Olimpiadas Especiales en Abu Dabi.
Romero fue diagnosticada con síndrome de Down 17 después de haber nacido, según el sitio web de las Olimpiadas Especiales de México. A pesar de los desalentadores diagnósticos de los médicos, los padres de Romero nunca se dieron por vencidos. Se aseguraron de que Romero fuera a fisioterapias y otras sesiones de terapia, tratando de que ella fuera lo más independiente posible.
Romero ha sido una atleta en el equipo de las Olimpiadas Especiales de México desde que tenía 17. Su pasión por la natación comenzó cuando era niña, luego de que su madre la inscribiera en sesiones de delfinoterapia.
Después de los Juegos Mundiales de Olimpiadas Especiales de 2019, la madre de Romero, María de Lourdes López, contó a varios medios de noticias mexicanos lo feliz y orgullosa que estaba por las medallas que Romero tenía.
"Una vez alguien me dijo que ella no iba a ser nada, que no iba a realizar nada y que ni llorara por ella", dijo. "Entonces estas 250 medallas significan cada esfuerzo y logro".
Víctor Martínez, el entrenador del equipo de México, también se sintió orgulloso después de las Olimpiadas Especiales.
"Es una satisfacción increíble y la verdad me encanta el resultado", dijo Martínez.
Romero, quien asistió a una escuela técnica, también es una chef y tiene una capacitación de repostería por la Cámara Nacional de la Industria Panificadora y Similares de México.