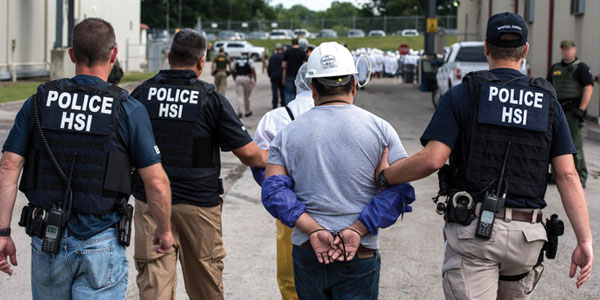 By Chara
The Trump administration has put mass raids aimed at targeting more than 2,000 undocumented immigrants on hold.
The operation, to have been overseen by U.S. Immigrations and Customs Enforcement (ICE), was scheduled to start Sunday (June 23), multiple media outlets reported. It was supposed to cover 10 cities: San Francisco, Los Angeles, Denver, Chicago, Houston, Atlanta, Baltimore, New York City, New Orleans and Miami. Those targeted were to have included families that had received deportation orders.
But only 12 hours before the raids were set to begin, the president announced he was delaying them.
"At the request of Democrats, I have delayed the Illegal Immigration Removal Process (Deportation) for two weeks to see if the Democrats and Republicans can get together and work out a solution to the Asylum and Loophole problems at the Southern Border," President Trump posted on his Twitter page. "If not, Deportations start!"
Since then, the president has used undocumented immigrants to try to bargain Democrats into approving funds for border security. Immigration rights advocates claim it is a similar tactic to the one Trump used recently to get a better deal from Mexico's government on border security.
Typically, large-scale operations like the one planned for Sunday are not disclosed to the public or media, CBS reported. The media outlet added that the main objective of the operations might have been to scare immigrants out of coming from Latin America to the United States.
In related news, the immigration rights organization RAICES advises undocumented immigrants that, in the event their home or workplace is raided, they have the following rights: to request to speak to an attorney, to remain silent, to not allow unlawful searches by ICE agents and to not open the door to federal agents. Moreover, according to RAICES, undocumented immigrants are not required to sign any documents presented to them by federal agents.
---
Trump anuncia retraso en redadas masivas
La administración de Trump ha puesto en espera las redadas masivas destinadas a atacar a más de 2,000 inmigrantes indocumentados.
La operación, que hubiera sido supervisada por el Servicio de Inmigración y Control de Aduanas de los Estados Unidos (ICE), estaba programada para comenzar el domingo (23 de junio), informaron varios medios de comunicación. Se suponía que cubriría 10 ciudades: San Francisco, Los Ángeles, Denver, Chicago, Houston, Atlanta, Baltimore, Nueva York, Nueva Orleans y Miami. Aquellos a los que se apuntaba debían haber incluido familias que habían recibido órdenes de deportación.
Pero sólo 12 horas antes de que comenzaran las redadas, el Presidente anunció que las estaba retrasando.
"A pedido de los demócratas, he retrasado el Proceso de Deportación Ilegal por dos semanas para ver si los demócratas y republicanos pueden unirse y trabajar en una solución a los problemas de asilo y escapatoria en la frontera sur", el presidente Trump publicó en su página de Twitter. "Si no, ¡comienzan las deportaciones!".
Desde entonces, el presidente ha usado a inmigrantes indocumentados para tratar de negociar con los demócratas para que aprueben fondos para la seguridad de la frontera. Los defensores de derechos de inmigrantes afirman que es una táctica similar a la que Trump utilizó recientemente para obtener un mejor acuerdo del gobierno de México en materia de seguridad fronteriza.
Por lo general, operaciones a gran escala como la que estaba planeada para el domingo no son se divulgan al público ni a los medios de comunicación, informó CBS. El medio de comunicación agregó que el principal objetivo de las operaciones podría haber sido asustar a los inmigrantes para que no vinieran de América Latina a Estados Unidos.
En noticias relacionadas, la organización de derechos de inmigración RAICES aconseja a los inmigrantes indocumentados que, en caso de una redada en su casa o lugar de trabajo, tienen los siguientes derechos: solicitar hablar con un abogado, permanecer callado, no permitir búsquedas ilegales por parte de agentes de ICE y no abrir la puerta a agentes federales. Además, según RAICES, los inmigrantes indocumentados no están obligados a firmar ningún documento presentado por agentes federales.