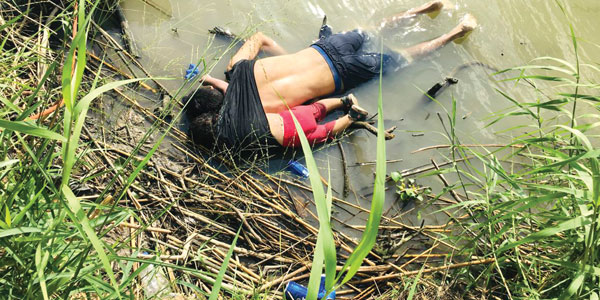 By Roberta Pardo
A picture of a Salvadoran father and his daughter lying face down in the Rio Grande has caused public outrage about the humanitarian crisis at the southern border.
Oscar Alberto Martinez and his daughter Valeria left El Salvador, with Tania Vanessa Avalos, Oscar's wife and Valeria's mother. As multiple Salvadoran news outlets reported, the family decided to trek up north, hoping to escape poverty.
They arrived at Mexico's southern border, where they stayed for a while. They even applied for asylum, and Mexican authorities gave them a temporary visa. But the paperwork got delayed. They were afraid the constant pressure from the Trump administration on the Mexican government would complicate their request.
That is how they ended up in Matamoros, a Mexican city along the U.S. southern border. They went to the port of entry to enter Brownsville, Texas, where they planned to request asylum. However, it was closed. The place is dangerous for immigrants, so the Martinez family decided to cross the river.
According to witness accounts, Oscar and Valeria reached U.S. land, where he left the girl while he went back to help his wife. But the girl jumped back in the water and Oscar went after her. The currents were stronger this time and they could not stay afloat. Avalos saw them drown.
U.S. authorities found the bodies June 24.
The image, taken by Mexican journalist Julia Le Duc, illustrates the ever-growing crisis. For months, advocates have warned about an increase in deaths at the border as migrants are forced to cross in more dangerous areas because of U.S. policies that make it more difficult for those seeking asylum to turn themselves in at ports of entry.
The bodies will be sent to El Salvador. It remains unknown whether Avalos, who is staying at a shelter in Matamoros, will return to her country.
_________________________________________________________________________
Padre e hija inmigrantes encontrados muertos en la frontera
Una foto de un padre salvadoreño y su hija acostados boca abajo en el Río Bravo ha provocado indignación pública por la crisis humanitaria en la frontera sur.
Oscar Alberto Martínez y su hija Valeria dejaron El Salvador, junto con Tania Vanessa Ávalos, esposa de Oscar y madre de Valeria. Como informaron varios medios de comunicación salvadoreños, la familia decidió emprender rumbo hacia el norte con la esperanza de escapar de la pobreza.
Llegaron a la frontera sur de México, donde se quedaron por un tiempo. Incluso solicitaron asilo y las autoridades mexicanas les dieron visas temporales. Pero el papeleo se retrasó. Temían que la presión constante del gobierno de Trump sobre el gobierno mexicano complique su solicitud.
Fue así como terminaron en Matamoros, una ciudad mexicana en la frontera con Estados Unidos. Fueron al puerto de entrada para ingresar a Brownsville, Texas, donde planeaban solicitar asilo. Sin embargo, estaba cerrado. El lugar es peligroso para los inmigrantes, por lo que la familia Martínez decidió cruzar el río.
Según testigos, Oscar y Valeria lograron llegar a tierra estadounidense, donde él dejó a la niña mientras regresaba a ayudar a su esposa. Pero la niña saltó de nuevo al agua y Oscar la siguió. Las corrientes eran más fuertes esta vez y no pudieron mantenerse a flote. Ávalos los vio ahogarse,
Las autoridades estadounidenses encontraron los cuerpos el 24 de junio.
La imagen, tomada por la periodista mexicana Julia Le Duc, ilustra la crisis cada vez mayor. Durante meses, los defensores han advertido sobre un aumento en las muertes en la frontera, ya que los migrantes se ven obligados a cruzar en áreas más peligrosas debido a las políticas de Estados Unidos que dificultan que los solicitantes de asilo se entreguen en los puertos de entrada.
Los cuerpos serán enviados a El Salvador. Aún no se sabe si Ávalos, que se hospeda en un refugio en Matamoros, regresará a su país.