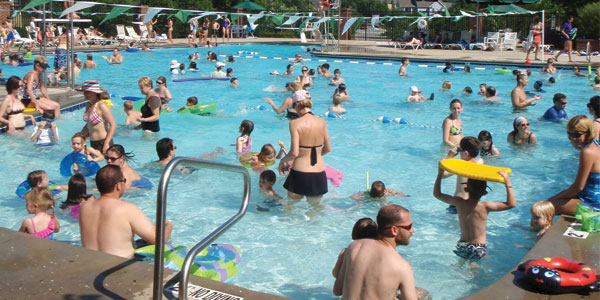 By Chara
The U.S. Centers for Disease Control and Prevention (CDC) has issued an alert regarding an outbreak of cryptosporidium (crypto) in the United States.
Crypto is a fecal parasite that can be transmitted in swimming pools. It can live for days in chlorinated water in pools, water playgrounds or in surfaces disinfected with chlorine.
Crypto symptoms include diarrhea, stomach cramps, dehydration, nausea, vomiting, fever and weight loss.
"People can get sick after they swallow the parasite in contaminated water or food or after contact with infected people or animals," a CDC news release stated. "Crypto is the leading cause of disease outbreaks in the United States linked to water, specifically outbreaks linked to pools or water playgrounds."
According to the news release, there was a 13 percent increase of crypto from 2009 to 2017 in the United States. During that time, 7,465 people were treated for crypto. Of all the people who were treated, 287 had to be hospitalized and one person died. 
Most of the crypto cases (35 percent) were linked to swimming water in places such as pools and water playgrounds. Another 15 percent of the cases were linked to contact with cattle, 13 percent were linked to contact with infected people in childcare settings and 3 percent were linked to drinking raw milk or apple cider.
To avoid getting crypto, the CDC advises not letting children swim if they have diarrhea. It also advises not swallowing water from pools or water parks and hand washing with soap and water after coming into contact with animals or anything in their environment. In addition, the CDC advises against drinking raw milk.
---
CDC advierte sobre parásitos en piscinas
Los Centros para el Control y la Prevención de Enfermedades de Estados Unidos (CDC, por sus siglas en inglés) han emitido una alerta sobre un brote de cryptosporidium (crypto) en Estados Unidos.
Crypto es un parásito fecal que puede ser transmitido en piscinas. Puede vivir durante días en agua clorada en piscinas, parques de agua o en superficies desinfectadas con cloro.
Los síntomas del crypto incluyen diarrea, calambres estomacales, deshidratación, náuseas, vómitos, fiebre y pérdida de peso.
"Las personas se pueden enfermar después de tragar el parásito en agua o comida contaminada o después del contacto con personas o animales infectados", afirmó un comunicado de prensa de CDC. "Crypto es la principal causa de brotes de enfermedades en Estados Unidos vinculados al agua, específicamente brotes vinculados a piscinas o áreas de juego acuáticas".
Según el comunicado de prensa, hubo un aumento de crypto del 13 por ciento del 2009 al 2017 en Estados Unidos. Durante ese tiempo, 7,465 personas fueron tratadas por crypto. De todas las personas tratadas, 284 tuvieron que ser hospitalizadas y una persona murió.
La mayoría de los casos de crypto (35 por ciento) estaban relacionados con el agua de natación en lugares como piscinas y áreas de juego acuáticas. Otro 15 por ciento de los casos estaba relacionado con el contacto con el ganado, el 13 por ciento estaba relacionado con el contacto con personas infectadas en centros de cuidado infantil y el 3 por ciento estaba relacionado con el consumo de leche cruda o sidra de manzana.
Para evitar contraer crypto, el CDC recomienda no permitir que los niños naden si tienen diarrea. También aconseja no tragar el agua de piscinas o parques acuáticos y lavarse las manos con agua y jabón después de entrar en contacto con animales o cualquier cosa en su entorno. Además, el CDC recomienda no beber leche cruda.