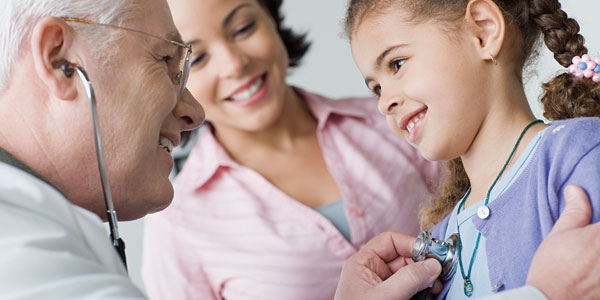 By FF
Medicaid and CHIP benefits include immunizations, regular check-ups, and visits to the dentist
Children are among the most vulnerable populations when it comes to measles and other contagious diseases. Giving babies the recommended vaccines at 2 years is one of the best ways to protect them from 14 of the most serious childhood diseases, including measles and whooping cough.
For families, Medicaid and the Children's Health Insurance Program (CHIP) cover immunizations and provide free or low-cost health coverage to help keep children healthy.
Measles is an extremely contagious virus. According to the Centers for Disease Control and Prevention (CDC), measles is so contagious that if a person has it, up to 90% of people close to that person who are not immunized can also become infected.
About 387 cases of measles were reported during the first three months of 2019, more than the total number of cases reported in the whole 2018. More than 20 states have reported cases of measles.
Your child may be one of the millions of uninsured children who are eligible for free or low-cost health coverage through Medicaid and CHIP, which may allow them to get vaccinated against measles and other serious childhood illnesses. You can also receive benefits such as regular checkups, dental visits, eye exams, emergency services, prescription drugs, and other preventive care services.
Parents with low to moderate income (up to almost $ 50,000, or even more in some states) can enroll their children in Medicaid or CHIP. There is no Special Open Enrollment Period. You can register your children at any time of the year. You can apply in person with the Medicaid or CHIP agency in your state to register your children. Visit the"Find coverage for your family" Spanish section in InsureKidsNow.Gov or call 1-877-KIDS-NOW (1-877-543-7669).
If you need vaccines immediately, contact the Vaccines for Children program coordinator at your state health department or local coordinator, or call the CDC at 1-800-CDC-INFO (1-800-232-4636) for help.
---
Cómo los niños pueden recibir atención preventiva gratuita o de bajo costo
Los beneficios de Medicaid y CHIP incluyen vacunas, chequeos regulares, visitas al dentista
Los niños se encuentran entre las poblaciones más vulnerables cuando se trata del sarampión y otras enfermedades contagiosas. Darles a los bebés las vacunas recomendadas a los 2 años es una de las mejores maneras de protegerlos de 14 enfermedades infantiles serias, incluyendo el sarampión y la tos ferina.
Para las familias, Medicaid y el Programa de seguro médico para niños (CHIP) cubren las vacunas y brindan cobertura de salud gratuita o de bajo costo para ayudar a mantener a los niños saludables.
El sarampión es un virus extremadamente contagioso. Según los Centros para el Control y la Prevención de Enfermedades (CDC en inglés), el sarampión es tan contagioso que si una persona lo tiene, hasta el 90% de las personas cercanas a esa persona que no están inmunizados también se pueden infectar.
Durante los primeros tres meses del 2019, se reportaron 387 casos de sarampión, más que el total de casos reportados para todo 2018. Más de 20 estados han reportado casos de sarampión.
Su hijo puede ser uno de los millones de niños sin seguro que son elegibles para cobertura médica gratuita o de bajo costo a través de Medicaid y CHIP, lo que puede permitir que su hijo se vacune contra el sarampión y otras enfermedades infantiles graves. También puede recibir beneficios como chequeos regulares, visitas al dentista, exámenes de la vista, servicios de emergencia, medicamentos recetados y otros cuidados preventivos.
Los padres con ingresos bajos a moderados (hasta casi $50,000, o incluso más en algunos estados) pueden inscribir a sus hijos en Medicaid o CHIP. No hay un Período Especial de Inscripción Abierta; puede inscribir a sus hijos en cualquier momento del año. Para inscribir a sus hijos, puede solicitar en persona con la agencia de Medicaid o CHIP de su estado, visitar la sección "Encuentra la cobertura para su familia" en Espanol.InsureKidsNow.Gov o llamar al 1-877-KIDS-NOW (1-877-543-7669).
Si necesita vacunas de inmediato, comuníquese con el coordinador del programa Vacunas para Niños de su departamento de salud estatal o local coordinador, o llame al CDC al 1-800-CDC-INFO (1-800-232-4636) para obtener ayuda.