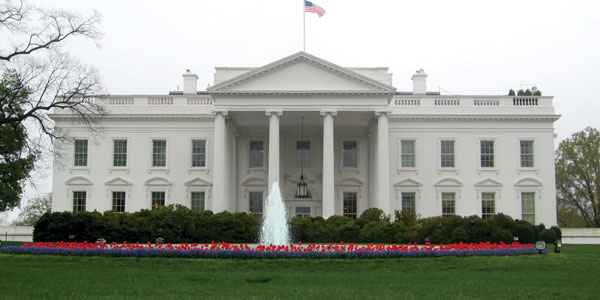 Is there anyone outside political circles who can list and identify all the Democrats campaigning to become the presidential nominee in the 2020 race for the White House?
Most of them will appear together on TV over two successive nights next week. Ten each of the presidential hopefuls will debate on July 30 and 31 in Detroit, Mich. Five candidates didn't qualify for the second round of debates, which will be hosted and broadcast live on CNN and CNN Español.
That's right – so far, there are 25 Democrats vying for the nomination. It's the largest number of candidates in recent history, outnumbering the 17-strong Republican field in 2016. And 43 years has elapsed since the Democratic nominating contest saw anywhere near as many candidates; in 1976, they produced 16.
According to political analysts, the 25-member Democratic field may not thin to a handful of frontrunners until early 2020. That could spell trouble. The presidential nominating process officially opens Feb. 3 with the Iowa caucuses.
"The high number of candidates does imply a higher-than-usual risk of chaos," wrote FiveThirtyEight's Nate Silver (https://fivethirtyeight.com/features/everyones-running-and-that-could-be-dangerous-for-the-democrats/). "Bigger primary fields mean more uncertainty." That ought to worry Democrats, Silver says of the statistics on which he bases his caveat.
Chaos comes perilously close to describing what viewers of the first round of Democratic presidential primary debates saw last month on NBC and Telemundo. There were several instances of all 10 onstage candidates talking at once. They postured, competing with one another for airtime, interrupted and attacked each another and bickered. They were united only in their opposition to the current president. How does such a messy milieu inspire anything but confusion?
It was essentially a competitive joint press conference, assessed Paul S. Hayes, director of debate at George Washington University, and offered too little opportunity "to assess a candidate." The format let candidates repeat talking points instead of being challenged to defend their ideas. The result was "flash over substance," "a process of creative destruction," instead of "a learning process."
Next week's round of debates may help narrow the field. As Business Insider points out, several candidates "face a make or break moment" during the debate. Some of them are struggling and must "use every chance they can or risk disappearing from the race." Additionally, the criteria for qualifying to participate in the following debates on Sept. 12 and 13 is much tougher.
If Democrats are serious about defeating incumbent Pres. Donald Trump on Nov. 3, 2020, it's time to unify around a few candidates who show the most promise of capturing the White House and begin to coalesce around Democratic Party priorities.
Nota bene:
See a list of the 25 candidates online and a little about each:
https://ballotpedia.org/Presidential_candidates,_2020
https://qz.com/1536793/your-guide-to-the-2020-democratic-presidential-candidates/
---
Hora de reducir el campo
¿Hay alguien fuera de los círculos políticos que puede enumerar e identificar a todos los demócratas que están haciendo campaña para convertirse en el candidato presidencial en la carrera de 2020 para la Casa Blanca?
La mayoría de ellos aparecerán juntos en la televisión durante dos noches sucesivas la próxima semana. Diez candidatos presidenciales por noche debatirán el 30 y el 31 de julio en Detroit, Michigan. Cinco candidatos no calificaron para la segunda ronda de debates, que se transmitirá en vivo en CNN y CNN Español.
Así es, hasta ahora, hay 25 demócratas compitiendo por la nominación. Es el mayor número de candidatos en la historia reciente, superando en número a los 17 republicanos en 2016. Y han transcurrido 43 años desde que el concurso de nominación demócrata vio a muchos candidatos. En 1976, produjeron 16.
De acuerdo con los analistas políticos, el campo demócrata de 25 miembros no puede reducirse a un puñado de candidatos principales hasta principios de 2020. Eso podría significar problemas. El proceso de nominación presidencial se abre oficialmente el 3 de febrero con los caucuses de Iowa.
"La gran cantidad de candidatos implica un riesgo de caos más alto de lo habitual", escribió Nate Silver, de FiveThirtyEight (https://fivethirtyeight.com/features/everyones-running-and-that-could-be-dangerous-for- los demócratas/). "Los campos primarios más grandes significan más incertidumbre". Eso debería preocupar a los demócratas, dice Silver sobre las estadísticas en las que basa su advertencia.
El caos está peligrosamente cerca de describir lo que vieron los espectadores de la primera ronda de debates presidenciales demócratas primarios el mes pasado en NBC y Telemundo. Hubo varias instancias de los 10 candidatos en el escenario hablando a la vez. Se posicionaron, compitiendo entre sí por el tiempo en el aire, se interrumpieron y se atacaron mutuamente y discutieron. Estaban unidos sólo en su oposición al actual Presidente. ¿Cómo un medio tan desordenado inspira otra cosa que no sea la confusión?
Fue esencialmente una conferencia de prensa conjunta competitiva, evaluó a Paul S. Hayes, director de debate en la Universidad George Washington, y ofreció muy pocas oportunidades "para evaluar a un candidato". El formato permite a los candidatos repetir puntos de conversación en lugar de ser desafiados a defender sus ideas. El resultado fue "destello sobre sustancia", "un proceso de destrucción creativa", en lugar de "un proceso de aprendizaje".
La ronda de debates de la siguiente semana puede ayudar a reducir el campo. Como indica Business Insider, varios candidatos "se enfrentan a un momento decisivo" durante el debate. Algunos de ellos están teniendo dificultades y deben "aprovechar cada oportunidad que puedan o corren el riesgo de desaparecer de la carrera". Además, los criterios para calificar para participar en los siguientes debates del 12 y 13 de septiembre son mucho más difíciles.
Si los demócratas son serios acerca de derrotar al presidente actual Donald Trump, el 3 de noviembre de 2020, es el momento de unificar a unos pocos candidatos que muestran la mayor promesa de capturar la Casa Blanca y comenzar a unirse en torno a las prioridades del Partido Demócrata.
Nota bene:
Vea una lista de los 25 candidatos en línea y un poco sobre cada uno:
https://ballotpedia.org/Presidential_candidates,_2020
https://qz.com/1536793/your-guide-to-the-2020-democratic-presidential-candidates/