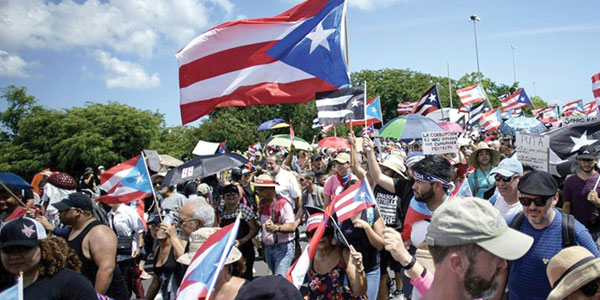 By Roberta Pardo
On Monday (July 22), protests in Puerto Rico became island-wide as people continued calling for Gov. Ricardo Rossello to resign.
For more than a week, Puerto Ricans have demanded Rossello's resignation over a leaked online chat full of obscenities stated by the governor and federal corruption charges against his administration.
On Monday — the 10th day of protests — hundreds of thousands of people took over one of the island's busiest highways to press their demands. The demonstration in San Juan, the capital, came a day after Rossello's announcement he would not quit, but promised not to seek re-election or continue as head of his political party.
The pages of chat on the encrypted app Telegram showed the governor and his advisers insulting women and mocking constituents, including victims of Hurricane Maria.
The pressure on Rossello to step down has intensified the past few days. The Puerto Rican newspaper El Nuevo Dia published a front-page headline reading: "Governor, it's time to listen to the people: You have to resign." In addition, many Puerto Rican celebrities such as singers Ricky Martin, Bad Bunny and Residente have joined in the calls for his resignation. The celebrities also joined the Monday protests.
More protests are expected over the next few days.
---
Cientos de miles de personas protestan en Puerto Rico pidiendo la renuncia del gobernador
El lunes (22 de julio), las protestas en Puerto Rico se hicieron en toda la isla cuando la gente siguió pidiendo la renuncia del gobernador Ricardo Rosselló.
Durante más de una semana, los puertorriqueños han exigido la renuncia de Rosselló por una conversación en línea filtrada llena de obscenidades declaradas por el gobernador y por cargos federales de corrupción contra su gobierno.
El lunes, el décimo día de protestas, cientos de miles de personas tomaron una de las autopistas más concurridas de la isla para presionar sus demandas. La manifestación en San Juan, la capital, se produjo un día después del anuncio de Rosselló de que no renunciaría, y donde prometió no buscar la reelección o continuar como jefe de su partido político.
Las páginas de chat en la aplicación cifrada Telegram mostraban al gobernador y sus asesores insultando a las mujeres y burlándose de los electores, incluidas las víctimas del huracán María.
La presión sobre Rosselló para que renuncie se ha intensificado en los últimos días. El periódico puertorriqueño El Nuevo Día publicó un titular en primera plana que decía: "Gobernador, es hora de escuchar a la gente: tiene que renunciar". Además, muchas celebridades puertorriqueñas como el cantante Ricky Martin, Bad Bunny y Residente se sumaron a las llamadas por su renuncia. Las celebridades también se unieron a las protestas del lunes.
Se esperan más protestas en los próximos días.