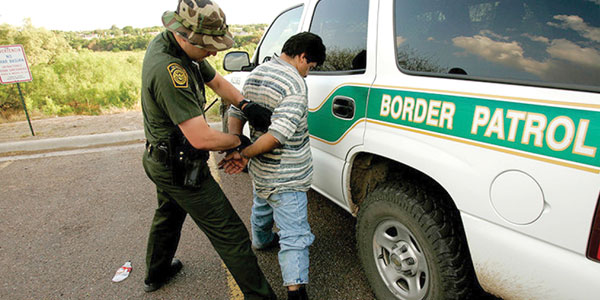 By Roberta Pardo
Starting Tuesday (July 23), the Trump administration is significantly expanding its power to quickly deport undocumented immigrants who cannot prove they have been in the U.S. continuously for two years or more, using a fast-track deportation process that bypasses immigration judges.
This new rule will allow immigration authorities to quickly remove immigrants from anywhere in the United States. The administration's policy for "expedited removal" had been limited to immigrants caught within 100 miles of the U.S. border and who had been in the country for less than two weeks.
"DHS expects that the full use of expedited removal statutory authority will strengthen national security, diminish the number of illegal entries and otherwise ensure the prompt removal of aliens apprehended in the United States," said Kevin McAleenan, acting Department of Homeland Security chief, in a notice Monday (July 22).
The rule was scheduled to take effect immediately upon publication Tuesday in the Federal Register.
Immigration lawyers said the expansion effectively gives U.S. officers the power to issue deportation orders without bringing immigrants before a judge or allowing them to speak with a lawyer. Omar Jadwat, director of the American Civil Liberties Union's Immigrants' Rights Project, said in a statement to the Washington Post the organization would sue to end the policy.
"Under this unlawful plan, immigrants who have lived here for years would be deported with less due process than people get in traffic court," Jadwat said. "We will sue to end this … quickly."
Other immigration advocates are afraid the policy will lead to increased racial profiling, as Vanita Gupta, president of the Leadership Conference on Civil and Human Rights, told the Post.
"This new directive flows directly from the racist rhetoric that the president has been using for the last week and indeed months, but this new rule is going to terrorize communities of color," said Gupta.
McAleenan said in the notice expedited removal would relieve pressure on detention centers and courts.
---
Administración de Trump expande el poder para deportar a inmigrantes indocumentados
A partir del martes (23 de julio), la administración de Trump está expandiendo significativamente su poder para deportar rápidamente a los inmigrantes indocumentados que no pueden probar que han estado en Estados Unidos de forma continua durante dos años o más, utilizando un proceso rápido de deportación que evita a los jueces de inmigración.
Esta nueva regla permitirá a las autoridades de inmigración eliminar rápidamente a los inmigrantes de cualquier lugar de los Estados Unidos. La política de la administración para la "deportación acelerada" se había limitado a los inmigrantes capturados a menos de 100 millas de la frontera de los Estados Unidos y que habían estado en el país por menos de dos semanas.
"DHS espera que el uso pleno de la autoridad legal de remoción acelerada fortalezca la seguridad nacional, disminuya el número de entradas ilegales y de otra manera garantice la remoción inmediata de los extranjeros detenidos en los Estados Unidos", dijo Kevin McAleenan, jefe interino del Departamento de Seguridad Nacional, en un aviso el lunes (22 de julio).
La regla estaba programada para entrar en vigencia inmediatamente después de su publicación el martes en el Registro Federal.
Los abogados de inmigración dijeron que la expansión les da a los oficiales de los Estados Unidos el poder de emitir órdenes de deportación sin llevar a los inmigrantes ante un juez o permitirles hablar con un abogado. Omar Jadwat, director del Proyecto de Derechos de los Inmigrantes de la American Civil Liberties Union, dijo en un comunicado al Washington Post que la organización demandaría para poner fin a la política.
"Bajo este plan ilegal, los inmigrantes que han vivido aquí durante años serían deportados con un proceso menor debido que el que recibe la gente en la corte de tránsito", dijo Jadwat. "Vamos a demandar para terminar esto … rápidamente".
Otros defensores de inmigrantes temen que la política llevará a un aumento en el perfil racial, como dijo Vanita Gupta, presidenta de la Conferencia de Liderazgo sobre Derechos Civiles y Humanos, al Post.
"Esta nueva directiva se deriva directamente de la retórica racista que el Presidente ha estado usando durante la última semana y de hecho meses, pero esta nueva regla va a aterrorizar a las comunidades de color", dijo Gupta.
McAleenan dijo en el aviso que la deportación acelerada aliviaría la presión sobre los centros de detención y los tribunales.