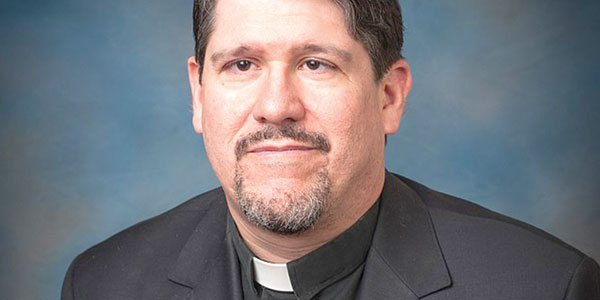 By Roberta Pardo
A priest under the Archdiocese of Kansas City in Kansas has been charged in federal court with one count of possessing child pornography.
Documents said Christopher Rossman allegedly possessed visual depictions of a minor engaging in sexually explicit behavior, according to The Kansas City Star. The archdiocese told The Star it reported the priest to the police upon receiving information about the situation in September 2016.
At the time, Rossman was serving as a pastor in Baldwin City and Lapeer, Kansas, and was immediately suspended once the archdiocese was aware he had accessed the child pornography. Before then, he had worked at churches in Olathe, Topeka, Holton and Mayetta, and on the Potawatomi Reservation.
"The archdiocese will continue to cooperate with law enforcement as this matter moves forward," the organization said in a news release to The Star.
Rossman is a priest with the archdiocese, but he cannot act as one while the matter is investigated.
In related news, in January, the archdiocese published a list of clergy who have been accused of sexual abuse. Moreover, the Kansas Bureau of Investigation (KBI) has opened an investigation on clergy sexual abuse and formed a task force. Reports of this kind can be made to the KBI at 1-800-572-7463.
---
Sacerdote de Kansas acusado de posesión de pornografía infantil
Un sacerdote de la Arquidiócesis de Kansas City en Kansas ha sido acusado en un tribunal federal de un cargo de posesión de pornografía infantil.
Los documentos dicen que Christopher Rossman supuestamente poseía representaciones visuales de un menor involucrado en un comportamiento sexual explícito, de acuerdo con The Kansas City Star. La arquidiócesis le dijo a The Star que reportó al sacerdote a la policía al recibir información sobre la situación en septiembre de 2016.
En ese momento, Rossman se desempeñaba como pastor en Baldwin City y Lapeer, Kansas, y fue suspendido de inmediato una vez que la arquidiócesis se dio cuenta de que había accedido a pornografía infantil. Antes de eso, había trabajado en iglesias en Olathe, Topeka, Holton y Mayetta, y en la Reserva Potawatomi.
"La arquidiócesis continuará cooperando con la policía a medida que este asunto avance", la organización dijo en un comunicado de prensa al The Star.
Rossman es un sacerdote con la arquidiócesis, pero no puede actuar como tal mientras se investiga el asunto.
En noticias relacionadas, en enero, la arquidiócesis publicó una lista de clérigos acusados de abuso sexual. Además, la Oficina de Investigación de Kansas (KBI, por sus siglas en inglés) abrió una investigación sobre abuso sexual del clero y formó un grupo de trabajo. Se pueden hacer informes de este tipo a KBI al 1-800-572-7463.