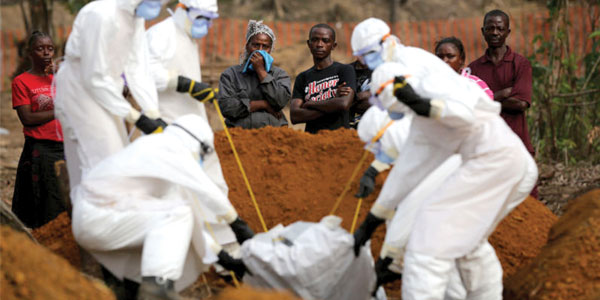 By Roberta Pardo
The World Health Organization (WHO) recently announced the ongoing Ebola outbreak in the Democratic Republic of Congo (DRC) constitutes a public health emergency of "international concern."
"The risk of Ebola spread in DRC and the region remains very high, and the risk of spread outside the region remains low," said Dr. Tedros Adhanom Ghebreyesus, director-general of the WHO, during a July 17 press conference, multiple news outlets reported. "Now is the time for the international community to stand in solidarity with the people of DRC."
The Ebola outbreak started in August 2018. As of July 15, the WHO reported a total of 2,512 Ebola cases and 1,676 deaths from the outbreak.
This is the fifth declaration of its kind. Global health emergencies are only announced under "extraordinary" circumstances.
Laura Miller, humanitarian group Mercy Corps' acting country director, said the group hopes the declaration "will translate into urgent and practical action, including more funding from international donors."
Likewise, the International Federation of Red Cross and Red Crescent Societies welcomed the move.
"While it does not change the reality on the ground for victims or partners engaged in the response, we hope it will bring the international attention that this crisis deserves," it said in a statement, according to the British Broadcasting Corp.
At press time, there were no restrictions on travel or trade and no entry screening of passengers at ports or airports outside the immediate region.
---
Brote de ébola en el Congo declarado como emergencia de "preocupación internacional"
La Organización Mundial de la Salud (OMS) anunció recientemente que el brote de ébola en curso en la República Democrática del Congo (RDC) constituye una emergencia de salud pública de "preocupación internacional".
"El riesgo de propagación del ébola en la RDC y la región sigue siendo muy alto, y el riesgo de propagación fuera de la región sigue siendo bajo", dijo el Dr. Tedros Adhanom Ghebreyesus, director general de la OMS, durante una conferencia de prensa el 17 de julio, como informaron varios medio de comunicación. "Ahora es el momento de que la comunidad internacional se solidarice con la gente de la RDC".
El brote de ébola comenzó en agosto de 2018. Hasta el 15 de julio, la OMS reportó un total de 2,512 casos de ébola y 1,676 muertes por el brote.
Esta es la quinta declaración de este tipo. Las emergencias de salud global solo se anuncian en circunstancias "extraordinarias".
Laura Miller, directora del país en funciones del grupo humanitario Mercy Corps, dijo que el grupo espera que la declaración "se traduzca en medidas urgentes y prácticas, incluida una mayor financiación de donantes internacionales".
De la misma manera, la Federación Internacional de Sociedades de la Cruz Roja y de la Media Luna Roja acogió con satisfacción la medida.
"Si bien no cambia la realidad en el terreno para las víctimas o los socios involucrados en la respuesta, esperamos que atraiga la atención internacional que merece esta crisis", dijo en un comunicado, según la BBC.
Al momento de la publicación, no había restricciones en los viajes o el comercio ni en la inspección de entrada de pasajeros en puertos o aeropuertos fuera de la región inmediata.