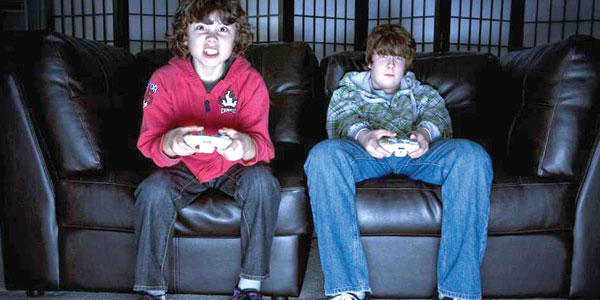 By Chara
Steps are being taken in the United States and abroad to address a recently recognized mental health issue: gaming disorder.
Gaming disorder – which received recognition in May from the World Health Organization (WHO), according to The Greenfield (Massachusetts) Recorder – has symptoms that are akin to substance and gambling addictions, mental health providers state. Its symptoms include playing video games uncontrollably, an increased priority to play videogames, and behavior connected to gaming that negatively affects daily activities, relationships, education and/or work activities.
To be diagnosed with the disorder, the WHO states that a person must show a negative pattern of gaming-related behavior for at least a year.
"Let me emphasize that this is a clinical condition, and clinical diagnosis can be made only by health professionals which are properly trained to do that," Dr. Vladimir Poznyak, a member of WHO's Department of Mental Health and Substance Abuse, was quoted as saying in June 2018 by CNN and other media outlets.
The disorder is a concern to Kansas City area parents such as Andres Gomez.
"My child plays videogames, and I didn't know children could be affected by a gaming disorder," said Gomez, an Overland Park, Kansas, resident. "I think this new disease requires that we (parents) pay more attention to our children and check for how long they are playing and their behavior."
To treat gaming disorder, Odyssey Behavioral Healthcare is proposing to turn a retreat center in Leyden, Massachusetts, into a gaming addiction center, with an emphasis on treating males ages 18-25, The Recorder reported Monday (July 29). In other treatment news, United Press International reported July 10 that a research group in Germany had been successful in utilizing a temporary, cognitive behavioral therapy-oriented treatment.
---
Esfuerzos en curso en Estados Unidos y en el extranjero para tratar el trastorno de videojuegos
Se están tomando medidas en Estados Unidos y en el extranjero para abordar un problema de salud mental recientemente reconocido: el trastorno de videojuego.
El trastorno de videojuego, que recibió el reconocimiento en mayo de la Organización Mundial de la Salud (OMS), según el The Greenfield (Massachusetts) Recorder, tiene síntomas similares a las adicciones a las sustancias y al juego, afirman los proveedores de salud mental. Sus síntomas incluyen jugar videojuegos incontrolablemente, una mayor prioridad para jugar videojuegos y comportamientos relacionados con los juegos que afectan negativamente las actividades diarias, las relaciones, la educación y/o las actividades laborales.
Para ser diagnosticada con el trastorno, la OMS indica que una persona debe mostrar un patrón negativo de comportamientos relacionado con los videojuegos durante al menos un año.
"Permítanme enfatizar que ésta es una condición clínica, y el diagnóstico clínico sólo puede ser realizado por profesionales de la salud que estén debidamente capacitados para hacerlo", dijo el Dr. Vladimir Poznyak, miembro del Departamento de Salud Mental y Abuso de Sustancias de la OMS, en junio de 2018 como lo citaron CNN y otros medios.
El trastorno es una preocupación para padres del área de Kansas City como Andrés Gómez.
"Mi hijo juega videojuegos y no sabía que los niños pudieran verse afectados por un trastorno del videojuego", dijo Gómez, un residente de Overland Park, Kansas. "Creo que esta nueva enfermedad requiere que nosotros (los padres) prestemos más atención a nuestros hijos y verifiquemos cuánto tiempo juegan y su comportamiento".
Para tratar el trastorno del juego, Odyssey Behavioral Healthcare propone convertir un centro de retiro en Leyden, Massachusetts, en un centro de adicción al juego, con énfasis en el tratamiento de hombres de 18 a 25 años, informó The Recorder el lunes (29 de julio). En otras noticias sobre tratamientos, United Press International informó el 10 de julio que un grupo de investigación en Alemania había tenido éxito al utilizar un tratamiento temporal orientado a la terapia cognitiva conductual.