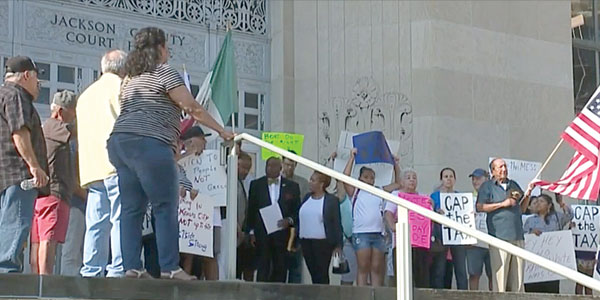 By Roberta Pardo
The Jackson County Board of Equalization has extended the deadline for property owners to appeal their real estate assessments to Sept. 1.
The decision was made Tuesday morning (July 30) during the panel's meeting in Independence.
Although real estate is supposed to be reassessed every other year in Missouri, some neighborhoods have been overlooked for years. County Executive Frank White decided to fix that in 2019 by setting values on the tax rolls as close as possible to true market values.
As a result, some property owners saw their values quadruple when the county notified them in June. Some critics, however, say the assessment process was flawed and blame White for not doing enough.
More than 10,000 formal appeals have been filed so far, not counting the potentially thousands more pending informal reviews.
On Monday (July 29), about 40 protesters gathered outside the downtown Kansas City courthouse in support of extending the deadline until Sept. 1.
"We are people seeking justice," Rev. Vernon Howard, who helped lead the protest, told The Kansas City Star, claiming that people in poorer neighborhoods were disproportionately affected by this process.
Westside area residents have been more vocal than most. And Monday's protest saw them joining forces publicly with the African American community to voice their shared concerns that minorities are being affected by the assessment process.
________________________________________________________________________
Condado de Jackson extiende fecha límite para apelar altas evaluaciones de bienes inmuebles
La Junta de Igualación del Condado de Jackson ha extendido el plazo para que los dueños de propiedades apelen sus evaluaciones de bienes raíces hasta el 1 de septiembre.
La decisión se tomó el martes por la mañana (30 de julio) durante la reunión del panel en Independence.
Aunque se supone que los bienes inmuebles deben ser reevaluados cada dos años en Missouri, algunos barrios han sido pasados por alto durante años. El ejecutivo del condado Frank White decidió arreglar eso en 2019 estableciendo valores en las listas de impuestos lo más cerca posible de los valores reales del mercado.
Como resultado, algunos propietarios vieron que sus valores se cuadruplicaron cuando el condado les notificó en junio. Sin embargo, algunos críticos dicen que el proceso de evaluación fue defectuoso y culpan a White por no hacer lo suficiente.
Hasta el momento se han presentado más de 10,000 apelaciones formales, sin contar los potencialmente miles de revisiones informales pendientes.
El lunes (29 de julio), alrededor de 40 manifestantes se reunieron frente al juzgado del centro de Kansas City en apoyo de extender el plazo hasta el 1 de septiembre.
"Somos personas que buscan justicia", le dijo el reverendo Vernon Howard, quien ayudó a liderar la protesta, a The Kansas City Star, alegando que las personas en los barrios más pobres se vieron desproporcionadamente afectadas por este proceso.
Los residentes del área de Westside han sido los más vocales. Y la protesta del lunes los vio unir fuerzas públicamente con la comunidad afroamericana para expresar sus preocupaciones compartidas de que las minorías están siendo afectadas por el proceso de evaluación.