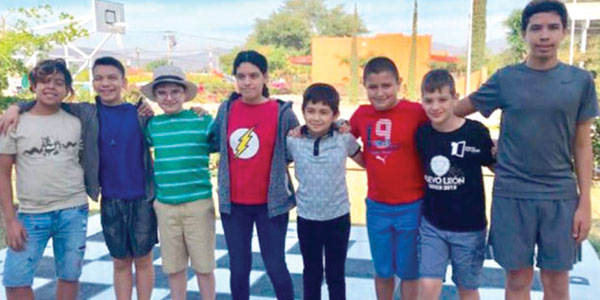 By Roberta Pardo
Mexican filmmaker Guillermo del Toro is about to make good on a promise.
In May, del Toro said in a tweet he would pay for plane tickets for a group of Mexican students to attend a math Olympiad in South Africa.
Since then, that team has won medals at the International Mathematics Olympiad, held recently in London last week. Through a series of tweets, the team announced the Mexican delegation had won a silver medal, three bronze medals and two honorable mentions.
"Mister @RealGDT (Guillermo del Toro), we want you to be the first to know: Mexico won a silver medal in the @imo2019," the first tweet said.
The team held a fundraising campaign on its social media platforms trying to raise enough money to take the team from Mexico to the African country. That was how del Toro found about it and offered to pay for the plane tickets.
"Let's see, I offer to cover the plane tickets for all 12 members of the Mathematical Olympics team in South Africa," he wrote.
In August, with del Toro's backing, the team will travel to South Africa to participate in another international competition.
________________________________________________________________________
Equipo mexicano de matemáticas respaldado por Guillermo del Toro triunfa en Olimpiada
El cineasta mexicano Guillermo del Toro está a punto de cumplir su promesa.
En mayo, Del Toro dijo en un tweet que pagaría por los boletos de avión de un grupo de estudiantes mexicanos para asistir a unas olimpiadas matemáticas en Sudáfrica.
Desde entonces, ese equipo ha ganado medallas en las Olimpiadas Internacionales de Matemáticas, celebrada recientemente en Londres la semana pasada. A través de una serie de tweets, el equipo anunció que la delegación mexicana había ganado una medalla de plata, tres medallas de bronce y dos menciones de honor.
"Maestro @RealGDT, que sea usted el primero en saberlo: ¡México gana una medalla de plata en la @imo2019!", decía el primer tweet.
El equipo llevó a cabo una campaña de recaudación de fondos en sus plataformas de redes sociales, tratando de recaudar el dinero suficiente para llevar al equipo de México al país africano. Así fue como Del Toro lo descubrió y se ofreció a pagar los pasajes de avión.
"A ver, les ofrezco cubrir los boletos de avión para todos los 12 integrantes del equipo de Olimpiadas Matemáticas en Sudáfrica", escribió.
En agosto, con el apoyo de Del Toro, el equipo viajará a Sudáfrica para participar en otra competencia internacional.