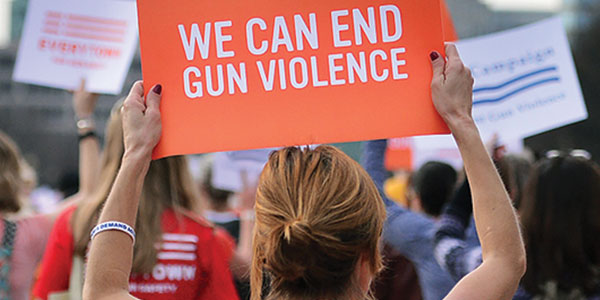 July and August in America ended on a violent note. A gunman at a community festival in California opened fire on July 28, killing three people, including a six-year-old boy, and injuring 12. During the very next weekend, separate gunmen shot and killed 22 women, men and kids as they shopped in an El Paso, Texas, Walmart on Aug. 3, and nine adults, including the assailant's own sister, in a Dayton, Ohio, bar on Aug. 4.
The aftermath of these mass shootings is grotesquely reflexive and similar. We hold vigils. We rally and march. We demand lawmakers take action. We write letters to the editor. We express our outrage, horror and disbelief in calls to radio talk shows. What's wrong with us, we wonder.
Then life goes on, and so do we. Until the next mass shooting or the next unthinkable attack close to home.
The unthinkable has happened. Again, and again and again.
Yesterday should've been eight-year-old Brian Bartlett's first day in fourth grade. But he died last Saturday night. As he slept in his bed in his bedroom in the South Kansas City house where he and his "doting" mother were staying, gunmen fired at least 30 bullets at Brian's house. Brian was fatally shot; his mother was seriously injured but will survive. Brian was Kansas City's 90th homicide victim this year and the youngest.
Two days earlier, 14-year-old Zavier Mendoza was shot and killed near his home in Olathe, Kan. Police have charged a 13-year-old boy with second-degree murder. Now, instead of preparing Zavier for high school and playing freshman football, the Mendoza family is planning the funeral for their only son.
Another young life was senselessly ended the weekend before. Erin Langhofer, a 25 year-old counselor and therapist at the Rose Brooks Center for domestic violence survivors attended First Fridays in the Crossroads. As she stood in line at a food truck with her longtime boyfriend, the beautiful young woman was struck by a stray bullet. The 18-year-old shooter has been charged with second-degree murder. He didn't know Erin Langhofer.
Why are we the only developed country with this epidemic of gun violence? Is it treatable, curable? Are there potentially effective interventions?
Public health and law enforcement and other professionals point to a number of principal factors: Inadequate and weak gun laws; Mental health issues; Violent video games, TV programming and movies; Social contagion; Poor parenting; Lack of respect for self and others; Easy access to underground gun markets; Proliferation of firearms; Careless handling of firearms; and School bullying.
No one policy or program will prevent mass shootings or everyday acts of gun violence, say gun policy researchers. And no one group alone can end this public health emergency. It's going to take all of us refusing to accept the never-ending bloodshed and cooperatively undertake the task of developing effective interventions at all levels to end this epidemic of gun violence.  
__________________________________________________________________________
Poner fin a la violencia armada: depende de nosotros
Julio y agosto en Estados Unidos terminó en una nota violenta. Un hombre armado en un festival comunitario en California abrió fuego el 28 de julio, matando a tres personas, incluido un niño de seis años, e hiriendo a 12. Durante el siguiente fin de semana, dos hombres armados dispararon y mataron a 22 mujeres, hombres y niños mientras hacían compras en un Walmart en El Paso, Texas, el 3 de agosto, y nueve adultos, incluidos la hermana del culpable, en un bar en Dayton, Ohio, el 4 de agosto.
Las consecuencias de estos tiroteos masivos son grotescamente reflexivos y similares. Organizamos vigilias. Nos manifestamos y marchamos. Exigimos que los legisladores tomen medidas. Escribimos cartas al editor. Expresamos nuestra indignación, horror e incredulidad en llamadas a programas de radio. ¿Qué nos pasa, nos preguntamos?
Entonces la vida continúa, y nosotros también. Hasta el próximo tiroteo masivo o el próximo ataque impensable cerca de casa.
Lo impensable ha sucedido. Una y otra y otra vez.
Ayer debería haber sido el primer día de Brian Bartlett, de ocho años, en el cuarto grado. Pero murió el pasado sábado por la noche. Mientras dormía en su cama en su habitación en la casa al sur de Kansas City donde se alojaban su madre "cariñosa" y él, hombres armados dispararon al menos 30 balas contra la casa de Brian. El niño recibió un disparo mortal; su madre resultó gravemente herida pero sobrevivirá. Brian fue la 90a víctima de homicidio de Kansas City este año y la más joven.
Dos días antes, Zavier Mendoza, de 14 años, fue asesinado a disparos cerca de su casa en Olathe, Kan. Las autoridades han acusado a un niño de 13 años de homicidio en segundo grado. Ahora, en lugar de preparar a Zavier para la secundaria y jugar fútbol americano de primer año, la familia Mendoza está planeando el funeral para su único hijo.
Otra vida joven fue terminada sin sentido el fin de semana anterior. Erin Langhofer, consejera y terapeuta de 25 años del Centro Rose Brooks para sobrevivientes de violencia doméstica, asistió a First Fridays en Crossroads. Mientras hacía cola en un camión de comida con su novio de toda la vida, la bella joven fue alcanzada por una bala perdida. El tirador de 18 años fue acusado de asesinato en segundo grado. No conocía a Erin Langhofer.
¿Por qué somos el único país desarrollado con esta epidemia de violencia armada? ¿Es tratable o curable? ¿Hay intervenciones potencialmente efectivas?
Profesionales de salud pública y las fuerzas del orden y otros profesionales señalan una serie de factores principales: leyes de armas inadecuadas y débiles; problemas de salud mental; videojuegos, programación de televisión y películas violentas; contagio social; mala crianza de los hijos; falta de respeto por uno mismo y los demás; fácil acceso a los mercados subterráneos de armas; proliferación de armas de fuego; manejo descuidado de armas de fuego; y acoso escolar.
Ninguna política o programa evitará los tiroteos masivos o actos cotidianos de violencia armada, dicen los investigadores de políticas de armas. Y ningún grupo sólo puede poner fin a esta emergencia de salud pública. Se necesitará que todos nos neguemos a aceptar el derramamiento de sangre interminable y emprender cooperativamente la tarea de desarrollar intervenciones efectivas en todos los niveles para poner fin a esta epidemia de violencia armada