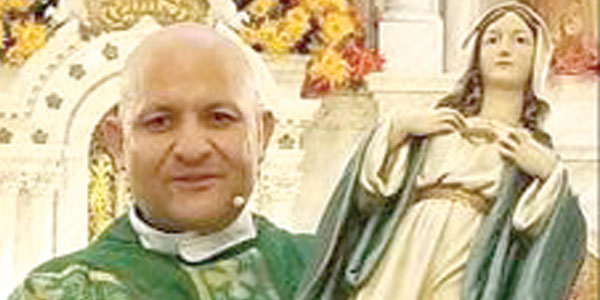 The Church of the Holy Cross in Overland Park, Kansas, has a new priest.
In July, the church welcomed the Rev. Salvador Llamas into its community. Before that, the native of Mexico was serving at the All Saints Parish in Kansas City, Kansas.
"They have been very welcoming," Llamas said.
Llamas, who replaced the Rev. Juan Carlos Franco, is still trying to learn about American culture while also adapting to the Holy Cross community, composed of Hispanics and non-Hispanics.
"This is a challenge for me because, in this parish, most people are Americans, from Anglo-Saxon culture," he said. "But I know God will help during this time."
Llamas celebrates Mass in English and Spanish. During his time at Holy Cross, he hopes "to spread the word of the Lord to those who have wandered away from their faith," he said.
"I know the full commitment to God happens when there is a personal encounter with Christ, so I hope to help people reaching that stage," Llamas said.
The Mexican national has served in U.S. territory for 12 years, in places like Puerto Rico and Texas. He has been in the Kansas City area for almost three years.
For now, Llamas will continue to spread the word of God to his parishioners.
"I'm always … trying to do God's will," he said.
---
Holy Cross da la bienvenida a un nuevo sacerdote
La Iglesia de la Santa Cruz (Holy Cross) en Overland Park, Kansas, tiene un nuevo sacerdote.
En julio, la iglesia dio la bienvenida al reverendo Salvador Llamas a su comunidad. Antes de eso, el nativo de México servía en la Parroquia de Todos los Santos en Kansas City, Kansas.
"Me han recibido muy bien", dijo Llamas.
Llamas, quien reemplazó al reverendo Juan Carlos Franco, todavía está tratando de aprender sobre la cultura estadounidense al mismo tiempo que también se adapta a la comunidad de Holy Cross, compuesta de hispanos y no hispanos.
"Es para mi un reto porque pues en esta parroquia la mayoría es una cultura anglosajona", dijo. "Pero se que Dios me ayudará".
Llamas da misa en inglés y español. Durante su tiempo en Holy Cross, espera "llevar la palabra del Señor a los que se han alejado de su fe", dijo.
"Sé que el compromiso completo con Dios se da cuando hay un encuentro personal con Cristo, así que espero ayudar a que la gente llegue a ese punto", dijo Llamas.
El mexicano ha servido en territorio estadounidense por 12 años, en lugares como Puerto Rico y Texas. Ha estado en el área de Kansas City por casi tres años.
Por ahora, Llamas continuará llevando la palabra de Dios a sus feligreses.
"Siempre estoy procurando hacer la voluntad de Dios", dijo.