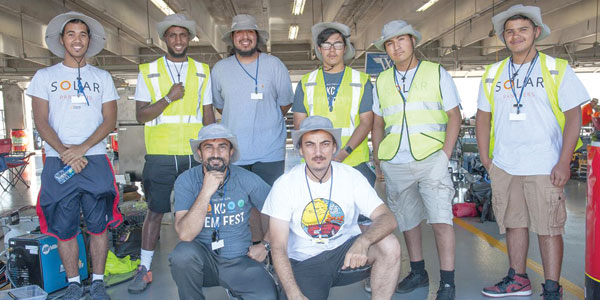 By Roberta Pardo
Kansas City, MO – Join us in congratulating our Frontier STEM High School, Solar Panther's Team, for their 6th place triumph in the Classic Division at the National Solar Car Challenge Race held at the Texas Motor Speedway in Dallas, Texas. As the only school representing the entire state of Missouri and just their second year competing in the challenge, the Solar Panther's stayed on track, lap for lap, while competing with 44 nationwide teams on a track radiating temperatures up to 150 degrees as they successfully completed 366 miles at an average speed of 13.1 miles per hour. 
"We are very proud of our students. Their hard work, determination, teamwork, and sportsmanship paid off during the competition," said Azat Ovezov, STEM Coordinator for the Solar Panthers. 
"As a STEM focused school, this event helps students see first-hand how science, technology, engineering, math, creativity and collaboration work together. It is our vision and mission to empower students to discover and develop their gifts and talents, preparing them for the jobs projected for the American workforce. This is just one of the ways we are accomplishing this," said Ugur Demircan, Superintendent of Frontier Schools.
The Solar Car Challenge is an educational program designed to help motivate students in science, engineering and alternative energy, and teach students how to design, engineer, build, race and evaluate road-worthy solar cars. The Solar Car Challenge Foundation, based in Plano, Texas, is celebrating its 26th anniversary this year. To view the 2019 Solar Car Challenge results or for more information, visit www.solarcarchallenge.com.
Frontier Schools is a tuition-free, college preparatory, Pre-K-12 Public Charter School and is currently serving more than 1600 students at four locations in Kansas City. Our schools have a strong STEM (Science, Technology, Engineering, and Math) focus, working with urban youth in the Kansas City area. Our students are a 100% free breakfast/lunch population and come from diverse socio-economic populations in our city. For more information, visit www.frontierschools.org.
---
Frontier Schools obtiene el sexto lugar en el Desafío de Autos Solares 2019
Kansas City, MO – Únase a nosotros en felicitar a nuestro equipo, las Panteras Solares, del Frontier STEM High School por obtener el sexto lugar en la División Clásica en la carrera nacional de Desafío de Autos Solares que tuvo lugar en el Autódromo de Texas en Dallas, Texas. Como la única escuela representando a todo el estado de Missouri y sólo su segundo año compitiendo en el desafío, las Panteras Solares se mantuvieron en pista, vuelta a vuelta, mientras competían con 44 equipos de todo el país en una pista que irradiaba temperaturas de hasta 150 grados mientras completaban con éxito 366 millas a una velocidad promedio de 13.1 millas por hora.
"Estamos muy orgullosos de nuestros estudiantes. Su trabajo duro, determinación, trabajo en equipo y deportividad dio resultados durante la competencia", dijo Azat Ovezov, coordinador de STEM para las Panteras Solares.
"Como una escuela enfocada en STEM, este evento ayuda a los estudiantes a ver de primera mano cómo la ciencia, tecnología, ingeniería, matemáticas, creatividad y colaboración trabajan juntas. Nuestra visión y misión es capacitar a los estudiantes para descubrir y desarrollar sus dones y talentos, preparándolos para los trabajos proyectados para la fuerza laboral estadounidense. Esta es sólo una de las formas en que estamos logrando esto", dijo Ugur Demircan, superintendente de Frontier Schools.
El Desafío de Autos Solares es un programa educativo diseñado para ayudar a motivar a los estudiantes en ciencias, ingeniería y energía alternativa y enseñar a los estudiantes cómo diseñar, construir, competir y evaluar autos solares dignos de circulación. La Fundación del Desafío de Autos Solares, con sede en Plano, Texas, está celebrando su 26 aniversario este año. Para ver los resultados del Desafío de Autos Solares de 2019 o para obtener más información, visite www.solarcarchallenge.com.
Frontier Schools es una escuela pública autónoma, de grados K-12, preparatoria para la universidad y actualmente atiende a más de 1600 estudiantes en cuatro ubicaciones en Kansas City. Nuestras escuelas tienen un fuerte enfoque en STEM (Ciencia, Tecnología, Ingeniería y Matemáticas), trabajando con jóvenes urbanos en el área de Kansas City. Nuestros estudiantes son una población que recibe desayuno/almuerzo 100 por ciento gratis y vienen de diversas poblaciones socioeconómicas de nuestra ciudad. Para obtener más información, visite www.frontierschools.org.