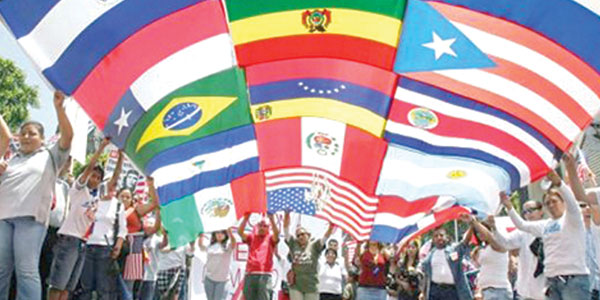 The 31st annual observance of Hispanic Heritage Month opens Sunday. The celebration of the histories, cultures and contributions of Americans with roots in Mexico, Central and South America, the Caribbean and Spain begins on Sep. 15. It's the anniversary of independence for the Latin American countries of Costa Rica, El Salvador, Guatemala, Honduras and Nicaragua.
Hispanic Heritage Month festivities close on October 15, three days after Día de la Raza (Columbus Day).
Importantly, this is the 51st anniversary of the national Hispanic Heritage observance. It began in 1968 as Hispanic Heritage Week.
For the next month, communities nationwide will host events in honor of Hispanic Heritage Month. School districts, libraries, and colleges and universities will earnestly explore Hispanic histories and cultures and call attention to the contributions of Hispanic and Latino Americans.
Churches, media outlets and social and civic groups are presenting ideas and resources for learning and teaching about Latin countries, noteworthy Hispanic and Latino Americans and the diversity of Hispanic identity.
Hispanic Heritage Month deserves its place on the calendar. Spanish-speaking immigrants account for most of the nation's foreign-born population, the Pew Research Center reported in June. A record 44.4 million immigrants were living in the U.S. in 2017. Nearly half – 43 percent – speak Spanish at home, Pew found.
Almost a quarter of the nation's foreign-born population – 23 percent – was "unauthorized" in 2017, Pew estimated.
Given those numbers, here's a winning value proposition for Congress and President Trump. Commemorate Hispanic Heritage Month by passing and signing into law a bill that would reposition on the right side of the law certain immigrants now living here illegally. Start with legal status and employment authorization and establish a process with benchmarks and requirements leading eventually to citizenship for those qualifying immigrants who apply.
Home in on the hardworking, productive and otherwise law-abiding immigrants. They're our neighbors, students and friends. They're doing their fair share, contributing economically and applying their unique talents to strengthen America.
It would be a win-win. Aside from the obvious economic benefits, officially inviting undocumented immigrants out of the shadows would improve public safety. Authorities would be more readily able to identify and deport unauthorized immigrants with criminal convictions or engaging in criminal activity.
Certainly there's passion on all sides of the illegal immigration debate; it's a polarizing issue. This proposition, however, doesn't comprehensively reform immigration laws, nor does it condone illegal immigration or advocate wholesale amnesty or open borders. It is, rather, legislation that provides legal status to only those unauthorized immigrants who qualify.
Is there a better way to commemorate Hispanic Heritage Month?
Nota bene:
Web resources on Hispanic Heritage Month
https://www.hispanicheritagemonth.org/
https://nationalcouncilhepm.org/themes-%26-posters
https://www.nps.gov/aboutus/news/sept15-oct15-monthly-theme.htm
www.hispanicheritagemonth.gov
____________________________________________________________________________________________
Conmemorando el Mes de la Herencia Hispana

La 31º celebración anual del Mes de la Herencia Hispana empieza el domingo. La celebración de las historias, culturas y contribuciones de los estadounidenses con raíces en México, América Central y del Sur, el Caribe y España comienza el 15 de septiembre. Es el aniversario de la independencia de los países latinoamericanos de Costa Rica, El Salvador, Guatemala, Honduras y Nicaragua.
Las festividades del Mes de la Herencia Hispana cierran el 15 de octubre, tres días después del Día de la Raza (Día de Colón).
Es importante destacar que este es el 51 aniversario de la celebración nacional de la Herencia Hispana. Comenzó en 1968 como la Semana de la Herencia Hispana.
Durante el mes siguiente, las comunidades de todo el país tendrán eventos en honor al Mes de la Herencia Hispana. Los distritos escolares, bibliotecas, colegios y universidades explorarán seriamente las historias y culturas hispanas y llamarán la atención sobre las contribuciones de los hispanos y latinoamericanos.
Las iglesias, los medios de comunicación y los grupos sociales y cívicos están presentando ideas y recursos para aprender y enseñar sobre países latinos, hispanos y latinoamericanos notables y la diversidad de la identidad hispana.
El Mes de la Herencia Hispana merece su lugar en el calendario. Los inmigrantes de habla hispana representan la mayor parte de la población nacida en el extranjero, informó el Centro de Investigación Pew en junio. Un récord de 44.4 millones de inmigrantes vivían en Estados Unidos en 2017. Casi la mitad, el 43 por ciento, habla español en casa, descubrió Pew.
Casi una cuarta parte de la población nacida en el extranjero, el 23 por ciento, estaba "no autorizada" en 2017, estimó Pew.
Dado esos números, aquí hay una propuesta de valor ganadora para el Congreso y el presidente Trump. Conmemoren el Mes de la Herencia Hispana aprobando y promulgando una ley que reposicionaría en el lado derecho de la ley a ciertos inmigrantes que ahora viven aquí ilegalmente. Comiencen con el estado legal y la autorización de empleo y establezca un proceso con puntos de referencia y requisitos que eventualmente conduzca a la ciudadanía para aquellos inmigrantes calificados que presenten la solicitud.
Enfóquense en los inmigrantes trabajadores, productivos y respetuosos de la ley. Son nuestros vecinos, estudiantes y amigos. Están haciendo su parte justa, contribuyendo económicamente y aplicando sus talentos únicos para fortalecer a Estados Unidos.
Sería una situación ganadora para todos. Además de los beneficios económicos obvios, invitar oficialmente a los inmigrantes indocumentados a salir de las sombras mejoraría la seguridad pública. Las autoridades podrían identificar y deportar más fácilmente a los inmigrantes no autorizados con condenas penales o que participen en actividades delictivas.
Ciertamente hay pasión en todos los lados del debate sobre inmigración ilegal; es un tema polarizador. Esta propuesta, sin embargo, no reforma integralmente las leyes de inmigración, ni aprueba la inmigración ilegal ni aboga por una amnistía general o fronteras abiertas. Es, más bien, una legislación que otorga estatus legal sólo a los inmigrantes no autorizados que califican.
¿Hay una mejor manera de conmemorar el Mes de la Herencia Hispana?
Nota bene:
Recursos en línea sobre el Mes de la Herencia Hispana
https://www.hispanicheritagemonth.org/
https://nationalcouncilhepm.org/themes-%26-posters
https://www.nps.gov/aboutus/news/sept15-oct15-monthly-theme.htm
www.hispanicheritagemonth.gov