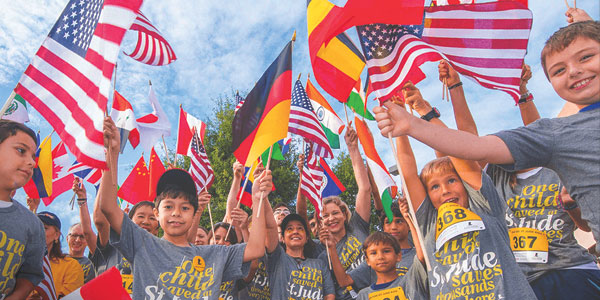 By Roberta Pardo
On Sept. 28, St. Jude will host its Walk/Run to End Childhood Cancer.
Hosted at KC Live! in Kansas City, Missouri's Power & Light District, the event aims to raise money for the St. Jude Children's Research Hospital. The money is for the kids at the hospital, where families never receive a bill for anything.
With September being Childhood Cancer Awareness Month, St. Jude hopes to change the way the world understands, treats and defeats childhood cancer and other life-threatening diseases.
Participants can do the walk for an entry fee of $10 or the 5-kilomter run for an entry fee of $20. Participants can run individually or form a team and/or join an existing team.
Nationwide, every year, St. Jude hosts its Walk/Run to End Childhood Cancer to raise money to continue providing free treatment to children. The reasoning is that families should only worry about helping their children live.
St. Jude also shares its discoveries with other medical organization, so that everyone can use that knowledge to help save the lives of thousands of kids.
In Kansas City, the event will start at 9 a.m. Around 800 people are expected to participate.
For more information or to register to participate, visit stjude.org/walkrun or stjude.org/caminatakansascity.
___________________________________________________________________________________________
St. Jude organizará su evento anual de caminata/carrera para recaudar fondos
El 28 de septiembre, St. Jude organizará su Caminata/Carrera para Acabar con el Cáncer Infantil.
Organizado en el KC Live! en el distrito de Power & Light de Kansas City, Missouri, el evento tiene como objetivo recaudar fondos para el Hospital de Investigación Infantil St. Jude. El dinero es para los niños en el hospital, donde las familias nunca reciben una factura por nada.
Siendo septiembre el Mes de Concientización sobre el Cáncer Infantil, St. Jude espera cambiar la forma en que el mundo entiende, trata y derrota el cáncer infantil y otras enfermedades que amenazan la vida.
Los participantes pueden hacer la caminata por una tarifa de entrada de $10 o la carrera de 5 millas por una tarifa de entrada de $20. Los participantes pueden correr individualmente o formar un equipo y/o unirse a un equipo existente.
A nivel nacional, todos los años, St. Jude organiza su Caminata/Carrera para Acabar con el Cáncer Infantil para recaudar fondos y continuar brindando tratamiento gratuito a los niños. El razonamiento es que las familias sólo deberían preocuparse por ayudar a sus hijos a vivir.
St. Jude también comparte sus descubrimientos con otras organizaciones médicas, para que todos puedan usar ese conocimiento para ayudar a salvar las vidas de miles de niños.
En Kansas City, el evento comenzará a las 9 a.m. Se espera que participen alrededor de 800 personas.
Para obtener más información o para registrarse para participar, visite stjude.org/walkrun o stjude.org/caminatakansascity.