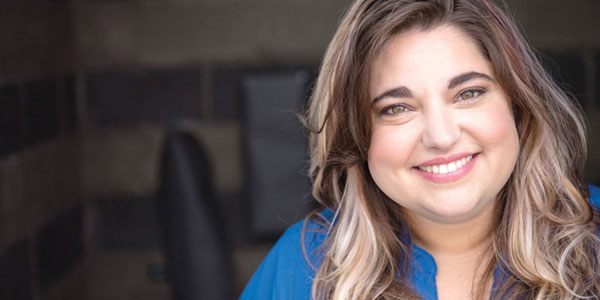 By Roberta Pardo
For comedian Carmen Morales, finding out a career in comedy was attainable was life-changing.
Now a Los Angeles resident, Morales was in her early 20s when her boss called her into her office and asked her if there was anything else that she wanted to do. Comedy had always been on her mind, but Morales thought comedians either became famous or had no money.
But her boss knew a professional comedian. When Morales looked up the comedian, she found out he was not famous.
"(My boss) said, 'Yeah there's like a ton of non-famous comedians that do this for a living,'" Morales said. "It blew my mind and it changed everything."
From then on, Morales started doing standup comedy at open-mic events. Now, with 13 years of experience, she is performing from Thursday (Sept. 19) to Sunday (Sept. 22) at the Comedy Club in Kansas City, Missouri.
"I'm very excited about performing at the Comedy Club … because the owner is a former comedian himself, so he really understands what's necessary to make a good comedy show," she said.
However, reaching this point of her career was not easy. Morales spent six years living out of her car and touring the country doing standup. She eventually settled in Chicago before moving to Los Angeles.
Morales describes her comedy as a "combination of quick wit and charm and vulnerability."
"I'm very opinionated; … I have things to say, but I'm also really funny about it, which is also the difference," she said. "I tell funny stories. I talk about things that don't make sense to me society-wise."
Morales hopes people come to see her this weekend.
"I'm excited for the shows this weekend just because I know I'm going to have a good time, and I know the audience is going to have a good time, too," Morales said.
---
Comediante se presentará en el Comedy Club en KCMO
Para la comediante Carmen Morales, descubrir que una carrera en comedia era posible fue el momento que le cambió la vida.
Ahora residente de Los Ángeles, Morales tenía poco más de 20 años cuando su jefa la llamó a su oficina y le preguntó si había algo más que quisiera hacer. La comedia siempre había estado en su mente, pero Morales pensó que los comediantes se hicieron famosos o no tenían dinero.
Pero su jefe conocía a un comediante profesional. Cuando Morales buscó al comediante, descubrió que no era famoso.
"(Mi jefa) dijo, 'Sí, hay una tonelada de comediantes no famosos que hacen esto para ganarse la vida'", dijo Morales. "Me dejó sorprendida y lo cambió todo".
A partir de entonces, Morales comenzó a hacer comedias en vivo en eventos de micrófono abierto. Ahora, con 13 años de experiencia, se presenta desde el jueves (19 de septiembre) hasta el sábado (21 de septiembre) en el Comedy Club en Kansas City, Missouri.
"Estoy muy emocionada de actuar en el Comedy Club … porque el dueño es un ex comediante, por lo que realmente entiende lo que se necesita para hacer un buen espectáculo de comedia", dijo.
Sin embargo, llegar a este punto de su carrera no fue fácil. Morales pasó seis años viviendo fuera de su automóvil y recorriendo el país haciendo 'standup'. Finalmente se estableció en Chicago antes de mudarse a Los Ángeles.
Morales describe su comedia como una "combinación de ingenio rápido, encanto y vulnerabilidad".
"Tengo muchas opiniones; … Tengo cosas que decir, pero también soy muy divertida al respecto, lo que también es la diferencia", dijo. "Cuento historias divertidas. Hablo de cosas que no tienen sentido para la sociedad".
Morales espera que la gente venga a verla este fin de semana.
"Estoy emocionada por los shows este fin de semana sólo porque sé que voy a pasar un buen rato, y sé que la audiencia también lo pasará bien", dijo Morales.