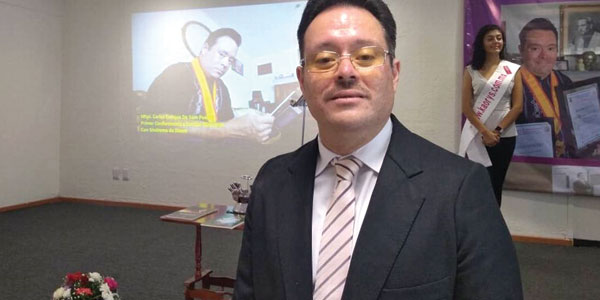 By Roberta Pardo
Mexican writer Carlos Enrique de Saro Puebla, also known as the first Mexican writer with Down syndrome, was awarded an honorary doctorate in early August by the International College of Professionals in Mexico.
Born in Mexico City and living in Cuernavaca, Morelos, Mexico, de Saro is a computer systems technician, with a diploma in computer maintenance. In 2006, he started giving conferences nationwide and internationally on technology and self-esteem. He also has written four books on self-worth and self-improvement.
The honorary doctorate recognizes de Saro's academic, social, human and professional work in his conferences, where he addresses issues of inclusion of people with disabilities in work, educational and social environments.
"It is a very big distinction for me, your server and friend, who writes with the essence and chromosome of love," he said during his acceptance speech. "I never expected to have the honor of receiving both awards for my work as a writer and speaker, I feel full of gratitude."
The award ceremony took place during the celebration of the 104th death anniversary of Emiliano Zapata, an icon of the Mexican Revolution.

---
Primer escritor mexicano con síndrome de Down recibe doctorado honorario
El escritor mexicano Carlos Enrique de Saro Puebla, también conocido como el primer escritor mexicano con síndrome de Down, recibió un doctorado honorario a principios de agosto por el Colegio Internacional de Profesionales de México.
Nacido en la Ciudad de México y viviendo en Cuernavaca, Morelos, México, De Saro es técnico en sistemas informáticos, con un diploma en mantenimiento de computadoras. En 2006, comenzó a dar conferencias a nivel nacional e internacional sobre tecnología y autoestima. También ha escrito cuatro libros sobre autoestima y superación personal.
El doctorado honorario reconoce el trabajo académico, social, humano y profesional de De Saro en sus conferencias, donde aborda cuestiones de inclusión de las personas con discapacidad en los entornos laborales, educativos y sociales.
"Es una gran distinción para su servidor y amigo, que escribe con la esencia y el cromosoma del amor", dijo De Saro durante su discurso de aceptación. "Nunca esperé tener el honor de recibir ambos premios por mi trabajo como escritor y orador, me siento lleno de gratitud".
La entrega de premios tuvo lugar durante la celebración del 104 aniversario de la muerte de Emiliano Zapata, un ícono de la Revolución mexicana.