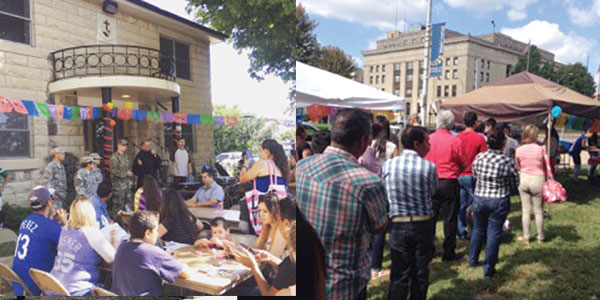 By Roberta Pardo
On Sunday (Sept. 29), St. Mary-St. Anthony Catholic Church will host its ninth annual Fiesta Latina on the church grounds.
From 1 to 6 p.m., the event will celebrate Hispanic culture in observance of Hispanic Heritage Month.
"Fiesta Latina is about preserving the Latino culture and living out our faith, and celebrating our heritage and family value in an important time in our lives," said the Rev. Peter M. Jaramillo of St. Mary-St. Anthony.
The celebration will start with a Spanish Mass at 11:30 a.m. at the church, located in downtown Kansas City, Kansas. Festivities will include folkloric dancers, traditional Mexican Mariachi music, children's games, a Hispanic cultural booth, and authentic Mexican food, such as tacos al pastor, pozole and Mexican pastries, prepared by the parishioners.
The event is open to everyone.
The money raised will support the Catholic education for the children at St. Mary-St. Anthony.
For more information, call (913) 371-4708.
________________________________________________________________________________________
Iglesia de Santa María-San Antonio celebrara Fiesta Latina
El domingo (29 de septiembre), la Iglesia Católica Santa María-San Antonio organizará su novena Fiesta Latina anual en los terrenos de la iglesia.
De la 1 hasta las 6 p.m., el evento celebrará la cultura hispana en observancia del Mes de la Herencia Hispana.
"La Fiesta Latina se trata de preservar la cultura latina y vivir nuestra fe, y celebrar nuestro patrimonio y valor familiar en un momento importante de nuestras vidas", dijo el reverendo Peter M. Jaramillo de St. Mary-St. Antonio.
La celebración comenzará con una misa en español a las 11:30 a.m. en la iglesia, ubicada en el centro de Kansas City, Kansas. Las festividades incluirán bailarines folclóricos, música tradicional de mariachi mexicano, juegos infantiles, un stand cultural hispano y auténtica comida mexicana, como tacos al pastor, pozole y pasteles mexicanos, preparados por los feligreses.
El evento está abierto a todos.
El dinero recaudado apoyará la educación católica para los niños en Santa María-San Antonio.
Para más información, llame al (913) 371-4708.